Make no mistake about it - investors over the last month have been taking money out of high momentum and aggressive multiple stocks and moving them into more conservative dividend payers.
Nothing has made this more evident than when companies post good earnings - like Facebook (NASDAQ:FB) and Tesla (NASDAQ:TSLA) did, for instance - but their stock continues to pull back. It's just a natural regression for the market - at some point these companies, that are valued solely on the basis of being able to grow extremely aggressively, are going to get rubber banded back to the fundamentals that make up the company itself.
Athenahealth (NASDAQ:ATHN) finds itself in this same quagmire.
Athena provides software and services that are used in the medical and "ambulatory" healthcare market. It performs bill collection, claims processing, and things like electronic health record organization.
And, it's not often that I like to pile onto a short after stock has already gotten a 50% haircut, like ATHN has over the last three months. I'm not a huge fan of buying after the trend has been set - but here, I think this falling knife has room to keep plunging. It's been an unceremonious decline from the $200 region to its current levels around $118. Like recent critic, Mr. Einhorn, I think the company continues to have some downside potential.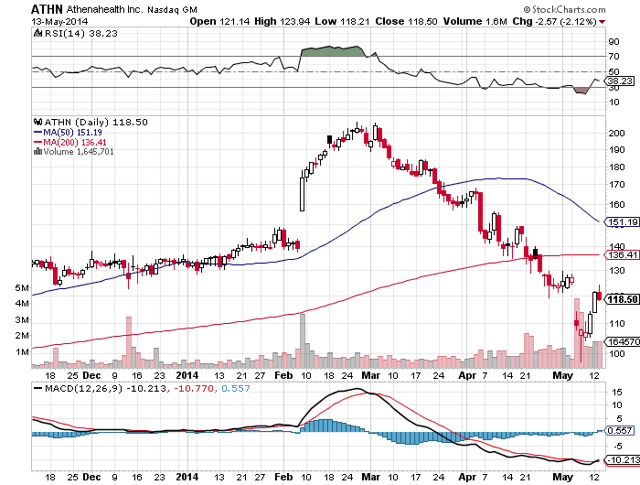 Athena was clipped hard after earnings on April 17th - as investors started to "see the light". Now, I'm siding with Mr. Einhorn; there's plenty of room to go down.
The company was pitched by David Einhorn at the recent Sohn conference. He predicted that the stock could easily fall 80% or more from where it stands today. He also cited earnings estimates pulling back as the sign that the company is in a bubble.
As Mr. Einhorn pointed out - and sourced from his Sohn presentation which you can find here - the longer the days drag on, the lower EPS estimates for the company seem to go. Yet, the stock price continued upward throughout the course of these estimates lowering. Meaning, in technical financial terms, Athenahealth's stock price is "way out of whack".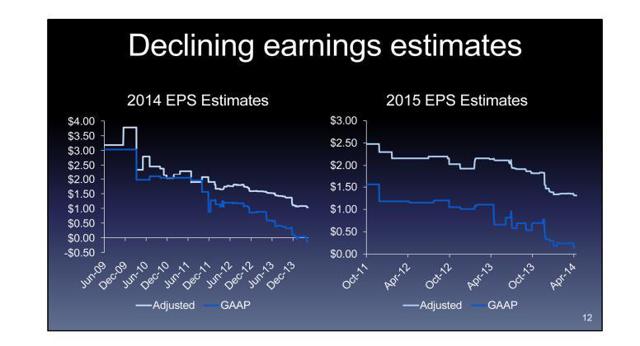 Jonathan Bush, CEO of Athenahealth, while defending his company from Mr. Einhorn, made the following quizzical statement:
"He likes Apple now that Jobs is dead," Bush told Bloomberg News.
It's not the first "interesting" statement made by Mr. Bush - but that's a different article for a different day. Mr. Bush is certainly - eccentric.
Make no mistake about it - this is a simple bubble valuation short for me. The company is trading at a massive multiple and has showed investors and analysts nothing but disappointing results over the past couple of years.
And, people are starting to catch on - again. As you can see, the short interest in the company is starting to rise up after shorts covered last month: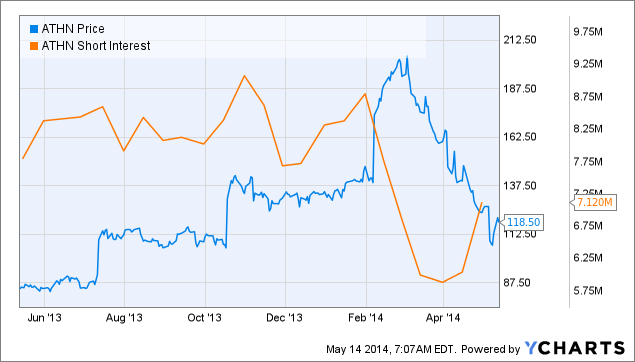 ATHN data by YCharts
The reason that short interest is starting to rise again is due to the fact that people are starting to look at valuations - from a macro perspective - more now than they have through the course of this bull run.
As talk continues to churn about the bull market nearing its highs, more and more focus is going to head towards fundamentals and valuation.
People don't want to be in speculative stocks when the bull market subsides.
So, let's take a look at Athenahealth - is this where you want your money to be when the bull market stops running?
Forward P/E of 89.77
Price to book ratio of 10.63
A paltry $3.32 cash per share
Tangible book value per share of $11.39
All of a sudden an 80% pullback doesn't seem so crazy to me.
A timing of the macro market slowing its run with a focus on valuation could make ATHN shorts a pretty penny.
While looking for a hedge against the bull market sputtering yesterday, I took on Athenahealth as one of my shorts through an option position. Athena is a bubble stock - and bubble stocks are first to be roped in when the bull market decides that it's time for someone to pay the piper.
Best of luck to all investors.
Disclosure: I am short ATHN. I wrote this article myself, and it expresses my own opinions. I am not receiving compensation for it (other than from Seeking Alpha). I have no business relationship with any company whose stock is mentioned in this article.