One stock that has seen a strong leg downward from its 52 week high is GameStop (NYSE:GME). Since October of 2009, when the stock was trading in the $28 range, it has tumbled down 34.3% to its close on Friday with a small rally in between. It announced earnings on Thursday that missed expectations by one cent and has lowered its outlook for the third quarter. Apart from that, GameStop and other retailers lowered their price on the newly released and much awaited Madden 2011 because of anticipated pull back in demand for video games.
Despite all these bad news, GameStop is now selling at a price that is too low to ignore. It closed Friday at $18.81 a share, just 9% above its 52 week low. In fact, GameStop is now at the same price range it was back in 06, just after the launch of Microsoft's X-Box 360, and just before the launch of Sony's Playstation 3, when demand for video games really shot up.
Comparatively speaking, even though GameStop's price has come down to the same level as 2006, its fundamentals have improved substantially in the four year span. Its revenues in fiscal year 2006 were just above $3 billion, and just above $9 billion in TTM, a gain of a little over 66% in four years. On a per share data, 2006 sales came in at $53.38 a share. Price per share back then was trading at 64% discount to its sales. Its P/E was mere 11.24x, book value a share of $7.66 giving it a P/B of 2.55x. This undervaluation saw its stock soar 226% in the next two years, and then it followed the general market back in the recession.
Looking at its recent numbers, GameStop looks even more undervalued than it did back in 2006. Sales for TTM come out to about $9.1 billion, with outstanding shares of 151 million. That gives a per shares sale price of $60.26, giving us a discount of 69% on its share price in terms of sales! And if that wasn't enough, the P/E ratio comes in at 8.1x. Book value per comes in at 17.74, making the P/B 1.07x.
The outlook for the third quarter was mainly cut due to the uncertainty about the economy over the next few months. But even through the recession, GameStop hasn't stop delivering on its sales as customers still look to buy video games even though they are cash strapped. And although Q3 could prove to be a tough one, Q4 is expected to outperform once again as the holiday season is the busiest season for GameStop, as no matter what the economy is like, people will still buy gifts for their loved ones. EPS for Q4 are expected to come in at $1.50 a share, 16% higher than last year when the economy was believed to be in recovery. At these absurdly low prices, there is no doubt that GameStop is undervalued and presents an ample opportunity for long term investors. I picked up positions today and I would highly recommend other value investors to follow.

Technical indicators also show the stock has found pretty strong support around this price range.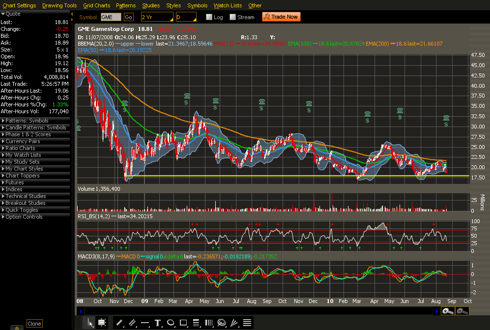 Disclosure: Aurthor is long GME