On January 15, 2014, NQ Mobile (NYSE:NQ), signed a definitive agreement with Sprint (NYSE:S), to deliver the next generation of Sprint ID, powered by NQ Live, on all-new Sprint Android-powered smartphones.
Investors should realize that NQ Live is not a standard wallpaper or third-party launcher, but is an engaging mobile desktop that will continue to change the way consumers use their connected devices.
However, Goldbaum research released an article yesterday describing NQ Live as an unattractive and cluttered-up mess. I completely disagree and would like to go through some of his/her points as well as give my opinion on the situation.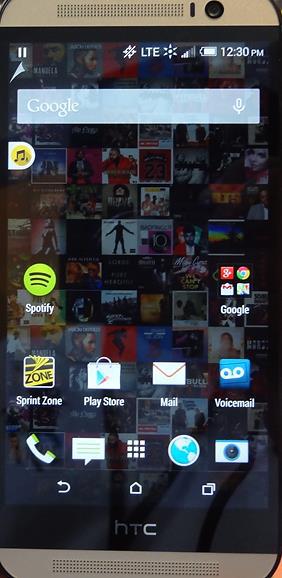 According to Goldbaum, one professional review of NQ Live technology confirms the negatives aspects of live wallpapers. The person reviewing the live wallpaper believes it clashes with icons and creates clutter on a home screen. Last but not least, the reviewer was put off by advertisements added to the smartphone using NQ Live technology.
First of all, some of these statements could not be further from the truth. Looking at the picture on the right, you will see the crisp and clear image of the HTC One M8. So much for the live wallpaper clashing with icons.
Second, the most important thing that investors can do before investing their hard earned money, is to make sure they have done their proper due diligence.
The same thing applies for customers as they contemplate which house, car or new tech gadget they should buy. I mean, why wouldn't you do your research before making such an investment. The internet is a powerful tool that allows users to find information about anything from all over the world. It doesn't take long to find information about one particular topic.
While growing up, I learned two very important lessons. 1) To make sure your facts are straight and accurate. 2) The more sources you have, the better off you will be. Why were these lessons so important? Simply because every potential source provides a different perspective, each with certain limitations.
Think of it this way. Have you ever gone to the movies and after talking with friends or family a couple days later, find out that while you thought the movie was fantastic, they thought the movie was a complete dud? Hopefully this gives you a better understanding of why multiple sources always trump a single source.
Product Reviews of NQ Live
Let's face it, we all have our differences and opinions. Just because one product review of NQ Live says its a failure does not necessarily make it a failure. In fact, in less than a couple of minutes, I found a wealth of positive reviews for NQ Live.
Here is an excerpt from a product review website that talks about NQ Live:
"If Clari-fi and LiveStage didn't offer up enough musical goodness, Sprint is upping the ante with the NQ Live wallpaper. Comprised of a collage of album covers, NQ Live looks rather innocuous on the surface. However the yellow tab and the dog-ear animation at the top left of the display shows there's more than meets the eye -- or ear. Tapping the tab reveals Sprint's ID Song feature and music recommendations from Sprint Music Plus. The ID Song was fairly quick, taking 2-3 seconds to correctly identify Stephanie Mills' "(You're Puttin') A Rush on Me" and give us a link to purchase the track for $1.29. Swiping down on the dog ear launches a page with music-focused content including a link to Spotify, news, top songs from Sprint Music Plus and FM radio from the Next Radio app. Music lovers can also purchase ringtones and ringbacks, or use the ID a Song feature to quickly name an unfamiliar tune using Shazam or Soundtracking. We like the ease and accessibility of NQ Live, particularly that it lets us quickly launch Spotify or name an unfamiliar song."
Brian Bennett, a senior editor at CNET, reviews a wide range of mobile communication products. One of Bennett's latest articles was describing his thoughts on the new HTC One M8:
"I can confirm though the new HTC One M8 is one heck of a handsome device, the sexiest smartphone I've seen all year in fact (including the Galaxy S5 and Sony Xperia Z2). ...The smartphone incinerated the Quadrant benchmark, scoring a jaw-dropping 24,593 -- the highest result I've yet seen anywhere. This includes the Note 3, LG G2, and of course old HTC One." - Brian Bennett
Customer Reviews
Think about this for a moment... does it really matter what app developers or online product reviewers think about a certain product, or does the power truly rely on the power of the consumer? We all know the answer here. The most important thing investors need to be paying attention to are the customers. If customers are happy, then everybody is happy.
As of yesterday, there were 12 user reviews on CNET. Out of those 12 reviews, 11 gave the HTC One M8 a perfect rating. The next stop took me on over to Amazon to see how users were rating the phone there. Sure enough, there were great reviews over there as well.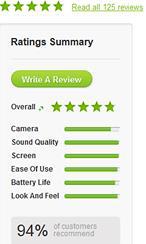 The last stop of the day took me to HTC's headquarters (their website). As of yesterday, there were more than 100 reviews of the HTC One M8. So what kind of reviews did the phone receive? Customers gave the phone a standing ovation. Out of 125 reviews to date, 94% of customers recommended the phone. So, once again, all of the phones components were a smashing success. It looks like those users not only mind "the cluttered mess" but actually enjoy it.
Conclusion
Since NQ Live was announced last October, more than 35 million devices have been shipped so far. The rollout will continue to accelerate through the second half of 2014. To date, NQ Mobile already has more than 8 million monthly active users, with daily active user accounts exceeding 2 million.
During the earnings conference call in April, management stated that the ramp-up thus far has exceeded even their own projections. The Company plans to have 60 million monthly active users on NQ Live by the end of the year.
While product and customer reviews are great tools and resources, perhaps the biggest and most validating thing for NQ Mobile and its investors, is seeing the Company work alongside some of the biggest companies in the world. Nothing is truly more validating than that.
While shorts continue to criticize NQ Mobile, their motives are starting to change with each passing day. A couple of months ago, they called NQ Mobile a complete fraud. Fast forward a couple of months, and the audit talk has completely disappeared. Now the focus has shifted to criticizing the Company's products. Is it just me, or does it sound like the shorts are backpedaling here?
On another note, investors who missed, or needed a refresher on NQ Live, can learn more about what NQ Mobile is doing by visiting the Company's website and blog. In closing, I would like to leave you with a qoute directly from David Owens, head of product for Sprint:
"We look forward to working with NQ Mobile to launch Sprint Live as the next generation Sprint ID experience and to take our current offering to an entirely new level. ...Sprint is also eager to collaborate with NQ Mobile to cultivate an NQ Live ecosystem of leading app developers, advertisers and content providers to constantly expand the consumer's experience and ability to customize their devices."
As always, I'm providing you with my track record and other particular stocks that I recommend. The link provided will show you all of my picks, how they have fared, and where I think they will be going in the near future. I think you will find my track record to be very impressive and useful.
Disclaimer: Investors are always reminded that before making any investment, you should do your own proper due diligence on any stock mentioned in this article. On that note, have a great day and as always, I look forward to hearing your thoughts or questions that you might have.
Disclosure: I am long NQ. I wrote this article myself, and it expresses my own opinions. I am not receiving compensation for it (other than from Seeking Alpha). I have no business relationship with any company whose stock is mentioned in this article.