Chevron Corp. (NYSE:CVX) recently posted a lousy Q1 earnings report. Net earnings were $4.5 billion dollars ($2.36/share), down 27% from the prior year quarter. Crude oil volumes and realized prices were lower. Domestic upstream earnings were lower by ~$220 million. International upstream earnings were even worse - down by ~$1.4 billion. All-and-all it was a horrible report with only domestic downstream showing an increase in earnings.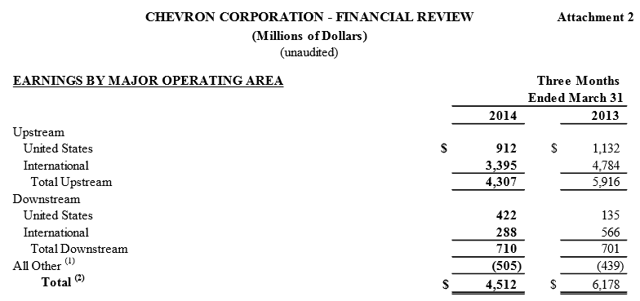 Click to enlarge
As a result of the very weak report, the big oil bears were out in force. A Seeking Alpha article, Big Oil Under Serious Threat, camped out at #1 on the website's homepage "Top Articles" list for considerable time and generated over 440 comments. Yet the stock itself has acted quite strongly and is actually up 3% since the earnings report was released on May 2. Why? The stock action certainly cannot be explained by the announcement of a $0.07 boost in the dividend to $1.07/quarter (3.4% yield). While that is a respectable yield, it is not enough to make up for such poor quarterly results. So why wasn't the stock punished by the market for all the reasons cited in the "Serious Threat" article? These reasons included:
Field depletion
Spending more to get less
Climate change
Falling cost of renewables
Here's my take. Field depletion is a well know issue and has been around since the beginning of the oil industry. Nothing new there. Climate change hasn't really affected the oil and gas industry to any substantial degree and certainly not here in the United States. While the EU, China, Russia, and Brazil have all passed strategic energy policies that prioritize deployment of natural gas transportation, in the US that effort is predominately left in the hands of Clean Energy Fuels (NASDAQ:CLNE) with very little support from the government in terms of policy or funding. Natural gas transportation could be a game changer and make meaningful reductions in oil demand, and likely will in those countries making it a priority. (See Nat Gas Transportation: China Is Trouncing The US At Its Own Game). Yet the US has been relatively slow to embrace such an obvious policy that would not only meaningfully reduce emissions, but also foreign oil imports.
The falling costs of renewables is also a well-known and predictable phenomenon (technology maturation). However, it's hard to power cars and trucks that run on gasoline or diesel with solar or wind generated electricity. We need to face reality here: despite all the media hype swirling around the success of Tesla (NASDAQ:TSLA), EV volumes (and by EV I mean 100% electric vehicles) as a percentage of the worldwide car & truck fleet are but a drop in the ocean. That is, gasoline and diesel (i.e. oil) are going to be a worldwide economic necessity for a long, long time.
Spending More To Get Less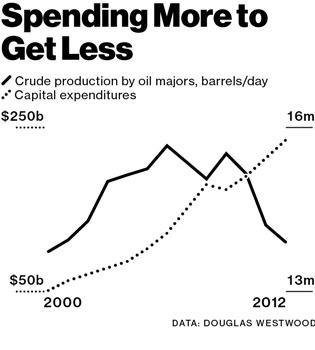 So the best argument that big oil is in trouble comes down to the argument that increased cap-ex is far out-weighing the gains in production being achieved. I generally agree with the chart produced in the before mentioned article which I have reproduced here.
However, what was lacking in the analysis was the nature of the projects being financed and more importantly the timeframe for their completion. Due to a host of issues, resource nationalism being only one, international major oil companies seeking growth have increasingly had to move into deep-water offshore fields. They have also turned to remote locations where infrastructure is lacking and where there is sometimes fierce competition for labor. Of course these factors drive up costs. As a result, large integrated international energy companies are choosing only the largest projects with very high capital funding requirements - but also with long-life and very profitable returns. The majority of these projects are now multi-year endeavors that costs billions of dollars, frequently 10's of billions, before seeing a penny of cash flow. However, what was neglected in the analysis was the reward: stable long-life cash flow assets with sizeable long-term profit/boe metrics. It is not appropriate to consider cap-ex over a relatively short timeframe and not also consider the fruits of the spending by extending the time span of analysis to cover the production that will be subsequently added by the cap-ex being analyzed. That is what is wrong with the chart and the fallacy of the argument. Only after production comes online and can be measured over the lifespan of the asset can a true determination of return on capital be adequately addressed.
And this is exactly why Chevron is up since the earnings report: astute investors are looking for the cap-ex payoff. And it is coming. Soon.
Chevron's 2014: Back-end Loaded
In the Seeking Alpha article Chevron: 2014 A Big Year For Startups In The Gulf Of Mexico, I profiled Chevron's massive projects in the Gulf of Mexico. Let me summarize the big ticket projects here:
Jack/St. Malo: 177,000 boe/day
Big Foot: 79,000 boe/day
Tubular Bells: 40-45,000 boe/day
Taking Chevron's working interests into account, these three deepwater GOM projects combined equate to about 150,000 bpd of oil and ~35 MMcf of gas for Chevron (net).
Let me repeat that: 150,000 bpd and 35 MMcf of gas (net) for Chevron. That is some serious production and revenue that will begin coming online by year-end. And I have not even mentioned Gorgon in Australia.
In the Seeking Alpha Q1 conference call transcript, management gave an update on these projects, which are shown here in a slide from the presentation: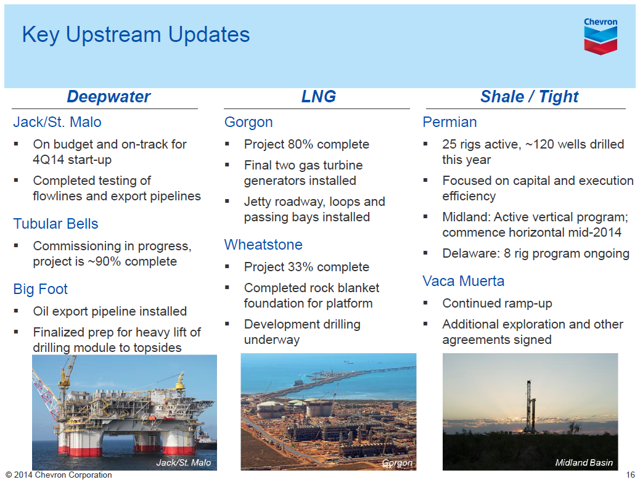 Click to enlarge
The Jack/St. Malo platform was moored into location earlier this year. Installation and commissioning activities including final testing of flowlines and export lines continue. The project is on-budget and on-track for late startup in Q4 of this year.
For Tubular Bells, which is operated by Hess (NYSE:HES), hook-up and commissioning is nearly 40% complete and startup is expected before year-end. Significant progress was also achieved at Big Foot during March. The oil export pipeline has been installed and the partners are preparing to lift the drilling module to the top sides later this month. The project is expected to startup in mid-2015.
In Australia, Chevron continues to make excellent progress at Gorgon, which through April is now 80% complete. The final two gas turbine generators were installed and additional progress has been made on the LNG tanks, jetty and other related infrastructure on the island. All major 2014 milestones are on track and Chevron expects plant startup and first gas in mid-2015. Gorgon is a massive project that will deliver ~400,000 boe/day at full capacity. I will repeat that again: 400,000 boe/day. So yes, such a massive project requires deep pockets. That is why Chevron (47.3%) has partners like ExxonMobil (NYSE:XOM) and Shell (NYSE:RDS.A).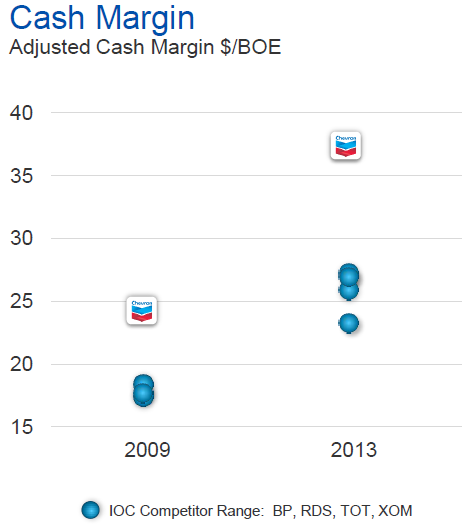 So production growth is coming, and it is coming soon. Did the projects require massive amounts of cap-ex? Yes, of course. Will it be worth it? You bet. Meantime I will hold my Chevron stock for all the reasons that I bought it in the first place: a competitive dividend yield, excellent management, and some of the best returns in the business - including the best cash margins per boe in its peer group (by far).
Summary & Conclusions
Despite the terrible Q1 earnings report, now is not the time to throw in the towel on Chevron. In fact, it's just the opposite. Significant new production poised to come online in the second half of 2014 and 2015 is going to be a great year. Investors should accumulate shares in CVX.
| | |
| --- | --- |
| Market Cap: | 239.57B |
| P/E (TTM): | 12.26 |
| EPS : | 10.27 |
| Div & Yield: | 4.28 (3.40%) |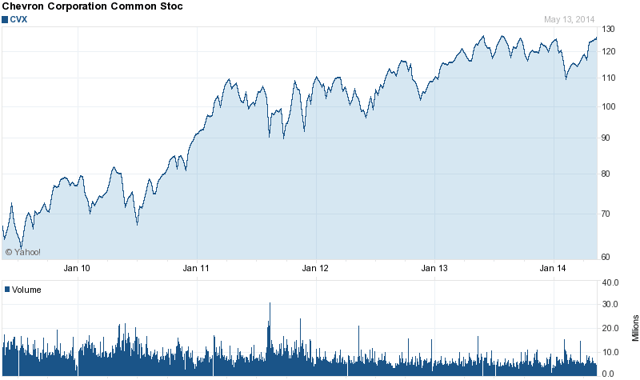 Click to enlarge
Disclosure: I am long CVX, XOM. I wrote this article myself, and it expresses my own opinions. I am not receiving compensation for it (other than from Seeking Alpha). I have no business relationship with any company whose stock is mentioned in this article.
Additional disclosure: I am an engineer, not a CFA. The information and data presented in this article was obtained from company documents and/or sources believed to be reliable, but has not been independently verified. Therefore, the author cannot guarantee its accuracy. Please do your own research and contact a qualified investment advisor. I am not responsible for investment decisions you make. Thanks for reading and good luck!