Stilson Hutchins already had a background in newspapers when he arrived in Washington, D.C. His goal was to publish a paper that captured the political climate of the capital. The Washington Post was first published by Hutchins on December 6, 1877.
The modern newspaper and corporation traces itself back to the depths of the depression when an investment banker named Eugene Meyer purchased the bankrupt paper at an auction for $825,000 on June 1, 1933. Meyer had the discipline and resources to turn the paper around (it would initially lose $4,492,540 between Meyer's purchase and the end of 1937) and he handed control and ownership to his daughter Katherine and her husband Philip Graham in 1948 upon his appointment as President of the World Bank. Graham consolidated the Post's position as the leading morning newspaper in Washington, began diversifying into radio and television stations, and purchased Newsweek in 1961.
Following the death of Philip Graham in 1963, Katherine took over as the controlling shareholder and President. (Subsequently, Graham would become Chairman of the Board in 1973, the first woman ever to chair a Fortune 500 company). Although many doubted her ability, including herself at times, she would combine journalistic integrity and shrewd business sense to turn the Post into one of the most important and profitable newspapers in the country.
Among other things, Graham would deftly deal with labor issues in the early part of the 1970s and ultimately be the decision maker when it came to publishing Woodward and Bernstein's reporting on a break in at the Watergate hotel in June, 1972.
Katherine Graham's son Donald became publisher of the Post newspaper in 1979 and in 1991 became CEO of the company. Although recent history has been particularly unkind towards newspapers Donald Graham has spent the last two decades building an education and a cable company to complement the other businesses owned by the company.
It is the education division that has recently plagued the Post. For profit education companies have been accused of taking advantage of poor students and leaving them saddled with loans they are unable to repay. The Government Accountability Office (GAO) has said that of fifteen for profit schools (and the Post's Kaplan unit was among them) they found deceptive and fraudulent practices at all of them. The Department of Education has said that the average repayment rate at for profit colleges is just 36% while Kaplan's is just 28% (comparable figures are 54% at public universities and 56% at nonprofit private universities). Proposed legislation would prohibit federal loans being given to students at universities with a repayment rate less than 35%, although some adjustments are possible for schools whose graduates earn high incomes relative to debt loads.
This article is not intended to take a position on for profit education institutions. It will attempt to gauge the value of The Washington Post Corporation (WPO) as a single entity. Viewing the company as a monolith impedes analysis, so we will review each Post division separately and attempt to place an independent valuation on them. Does taking a long term view of its prospects imply that a long or a short position is warranted?
Newspaper Publishing
According to the most recent 10-K for the year 2009, the newspaper publishing division has seven categories, which are summarized below:
"The Washington Post" comprises the newspaper and the website washingtonpost.com. For the first six months of 2010, the Post's print circulation was 556,300 during the week and 776,900 on Sunday, making it the nations fifth largest newspaper behind

The Wall Street Journal, USA Today, The New York Times,

and

The Los Angeles Times.

according to the Audit Bureau of Circulations. The website washingtonpost.com had about 23 million unique visitors for 2009. According to

Google

washingtonpost.com was the 277th most visited website in the world in April, 2010 with 9,900,000 unique visitors for the month. By comparison, nytimes.com had 26,000,000 million unique visitors for the same month. To the chagrin of both companies unique visitors and revenue are not the same thing.
The Slate Group comprises several websites and one print publication. The online publication

Slate

was purchased from

Microsoft

in 2004 for an undisclosed amount, but probably around $15 million. Its monthly unique visitors are around 6 million. Also a part of this category is

The Root

, an online publication focused on black culture (around 350,000 unique visitors per month). Rounding things out is

Foreign Policy,

an online and print journal purchased in 2008. It was said at the time that

Foreign Policy

was losing about $1.3 million per year. The print edition is published twice a month and has a circulation of 100,000.

Express Publications publishes a free tabloid in the D.C. area and has a circulation of about 184,300.
Post-Newsweek media comprises several titles aimed at suburban D.C.:

The Gazette Newspapers

and

The Southern Maryland Newspapers

are both based in Maryland, while

The Fairfax County Times

is based in Virginia. The combined circulation of all titles in the category is 125,000.

The Gazette Newspapers

were acquired in 1992 and

Southern Maryland Newspapers

in 2001.

The Herald

is a newspaper printed in Everett, WA (just a little north of Seattle) and has a circulation of 46,400 daily and 50,300 on Sunday. The paper was purchased in 1978.

Greater Washington Publishing

distributes free publications in the D.C. area:

Apartment Showcase

(published monthly with a circulation of 46,000);

New Home Guide

(published twice a month with a circulation of 51,000) and

The Guide to Retirement Living Sourcebook

(published nine times annually with a circulation of 35,000).

El Tiempo Latina

is a free Spanish language publication distributed weekly in the D.C. area with a circulation of 50,000.
That is a substantial list of properties, but their collective prospects can be summed up in two words: not good. It should come as no surprise that the namesake newspaper is the disproportionate contributor of revenue for this division. I have collected circulation figures going back to 1991 from SEC filings. The 2010 figure is for the first half of this year. (Note: The charts that I will use will overlap across multiple lines because of their size.)
click to enlarge images

As can be seen, right around the mid 1990s circulation peaked and has consistently and perniciously declined for the last decade. Daily circulation was 556,300 and Sunday circulation was 776,900 for the first half of 2010. This means that to date, daily circulation has declined 32.60% from its 1993 peak and Sunday circulation has declined 32.93% from its 1992 peak. These declines cause two intractable problems: revenue declines from a falling subscriber base and profits declining faster than revenues due the the high fixed cost nature of the industry.
To illustrate this trend in action, here are the simplified income statements for the newspaper publishing business from 1991 to today.

The days of Bill Clinton's election were the best of times with The Post's operating margin hovering at about 17% to 18%. Revenue continued growing until the year 2000 and in 1997 operating profits even topped 20% of revenue. Those days are gone and they will never come back. Even if on line news can become consistently profitable it can never have the local monopoly newspapers have enjoyed. The division has lost money the last two years although much of those losses were due to one time charges. For 2009 "cash losses" were $33 million.
How should we go about valuing a newspaper? After having already laid out all of the difficulties faced by newspapers, it is well worth considering the distinctness of secular and cyclical declines in the industry. The secular and long term trends affecting the division are not going away, but they have been exasperated by the recent economic conditions which are cyclical in nature. This can be seen by looking at the steepness of the revenue declines in recent years.
Those types of comparisons make reaction extremely difficult for the managers of the business. Does this mean that in time the newspaper industry will recover to, say, 2005 levels? Probably not. But it does mean that 10% to 15% revenue declines are probably not going to be the norm. In fact for the first six months of 2010, revenue at the newspaper publishing division is down only .35%. Operating Income is still negative (it lost about $28 million) but newspaper profits are seasonal, so there is a chance the division could break even this year and begin earning meager profits again.
Let us start with 2009 revenue of $679.3 million as a base case and assume that in a benign environment the division can still post an operating margin of 6%. That puts "normal" operating profits at $40.8 million and net profits of $26.5 million assuming a 35% tax rate. If a 10% return is desired (discount rate) and we assume that normalized assumptions decline at 3% a year for perpetuity then we end up with a 13% capitalization rate or a multiple of 7.7.
That equates to fair value for the newspaper publishing division of $203.8 million. This is 30% of 2009 revenues. Because of the prestige of the namesake newspaper, it would likely get far more were it sold, but it is highly unlikely that would ever occur.
Broadcasting
The company owns six television stations in the following markets: Houston, TX; Detroit, MI; Miami, FL; Orlando, FL; San Antonio, TX; and Jacksonville, FL. The company has owned many of these stations for a number of years. Much like newspaper publishing, this is not a growing business. But it has not shown the declines that that business has either. Broadcast stations show strong results in even numbered years (because of the Olympics and political advertising) and weaker results in odd numbered years. In both even and odd numbered years they are prodigious cash producers as the chart below shows.

Since this is an even numbered year, revenues are up about 22.11% year to date. Assuming normal results are flat and a 10% return desired, a 10 multiple would be placed on after tax profits. Averaging together the previous six years operating income (cyclical declines affect broadcasting too) and assuming a 35% tax rate yields a value of $881.38 million.
Cable Television
Cable One owns cable networks largely in rural areas. The business was purchased from Capital Cities in 1986 for $350 million. At the time, Cable One had about 360,000 subscribers. Below is a chart showing subscriber growth, you will be far more impressed with this than with the chart showing newspaper subscriptions.

While Basic subscriptions have declined, other services have more than picked up the slack. As a business, cable carries high margins, recurring revenue, and maintenance capital investments are typically less than depreciation since the bulk of investment has already been completed.

Cable has been profitable, growing, and is not very cyclical in nature. For the years 1991-2009 both revenue and operating profit have grown at about 9% a year. Assuming future growth of 5% and reverting to a discount rate of 10% and tax rate of 35%, the business is worth $2,197.66 million.
That valuation equates to about 19.6 times what the business will likely earn this year. You may well question such a valuation when Comcast currently trades at 14.2 times earnings and Time Warner Cable trades at 16.0 times earnings. The reason is straightforward: Comcast's capital structure is currently comprised of 33.05% debt and Time Warner's is 51.23% while Cable One is debt free. It may be true that debt is value enhancing for utility type enterprises, but it should also be noted that the enterprise to net income ratios are 21.2 for Comcast and 32.9 for Time Warner.
Education
Kaplan was purchased in 1984 from its founder for $33 million. Since then, dozens of education acquisitions have been made. Among the largest were $177 million for Quest Education Group in 2000 and $89 million for The Financial Training Company. The current division is divided into four units.
Kaplan Higher Education has current enrollment of 60,400 students on line and 49,600 students in classrooms. Kaplan University has ten campuses in three states, while other Kaplan Higher Education schools number seventy-three in nineteen states. This division is responsible for 58% of Kaplan's revenue and it derives 83% of its revenue from Title IV funding, meaning that overall

Kaplan

gets about 49% of its revenue from Title IV funding.

Kaplan Test Prep is involved in preparation for exams such as the ACT, SAT, GMAT, LSAT, and MCAT and also provides services for students preparing for licensure exams such as a CPA, CFA, bar exams, or medical licenses. This unit is responsible for 17% of Kaplan's revenue.
Kaplan International owns universities in the UK, Ireland, Hong Kong, Singapore, Australia, and China. It currently comprises 20% of Kaplan's revenue.
Kaplan Ventures owns various education related businesses involved in compliance training and IT services. It is currently 5% of Kaplan's revenue.
Here is the same chart for Kaplan that we have looked at for the other divisions.

The growth is compelling, but there is a catch. As mentioned at the outset of the article, the Title IV funds that Kaplan currently receives (and is 49% of revenue) is at risk. I can not handicap what will happen with proposed legislation better than anyone else could. It seems obvious that the United States has systemic problems with the education system in place and that for profit schools are guilty of abuse of funding meant to aid low income students. What the ultimate outcome of proposed legislation is remains uncertain. What can be said is this: if there were no clouds hanging over Kaplan's head it would probably be worth about $2 billion and when the dust settles it will not be worth $0.
Many would argue with any valuation placed upon Kaplan at the moment and, of course, that's the crux of the problem and it is also why opportunity may exist in Post stock. I am going to value Kaplan at 5 times 2009 operating income, which equates to about 7.7 times after tax income. When we have finished the analysis we will still insist upon a margin of safety to the consolidated worth of the company. For now, it seems that this valuation takes into account that: Kaplan has grown exceedingly quickly and that it is mired in extremely serious issues at the moment.
The valuation discussed above comes to $1,031.51 million.
Marketable Securities, Debt, and Investments in Affiliates
Throughout the last decade, the company has maintained a great deal of financial discipline and has a very strong balance sheet. Here's is a rather detailed overview I have compiled from SEC filings detailing the sources and uses of cash and also some key balance sheet items.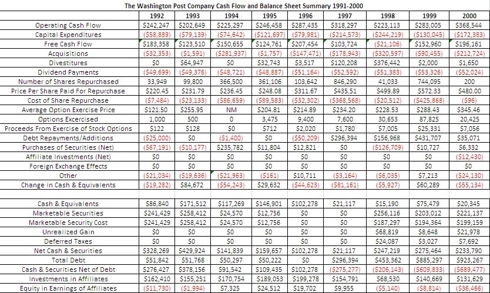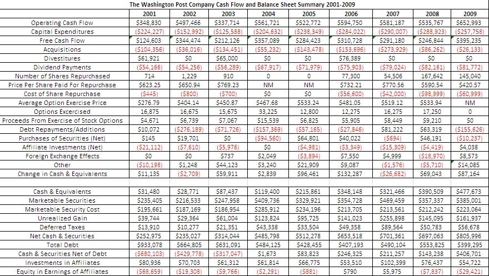 As of June 30, 2010 the company has $659.027 million in cash and equivalents and marketable securities valued at $392.515 million. The company regularly states that the marketable securities portfolio consists of Berkshire Hathaway (NYSE:BRK.A) and a "publicly traded education" company. Based upon the valuations listed in the Post's SEC filings it appears that they own about 3,738,700 equivalent "B" shares of Berkshire Hathaway and roughly 7,727,000 shares of Corinthian Colleges (NASDAQ:COCO) (about 8.8% of the company). Total debt is $399.48 million. The company also owns 49% of Bowater Mersey Paper Company (carried at equity) worth $42.308 million. After subtracting deferred taxes on the unrealized gains on marketable securities of $59.308 million the net value of cash and investments is $635.062 million.
Miscellaneous
It is worth noting a couple of other details as well. First, the pension plans of the Post have always been extremely well run and as a result are chronically overfunded. I have not factored this into the valuation.
Second, Newsweek has been owned for decades by the Post and it was very recently sold. It is not known what the price was. Here is a chart depicting the financial history of Newsweek. I am assuming no value from Newsweek, as you can see it has struggled.

Finally, the Post has been a very cautious issuer of stock, both in terms of executive compensation and when making acquisitions. It has also frequently bought back its own stock. When the company went public in the early 1970s about 14 million shares were outstanding, today there are closer to 9 million. Here is history of shares outstanding.
The current dividend is $9.00 per share, indicating a yield of 2.75% as of the market close on August 18, 2010 when the shares traded for $327.63.
Corporate Valuation
To review the previous sections of this article, here are the valuations placed on each division:
Newspaper Publishing: $203.8 million
Broadcasting: $881.38 million
Cable Television: $2,197.66 million
Education: $1,031.51 million
Cash, Marketable Securities, and Investments in Affiliates Net of Debt and Deferred Taxes: $635.062 million
Total Valuation: $4,949.412 million
Shares Outstanding: 9,216,626
Value Per Share: $537.01
As of the market close on August 18, 2010 the stock traded at $327.63 per share, about a 39% discount to estimated fair value.
The Washington Post Company has a history of disciplined and capable management that finds themselves owning one exceptional business (Cable), one business that continues to generate tremendous cash flow (broadcasting), and two businesses whose futures are uncertain (publishing and education). But look closely at the valuations and you'll discover that the stock market is giving away the newspaper and education divisions for nothing. Therein lies the margin of safety in purchasing the stock.
This article started by stating that we would take the long view of The Washington Post Company and after doing so it appears that although headlines may cause near term volatility, patient investors could profit substantially from investing in Washington Post shares at current prices.
Disclosure: The author owns shares of The Washington Post Company (WPO).