Comparing Abbott Laboratories (NYSE:ABT) and AbbVie Inc. (NYSE:ABBV) is akin to an "apples to oranges" comparison. However, it does make sense, since AbbVie was a spin-off of Abbott in January 2013, and if someone had Abbott prior to 2013, they would automatically have AbbVie shares. Many investors ponder over whether or not they prefer one over the other, or if they should instead continue to hold both of them. This question gains more relevance for anyone who wants to pick one of these two. I will try to provide some perspective and analysis.
Abbott Labs
Abbott Laboratories is a 125-year old large-cap diversified healthcare company with an excellent track record. Abbott is a member of the S&P Dividend Aristocrats Index, which means it has been raising its dividend for 25+ years. It also declared its 361st quarterly dividend on April 22nd, 2014. The current dividend of ABT is 2.3% (based on the price of $38.50 as on 1st May 2014), and its dividend has grown at a CAGR of approx. 9.5% in the last twenty years (for the combined Abbott, including the parts of business which is now AbbVie).
You might notice that Abbott's dividend payments took a dive in 2012 and 2013, but that should not be considered as dividend cut, as it was due to the spin-off of AbbVie (more on this in next section). And if the dividend of the two companies were combined together for 2012/2013, it would amount to an increase.
Abbott derives 70% of its sales outside of the US, and 40% from the emerging markets - particularly in India, China, Russia and Brazil, which bodes well for its future growth. The new Abbott has four distinct divisions, namely nutrition, diagnostics, medical devices and established pharmaceuticals.
AbbVie Inc.
On January 1st, 2013, Abbott Laboratories separated into two publicly traded companies, one in diversified medical products, which retained the Abbott name and ticker symbol of ABT, and the other in research-based pharmaceuticals, which was named as AbbVie Inc. Abbott distributed all the outstanding shares of AbbVie to original Abbott shareholders, each original Abbott shareholder receiving one common share of AbbVie for every one common share of original Abbott owned.
AbbVie retained the research-based pharmaceutical organization, and markets its products in 170 countries. It has a diverse product portfolio, including several market-leading medicines, but draws over 50% of net revenues from its flagship medicine "Humira". However, its product pipeline appears to be strong, especially the potential of its new drug for Hepatitis. AbbVie's peers are Merck & Co. Inc. (NYSE:MRK), Bristol-Myers Squibb Company (NYSE:BMY), Eli Lilly & Co. (NYSE:LLY), Amgen (NASDAQ:AMGN) and Gilead Sciences (NASDAQ:GILD).
Comparison of Key Metrics for the Two Companies
The below table that I created shows key metrics based on the full financial year 2013, as taken from Morningstar and Google Finance.
ABT

ABBV

Sector

Healthcare Equipment

Healthcare

Market Cap

59.41 billion

81.225 billion

Membership

S&P 500

S&P Dividend Aristocrat

S&P 500

S&P Dividend Aristocrat

Current price per share ($) 1

38.69

52.79

Price gain/loss (since spin-off 01/01/2013 until 05/07/14)

17%

47%

Total Revenue ($)

21.85 billion

18.79 billion

Operating Margin %

12.03

30.1

Net Margin %

11.79

21.97

P/E Ratio

27.77

20.26

Forward P/E

16.50

14.05

ROE %

9.93

105

Number of outstanding shares

1.574 billion

1.604 billion

EPS (Earnings per share) ($)

1.62

2.56

Free Cash Flow ($)

2.179 billion

5.776 billion

Dividend per share (projected for 2014) ($)

0.88

1.68

Dividend Yield (2014) %

2.27

3.3

Payout Ratio %

37.3

62

Dividend Growth % (last 10 years) 2

8.75

N.A.

Number of years of dividend increase 3

40

N.A.

Debt-to-asset Ratio %

14

50

Projected Growth % (next 5 years)

11.30

7.8

S&P Credit Rating

A+

A
1 Close price on 05/07/2014.
2 Dividend growth is from 2002 until 2012 (prior to spin-off).
3 Until year 2012 (prior to spin-off, the combined Abbott had been increasing the dividend for 40 years. However, for AbbVie as a separate company, dividend history is only one-year old).
Which of the Two Companies Deserves Your Dividend Income Dollars?
The simple answer, in my opinion, is both; provided you acquire them at the right price. If you were invested in Abbott prior to 2013, you would automatically have received an equivalent number of shares in AbbVie at a rather attractive price. AbbVie shares have appreciated 47% since the company split. In comparison, Abbott has only gained about 17% during this time. Also, since the two companies now operate in different industry segments, one can hold both of them and gain a diversification advantage.
However, this question becomes more relevant if you were to choose only one of the two. Abbott shares did not have the big run-up as AbbVie had during the last year, and hence, they are more reasonably priced at this time. Also, Abbott scores on AbbVie in terms of projected growth estimates at 11.5%, compared to 7.8% for AbbVie. Lastly, Abbott's debt load (debt-to-asset ratio) is low, compared to AbbVie's almost 50%.
However, before we can fully answer this question, let's look at the future returns based on the projected growth rates for these two companies. I will rely on the F.A.S.T. Graphs™ research tool to facilitate this process. The growth rates assumed in these calculations are taken from S&P Capital IQ (S&P Research team) and are normally median estimates. In this example, they are 11.5% for Abbott and 8.5% for AbbVie. Please note that future growth rates extending far into the future is a tricky business and could vary from the actual rates by a wide margin.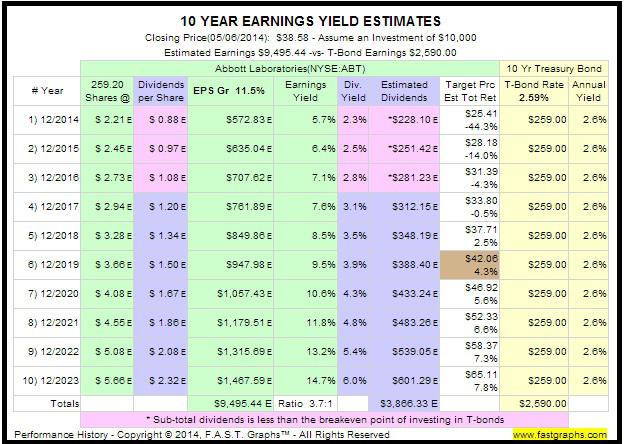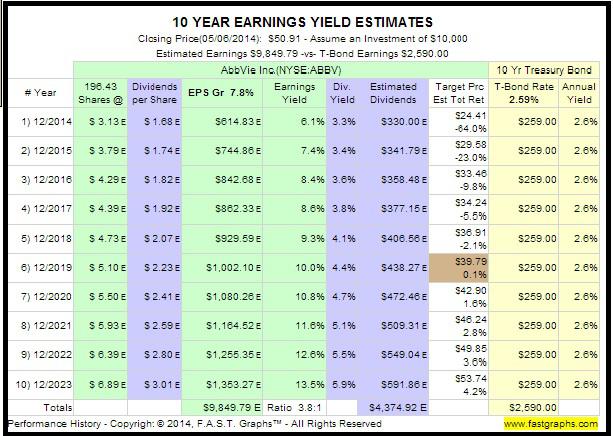 You may notice from the above earnings estimates that both Abbott and AbbVie are expensive to some degree, based on their current prices, but over the next ten years, their total earnings (and hence the returns) are likely to be similar. AbbVie is likely to pay more in dividends, but not by a wide margin.
Now, let's assign a rating to each of the two companies, based on the information that we already have and using a simple rating system that I have created and used for some time. Like any other mechanical rating system, this system is not perfect by any means and would not substitute other means of research, but it can provide an unbiased decision point. Below is a table that I created showing the relative "rating" for Abbott and AbbVie. Please see the complete rules and disclosures about this rating system here. This system takes into account three elements; fundamental ratios, growth estimates and the dividend strength of the company. Each of the criteria gets a rating based on pre-defined rules. The net total rating is the sum total of individual ratings, and results in a value that is between 0-10, 10 being perfect and 0 being the worst.
| | | | |
| --- | --- | --- | --- |
| | Criteria | ABT | ABBV |
| 1 | Forward P/E | 0.91 | 1.07 |
| 2 | Net Margin (prev. 5 years) | 0.74 | 0.86 |
| 3 | Revenue Growth (prev. 5 years) | 0.64 | 0.67 |
| 4 | Total Return over the last 5 years | 0.75 | 0.70 |
| 5 | Debt Ratios | 0.86 | 0.50 |
| 6 | Dividend History | 1.00 | 1.00 |
| 7 | Dividend Payout | 0.45 | 0.66 |
| 8 | Payout Ratio | 0.63 | 0.38 |
| 9 | Projected Growth Estimates | 0.62 | 0.58 |
| 10 | Total Projected Return over next 10 years (based on projected estimates) | 0.95 | 0.98 |
| | TOTAL | 7.55 | 7.40 |
The above model rates the two companies just about the same, with a slight edge to Abbott.
Concluding Remarks
In my opinion, both of these companies are likely to serve any dividend and income portfolio well into the future. However, the entry price does matter. At the current prices, they both are slightly expensive, but someone like me, who already holds positions in both at a much lower cost-basis, should be well served in the long run. If someone was to initiate a new position at current prices, it will be wise to dollar-cost average the investment so as to take advantage of future dips. If your goal is to choose stability and less volatility, then choose Abbott over AbbVie. On the other hand, if the goal was to have a better growth and total return, AbbVie may be a better choice.
Disclaimer: The examples and stocks quoted in this article are for information purpose only; it should not be construed as recommendation to buy or sell any securities.
Disclosure: I am long ABT, ABBV. I wrote this article myself, and it expresses my own opinions. I am not receiving compensation for it (other than from Seeking Alpha). I have no business relationship with any company whose stock is mentioned in this article.