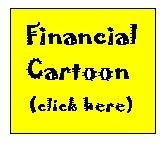 Outlook: While investors' mood has soured considerably on US equity markets in the wake of this week's disappointing economic numbers, sectors of the global economy seem to be faring better—particularly for the long run.
Demographics: In looking at the factors of global economic growth, demographics play a significant roll not only in aspects of a nation's production (GDP) but also on its impact of distribution of a nation's wealth (youth dependency ratio by the aged).
Current & Estimated Population Growth: Currently, China and India account for 40% of the world's population of 6.86 billion with Africa at 14% and North America at 8%. In looking at the population growth over the next 20 years, Africa will grow on a 5 year average 1.95%, Asia at 0.83%, North America at 0.77% and Europe at -0.04%. (See the financial cartoon here for an illustration of human population growth on the planet.)
The dependency ratio (old-age per 100 working age people) is 6 for Africa, 10 per Asia, 18 per North America and 23 for Europe. In terms of natural resources, Africa has a many of the key resources such as oil, iron, lead and zinc, and of course gold.
Where are the New Tigers? Demographics explain 40% of all of the GDP growth of the Asian Tigers in the 1980's and 1990's [here]. The combination of population growth, low dependency ratio and significant natural resources make Africa potentially the next set of "tigers". The issues that are likely to be an impediment to Africa's growth are political instability, the rule of law and health related items such as HIV/AIDS, malaria, etc.
Given the global population growth in countries like China and India with a growing middle class, Africa's natural resources may be commandeered in a new era of commercial colonialism by such resource dependent countries where both law and order and health care may become imposed upon them in the name of commerce.
iShares MSCI South Africa Index (NYSEARCA:EZA) is the largest of the those ETFs that focus on Africa and the Middle East. Others include Market Vectors Africa Index ETF (NYSEARCA:AFK), SPDR S&P Emerging Middle East & Africa (NYSEARCA:GAF), WisdomTree Dreyfus S. Africa Rand (NYSE:SZR) and PowerShares MENA Frontier Portfolio (PNMA).
Emerging and Enduring Trend: Unfortunately, many of these ETFs have already experienced strong appreciation over the past year. Notwithstanding, the potential economic growth in Africa is a trend that is both emerging and enduring. This is particularly true for investors willing to "plant trees" for the next generation in hopes of an early harvest.
CEF Weekly Review: The 13 closed-end fund (CEF) types on average posted a 0.3% increase for the week ending 8/20/10. The high-low spread was +1.9% versus +3.1% the previous week with an average of 0.3% and -0.8%, respectively. On an aggregate, unweighted basis the weekly average price change for the 500 plus CEFs was up 0.2%.
The PowerShares CEF Income Composite (NYSEARCA:PCEF), an ETF that invests in taxable income CEFs, was up 0.6% for the week. The S&P 500 was down 0.7% for the week and its loss deepened to 3.9% YTD.
(Click here for YTD CEF Performance. The table is based on a smaller CEF sample size as all the data fields are not available for the CEF universe.)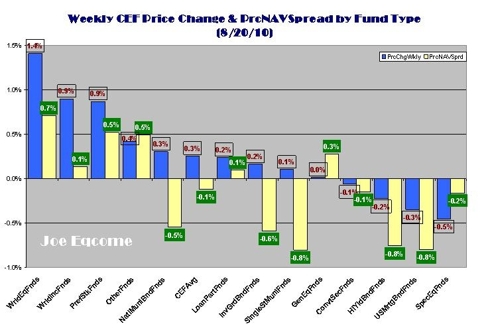 The Eqcome CEF Fear Index was increased moderately after an easing trend for the past four weeks. The average price increase was 0.2% versus a 0.5% increase in the NAV. The CBOE Volatility Index (VIX), which typically moves inversely with the stock market—but is mostly a measurement of volatility based on stock options' premiums—eased 2.9% after spiking 20.7% the previous week. Since this was an option expiration week, the value of the VIX as a sentiment indicator was depreciated.
The average daily trading volume for the S&P 500 continues in the doldrums and drifted even further below 4.0 billion shares to 3.77 billion shares, down 3.3% from the previous week. The paucity of buyers contributed to downward share price movement.
CEF Weekly Fund Type Performance: The disbursement of equity and fixed-income fund types again reassured itself after last week's consolidation. There was a curious mix: shunning domestic equities and fixed-income sectors. WrldEqFnds and WrldIncFnds were this week's leader, 1.4% and 0.9%, respectively. This type of formation typically signals investor confusion. USMrtgBndFnds and SpecEqFnds were the two worst performers, -.03% and -.05%, respectively.
Over the past couple of weeks, USMrtgBndFnds have ricocheted from top-back-to-bottom and back again. There continues to be a definite investor distinction between NatlMuniBndFnds and SingleStMuniFnds, the latter underperforming the former.
The PrcNAVSprds [*] typically move in the direction of stock prices. However, 3 of the 13 fund types this week were in exception. The three fund types where NAV's exceeded share prices (PrcNAVSprd) were fixed-income fund types: NatlMuniBndFnds (-0.5%), InvGrdBndFnds (-0.6%) and SingleStMuniFnds (-0.8%).
Weekly CEF Winners and Losers: One of the CEFs with the greatest positive spread was Lazard World Dividend & Income Fund (NYSE:LOR). LOR's price advanced 5.5% while its NAV declined 0.3% generating a positive PrcNAVSprd of 5.8%.
There was no extraordinary news regarding LOR other than its recently declared monthly distribution of $0.07063 per share (ex-dividend 9/9/10) for September. However, there was a spike in volume last 3 days of the week. LOR, an investor in global securities, trades at a 7.5% discount and at an annualized monthly distribution rate of 7.3%. LOR may have benefited from the trend away from domestic entities.
One of the CEFs having the greatest negative PrcNAVSprd for the week was Western Asset High Income Fund (NYSE:HIX). HIX price declined 6.1% while its NAV decreased 0.6% generating a negative spread of 5.6%. HIX announced a reduction in its monthly distribution from $$0.085 from $0.09 per share for the months of September, October and November.
Economic & Earnings Outlook: (Click here for next week's economic calendar; click here for earnings' announcements and estimates.)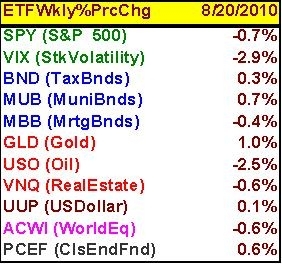 ETFs: For a more detailed EFT performance by sectors, click here.
Insider Trading: There was no new insider trading this week.
(Click here for a hyperlink to the Joe Eqcome's CEF Weekly Insider Report.)
CEF Distribution Announcements This Week: The following is a link to a table of CEF distribution announcements this week as well as the previous week's with yet expired ex-dividend dates. The list is not intended to be inclusive. (Click here for Joe Eqcome's Weekly CEF Distribution Announcements)
Significant CEF Corporate Events: Delaware Investments Dividend and Income Fund (NYSE:DDF) will hold a special shareholders' meeting on November 17, 2010, to vote whether or not to adopt a proposal to conduct a tender offer when the stock trades at an annual discount of 10% or greater during a 12 week measurement period. Currently, the Fund has committed to conduct an annual tender under non-descript circumstances.
Fiduciary/Claymore MLP Opportunity Fund (NYSE:FMO) priced a follow-on offering at $19.36 per common share on Wednesday totaling 4.25 million shares exclusive of an additional a 637,000 share "over-allotment". FMO traded a third of the offering post going effective and the share price seemed to hold in (closed at 19.15 on Friday) despite the morose stock market environment.
CEF Focus Stock for the Week: Cornerstone Strategic Value Fund (NYSEMKT:CLM). CLM recently announced a non-transferable "rights" offering (8/19/10). Simply it is one right for every share and 3 rights to subscript for an additional share.
The "rights" offering makes little sense for the existing shareholders while it is beneficial for the advisor. (See: Why Cornerstone Strategic (CLM) Rights Offering Makes Little Sense for Shareholders (8/20/10))[3]
The reasons are as follows:
The strike price is effective of 90% of the stock price which means shareholders are still paying a 41% premium for the subscribed stock.

CLM's nominal yield is 15.5% but its net investment yield is 0.5%.

This is because over the past 5 years, CLM's distributions have represented 89% return-of-capital and the CEF has effectively paid out $13.04 per share of the shareholders own money after taking a 1% management fee plus administrative expenses.

CLM has been a disappointing investment manager generating approximately 2% investment return (net investment income and capital gains) on NAV over the past 5 years.

CLM needs to reload its corporate coffers to continue to continue to pay its shareholders' back their own money after taking a 1% fee.

CLM's board owns almost nothing in terms of CLM stock holdings while getting paid $22,000 annually.

Based upon CLM's previous 5 year performance, it is estimated that in 3 years the current distribution will likely be cut—as it was in 2009—and its shares will have lost 30% of its value.
There are two ways that CLM could generate positive returns going forward: 1) CLM's premium is sustained or possibly expands; 2) CLM's management becomes substantially more effective investors generating alpha for their shareholders.
The former may not be so strange in the Bizarro World of CEF investing; the latter is a long-shot.
Disclosure: Author owns a diversified portfolio of CEFs and has no interest in CLM
---
[*] All things being equal, price and NAV should move in tandem. A price movement greater than the NAV generates a positive PrcNAVSprd and may be interpreted as negative on a near-term basis and indicate that the stock is overvalued relative to its NAV which in theory is the stock's intrinsic value. The opposite would be true for a negative PrcNAVSprd.
---