Since the beginning of this year shares in Starbucks Corporation (NASDAQ:SBUX) have dropped by over 9%. At the current price per share of $71.16, the quarterly $0.26 investors receive in dividends translates to a dividend yield of 1.46%. I own a small amount of SBUX shares and in this article, I will explain why I'm keeping them despite the recent drop.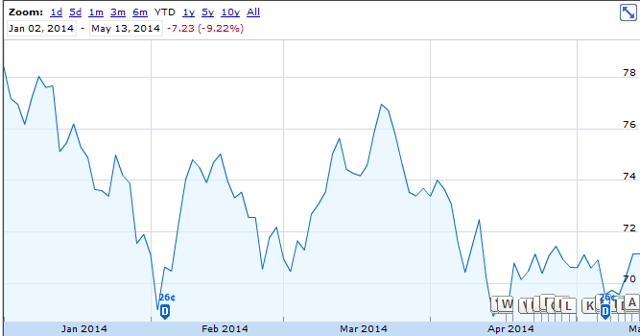 (Picture from Google Finance)
I considered selling SBUX in November of last year, when shares in the mega-cap coffee roaster hit a new all-time high, as can be read in my most recent article on SBUX. However, strong growth expectations and good fundamentals convinced me to hold on.
The current dividend yield of 1.46% might not seem very impressive but over the past years there haven't been many chances to get a higher yield, as can be seen in the next graph. Furthermore, Starbucks' dividend grows at an amazing rate. In 2010, SBUX paid quarterly dividends of $0.13 per share. This has doubled to $0.26 in only four years.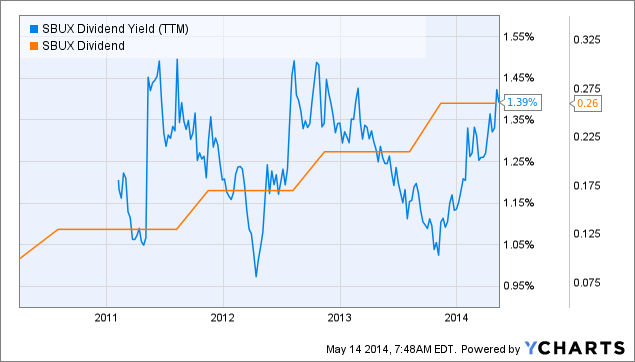 SBUX Dividend Yield (TTM) data by YCharts
Analysts are expecting earnings per share of $2.67 for the current fiscal year, putting the company at a forward price to earnings ratio of 26.7. This may seem expensive at first glance but for FY2015 analysts are forecasting EPS to reach $3.16, meaning the company is valued at only 22.5 times next year's expected earnings.
Revenue for the current fiscal year is expected to come in at $16.48 billion, giving SBUX a forward price to sales ratio of 3.25. This is slightly higher than the 5-year average p/s ratio of 2.8. However, revenue is expected to increase to $18.25 billion next year, pushing the forward p/s ratio for FY2015 back down to 2.94.
Looking at the balance sheet we can see SBUX has a current ratio of 1.31, with $3.58 billion in current assets and $2.73 billion in current liabilities. The quick ratio (current ratio minus inventory) is slightly lower at 0.96, which is still very reasonable.
I like to buy stocks for the long term and with earnings per share expected to reach $3.16 next year, I wouldn't be surprised to see the dividend go up further. Starbucks could increase the dividend to $0.30 per quarter while still keeping the payout ratio relatively low, at 37.9%. This would give investors getting in now a yield on cost of 1.69%.
I already own a couple of shares in SBUX which I will be holding on to for now. I believe the high rate at which Starbucks' dividend is growing should be able to provide me with quite a bit of income in years to come. The current low price level seems like a great entry point for investors looking for growing income streams.
Disclaimer: I am not a registered investment advisor and do not provide specific investment advice. The information contained herein is for informational purposes only. Nothing in this article should be taken as a solicitation to purchase or sell securities. Before buying or selling any stock you should do your own research and reach your own conclusion. It is up to investors to make the correct decision after necessary research. Investing includes risks, including loss of principal.
Disclosure: I am long SBUX. I wrote this article myself, and it expresses my own opinions. I am not receiving compensation for it (other than from Seeking Alpha). I have no business relationship with any company whose stock is mentioned in this article.