What a nasty trading day on Tuesday for Prospect Capital (NASDAQ:PSEC). Soon after the bell, the stock suffered a severe 10% correction before largely recovering from its losses. However, shares still ended the day down 2.40%. Prospect Capital's has now declined 11% since its Q1 (fiscal Q3) 2014 earnings report and the revelation that the SEC was requiring it to consolidate its wholly-owned holding companies and subsidiaries.
Prospect Capital suffers a flash crash
On Tuesday, Prospect Capital opened trading down around 2% to below $9.90 per share. However, at around 9:40AM, Prospect Capital saw a massive 7% drop lower to as low as $9.17 per share. Volatility spiked at around 9:48AM with several large block trades and volume exceeding 1 million shares. By 10:15AM, Prospect Capital had mostly recovered from its losses and traded between $9.70 to $9.90 per share for the rest of the day.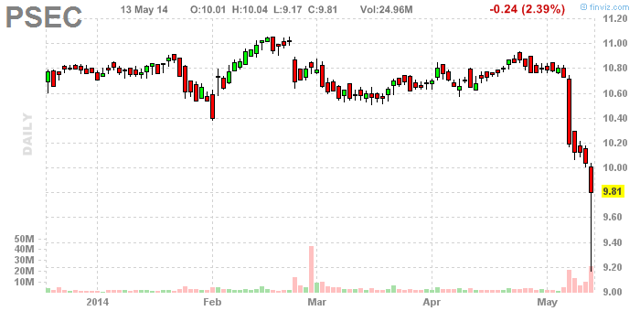 What caused the flash crash?
Below are a few of the major press releases and other news which were released before the flash crash on Tuesday.
On Monday, May 12, Prospect Capital Monitor released a report regarding the SEC consolidation. In the report, it was noted that the consolidation could increase Prospect Capital's overall leverage ratio about the 1:1 limit for BDCs. Furthermore, it argued that Prospect Capital may need to sell assets or issue equity if it leverage ratio reaches above the limit. In addition, the report noted that "Prospect CEO John Barry acknowledged that it regularly booked income from operating companies which did not come from earnings and profits generated by its operating companies."
At 7:00AM, Prospect Capital put out a press release stating that its revolving credit facility had been increased $45 million to $837.5 million. In addition, Prospect Capital reaffirmed that the potential consolidation would have no negative impact on its dividend paying capacity or change its dividend policy.
A key passage of the press release was regarding debt and Prospect Capital's leverage ratio. The company stated that "there would be no significant change in the leverage ratio of Prospect because there is no third party debt at any of these holding companies."
At 7:53AM, a Seeking Alpha article was released titled Prospect Capital: What Comes Next? Part 1 from BDC Buzz. The article was overall cautious on Prospect Capital's outlook regarding the SEC required consolidation, though the article did express concerns regarding the amount of time needed to resolve the issues with the SEC.
Frankly, there was little to no news released which should have sparked such a large decline. The major points from the Prospect Capital Monitor report were directly debunked by the company in its press release. In addition, the BDC Buzz article was hardly enough to spark the sudden selling.
The only credible explanation for the selling I have seen involves possible block trades and stop-loss orders. Basically, it appears as if a major holder of Prospect Capital stock decided to exit the position on Tuesday. As the sale took place, stop-loss orders at around $10 were triggered, adding to the selling volume. However, the crash was short-lived with the stock quickly rebounding despite the overreaction.
This theory makes a lot of sense if you think about it. $10 per share is a rational level to put a stop-loss at. These orders are designed to limit the downside for a particular stock and work best in stable markets. However, during a gap down, the sales often take place at any available market price.
Conclusion
Investors should remember that excitement and expenses are their enemies. And if they insist on trying to time their participation in equities, they should try to be fearful when others are greedy and greedy when others are fearful.

Warren Buffett
To be perfectly honest, I was quite shocked when my "stink bid", an order to buy a stock at a significantly lower level than the current trading price, filled at $9.51. That being said, as noted by the oracle himself, investors need to be greedy when others are fearful.
Prospect Capital has likely forever lost its status as a "stable" income stock. However, with the company repeatedly reaffirming that it expects no change to its dividend, I am content in holding my position until this SEC matter is resolved. Given that dividends have been declared through the end of the year, Prospect Capital is paying you handsomely to wait.
Disclaimer: The opinions in this article are for informational purposes only and should not be construed as a recommendation to buy or sell the stocks mentioned. Please do your own due diligence before making any investment decision.
Disclosure: I am long PSEC. I wrote this article myself, and it expresses my own opinions. I am not receiving compensation for it (other than from Seeking Alpha). I have no business relationship with any company whose stock is mentioned in this article.