The following table presents the latest (March 2014) well performance results for Halcón Resources (NYSE:HK) in the East Texas Eagle Ford play. The data points that have been added since my last update a month ago are shown in blue.
As I wrote in my earlier notes, Halcón's production slowdown that occurred during the months of January and February was not indicative of poor well performance but rather was driven by the timing of well completions. One can notice multiple occasions (at least 14 wells) when existing wells saw steep production declines during January or February, with production returning to "normal" levels in March. Those troughs likely reflect a busy schedule of production equipment installation or shut-ins related to completion work on adjacent locations.
Quite notable is the performance of Halcón's most recent wells. The downdip wells that were drilled closer to the condensate window - including the two Palamino wells, the Wombat, Javelina, Reveille and Stifflemire - are performing very strongly and appear to outperform the wells located in the play's original core located updip within the black oil window by the Brazos-Robertson county line.
In late March, Halcón added a new record-setting well. The Reveille #1H was turned to sales on March 20, 2014 and tested with an exceptionally strong IP rate of 1,416 Boe/d (93% oil). The well produced 13,882 barrels of oil in the first 12 days of being online (over 1,100 bo/d on average). Halcón commented that the well is currently performing stronger than the Stasny-Honza #1 well that had been the company's most prolific Eagle Ford producer. The Stasny-Honza produced ~116,000 barrels of oil in the first eight months and is on track to produce ~140,000 barrels of oil during the first year. In my estimate, the Stasny-Honza's early performance and current production rate may be consistent with a 600-750 Mbo EUR, which would make it a highly economic well.
In terms of well performance and acreage within the play's core, Halcón remains the pace-setter in the East Texas Eagle Ford. Halcón's latest well results provide a positive read-across to Comstock Resources (NYSE:CRK) and SM Energy (NYSE:SM) who have significant exposure to the condensate window.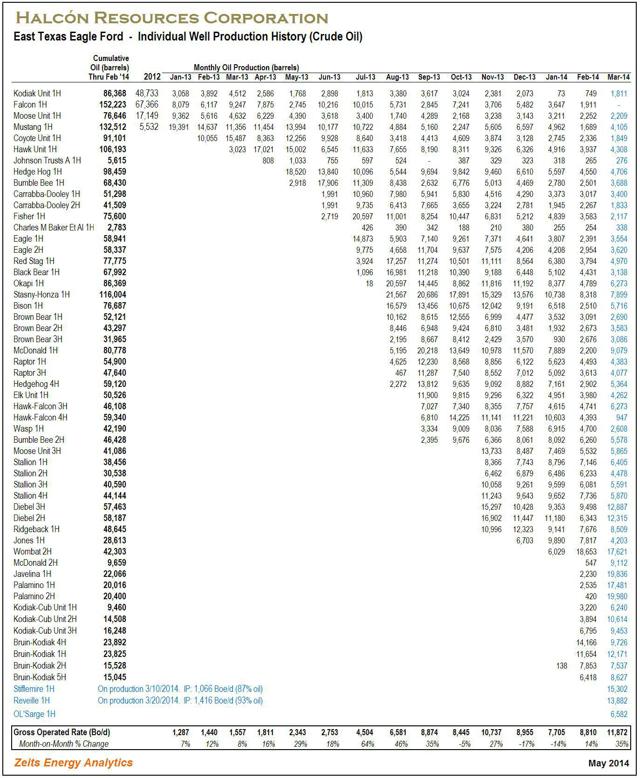 Click to enlarge
(Source: Zeits Energy Analytics, May 2014)
The following graph shows a strong recovery in Halcón's monthly production volumes in El Halcón in the month of March after a trough in January and February. The graph is based on the actual well data. The months of April and May promise to show further growth - Halcón commented that current production is running ~50% above the first quarter average. Given the timing of new well additions, such strong performance would only be possible if the latest wells continued to perform very strongly and, therefore, is a very encouraging sign.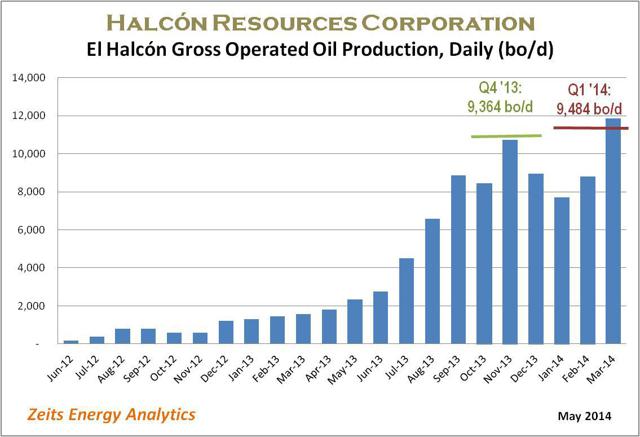 Click to enlarge
(Source: Zeits Energy Analytics, May 2014)
I must note that Halcón's production growth in El Halcón may experience a slowdown after the second quarter. The company's base production has grown substantially and a greater number of wells is now required to offset natural declines. At the same time, the company plans to reduce the number of rigs in the play to two-three from three-four in the previous three quarters. The reduction of drilling activity is likely associated with capital re-allocation towards the TMS and acute budget constraints (in the first quarter, Halcón spent at an accelerated pace and will have to reduce spending in order to stay close to the budget). The slowdown is in fact a positive development from a drilling return perspective - it should allow Halcón to take due time to rationalize its operating plan and implement best practices based on the accumulated production history.
Overall, given that Halcón's very first well in the play (originally drilled by Weber Energy) is less than two years old, the play is a spectacular success for Halcón. The company currently has 57 wells on production, of which only three were unsuccessful (two of these wells were located outside of the core area). Strong cumulative production metrics, consistency of well performance (when adjusted for the lateral length, the well trajectories are tracking within a relatively tight band) and predictable execution are the necessary attributes that make this play a commercial resource play. While El Halcón has some ways to go before it can match the best areas in the Bakken and South Texas Eagle Ford in terms of drilling returns, the play is progressing in the right direction and the early results are quite promising.
Disclaimer: Opinions expressed herein by the author are not an investment recommendation and are not meant to be relied upon in investment decisions. The author is not acting in an investment advisor capacity. This is not an investment research report. The author's opinions expressed herein address only select aspects of potential investment in securities of the companies mentioned and cannot be a substitute for comprehensive investment analysis. Any analysis presented herein is illustrative in nature, limited in scope, based on an incomplete set of information, and has limitations to its accuracy. The author recommends that potential and existing investors conduct thorough investment research of their own, including detailed review of the companies' SEC filings, and consult a qualified investment advisor. The information upon which this material is based was obtained from sources believed to be reliable, but has not been independently verified. Therefore, the author cannot guarantee its accuracy. Any opinions or estimates constitute the author's best judgment as of the date of publication, and are subject to change without notice.
Disclosure: I have no positions in any stocks mentioned, and no plans to initiate any positions within the next 72 hours. I wrote this article myself, and it expresses my own opinions. I am not receiving compensation for it (other than from Seeking Alpha). I have no business relationship with any company whose stock is mentioned in this article.