Background
Trinity Industries (NYSE:TRN) is a Dallas, TX based mid-cap industrial (IYT, XLI) and machinery company well positioned to benefit from the growing production of U.S. Domestic oil as well as the general growth of the U.S. rail system over the medium and long term. Trinity manufactures a variety of railcars including hoppers, general freight cars, and both pressurized and non-pressurized tanker cars used in the transport of oil and petroleum products. Trinity sells its railcars directly as well as leases its cars through its wholly owned subsidiary. In addition to its railcar business, Trinity also produces highway construction materials, energy/power equipment (wind turbine towers), and inland barges. Trinity's management has indicated a commitment to a diversified portfolio of industrial products, but the company's dramatic earnings growth is due nearly entirely to its railcar manufacturing and leasing businesses.
The Fracking and Oil Sands Boom
Oil!
Hydraulic fracturing ("fracking") has revolutionized the domestic oil and natural gas industries in the United States and touched off a boom of production in six key deposits in the lower 48 states. The U.S. Energy Information Agency (NYSEMKT:EIA) estimates that U.S. domestic production of oil will continue to grow through 2020 (past the 1970's daily production peak), while natural gas production is projected to grow well beyond 2040.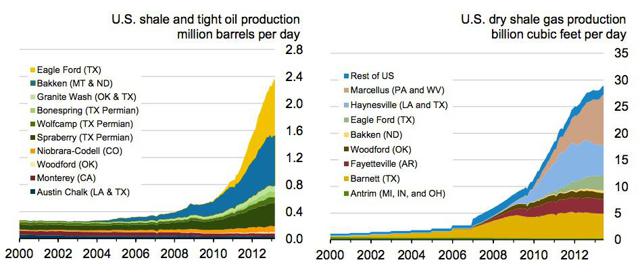 (Source: Energy Information Agency)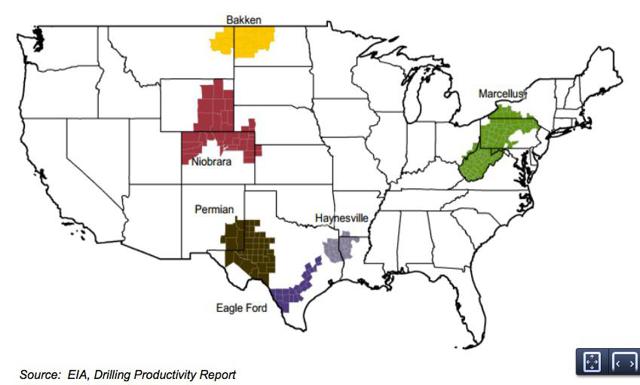 (Source: Energy Information Agency)
These far flung deposits have put pressure on U.S. pipeline and rail infrastructure to transport shale oil to the country's centralized refining centers; with nearly half of the country's refining capacity falling in the Gulf PADD region primarily composed of the refining capacities of Texas and Louisiana.
In addition to the rapidly expanding production of shale oil in the continental United States, Canada's Alberta oil sands also continue to increase production without the domestic refinining capacity needed to refine the heavy Canadian crude. It too must be transported great distances to refineries capable of processing the unique Canadian bitumen, most of which are found on the U.S. Gulf coast.
Pipelines and Mobile Pipelines
The glut of North American Oil has sent both the U.S. and Canadian transport infrastructures scrambling for solutions. The most efficient mode of transport are modern pipelines like the now infamous Keystone XL that is entering its sixth year of regulatory review, debate, and public comment. While it is likely that the Keystone XL will eventually be built, the more than half-decade political tumult surrounding the project illustrates that the United States is unlikely to build out its pipeline infrastructure much beyond its current capacity plus Keystone XL.
After pipelines, the only remaining method of cross country or cross continental transport is rail. The nation's current fleet of pressurized and non-pressurized tanker cars are not adequate in either quantity or quality to meet the rapidly growing demands of the domestic boom in oil production. Berkshire Hathaway's (NYSE:BRK.B) BNSF rail road said as much in February of this year when it announced it would purchase up to 5,000 new tanker cars to meet the growing demand for safer domestic oil transport after several major derailments. Other railroads are likely to follow these aggressive moves as they build a "mobile pipeline" to transport the country's widespread shale oil resources, and respond to increasing regulatory pressure to upgrade their current railcar fleets.
How fast can they Build?
There are only a handful of major manufacturers of tanker cars in the United States including American Railcar (NASDAQ:ARII), Greenbrier Companies (NYSE:GBX), and Trinity Industries. All of these major players have participated in the rising demand for tanker cars over the last three years and have seen impressive market returns as a consequence, but Trinity Industries remains the most undervalued by most market metrics and it is poised for sustained and robust growth.
Trinity's Staggering Growth and Share Appreciation
Earnings: Current and Future
The rapid pace of Trinity Industries 2013 and 2014 Revenue and EPS growth has both delighted and surprised investors and industry analysts who have been forced to revise both earnings estimates and target prices for the stock each of the last three quarters. Current consensus projections put Trinity's 2014 EPS at $7.48 per share, up from $4.67 per share in 2013. This nearly 60% growth in earnings is expected to moderate or even decline in 2015 due to anticipated declines in capital expenditures across Trinity's highly cyclical businesses. Yet the company's record backlog of railcar orders (currently valued at $5.2 billion) may suggest that current 2015 forecasts are overly pessimistic.

(Source Yahoo Finance)
Stock Performance and Shareholder Rewards
Shares of Trinity Industries have seen a rise from 2013-2014 even more dramatic than the company's EPS growth over the same period. Shares of Trinity have risen some 118% over the 16 and a half month period from January 2013 to mid-May 2014. Recently Trinity announced a 2 for 1 stock split and a 33% increase in the company's quarterly dividend in a bid to generate shareholder value. (Note: The effect of a 2 for 1 split is purely psychological as it does not materially effect the value of shareholder's stake in a company)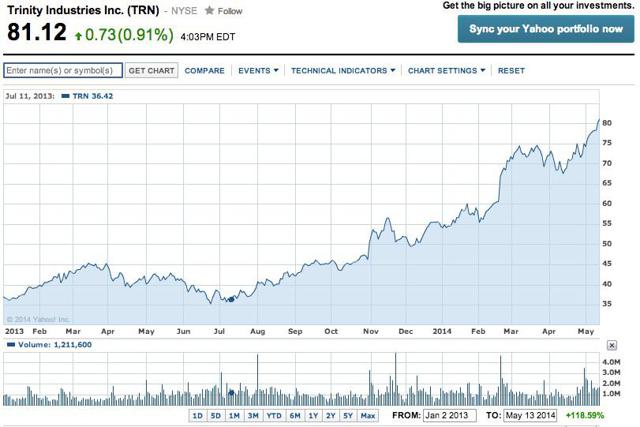 (Source: Yahoo Finance)
Fairly Valued
Despite the dramatic rise in Trinity's share price, the company is slightly undervalued to fairly valued based on nearly all common market metrics including trailing and forward P/E, Price to Book, Price to Sales, and Price to Cash flow. When compared to its industry peers the company's current share price seems substantially undervalued by between 10% to 15%. The median analyst price target for the stock is $87, or about 8% above its current market value.

(Source: Fidelity Investments)

(Source: Yahoo Finance)
A Long Run on the Rails
Trinity's share price has more than doubled over the past 16 months, but the company is at best fairly to slightly undervalued in the near term and is dramatically undervalued in the long term. The cyclical nature of Trinity's earnings is very likely to moderate over the next several years as the company has emphasized growing its railcar leasing business that provides a more stable stream of revenue than pure sales of industrial products. The longer term outlook for Trinity is very strong as the macro trends of North American domestic oil and gas production and a shift to rail transport in general drive demand for their railcar business. In addition, Trinity's other businesses are also well positioned to benefit from the inevitable repair and modernization of the U.S. highway, bridge, and renewable energy (wind) infrastructure.
Summary
Trinity Industries is well positioned to take advantage of several macroeconomic themes in the United States to grow revenue and earnings over the long term. While a recent and dramatic rise in share price coupled with medium term cyclical headwinds likely make the stock fairly to slightly undervalued, it is a strong long term play and should be considered by investors as an important potential addition to a diversified portfolio.
Disclosure: I am long TRN. I wrote this article myself, and it expresses my own opinions. I am not receiving compensation for it (other than from Seeking Alpha). I have no business relationship with any company whose stock is mentioned in this article.