WTI Crude continues to move higher after recent numbers have come in stronger than expected, meaning that supplies are lower than expected. We are also looking at the refiners opening back up from maintenance programs and that will drive up the demand for oil. The main reason prices continue to trade at elevated levels is due to Russia though and until there is some type of resolution in that area of the world, traders shall continue to place a price premium on crude.
Readers might be interested in watching the gasoline market with the government apparently set to purchase product to stockpile. With refiners set to increase production in the coming months it shall be interesting to see how much of an impact this has on the market and whether it will impact exports of refined oil products.
Chart of the Day:
The US 10 Year continues to trend lower, even with economic data that came in rather "hot" this morning. Low rates are good for the commodity names we invest in, especially those using debt to develop their projects. Look for the bull market in commodities to continue as rates remain low and relatively stable.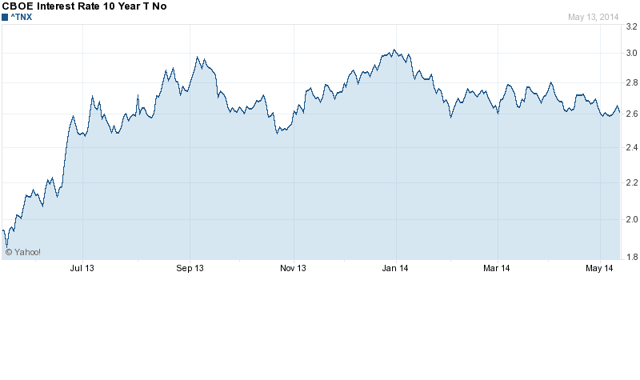 Source: Yahoo Finance
Commodity prices are as follows (at time of submission):
Gold: $1,305.00/ounce, up by $10.20/ounce
Silver: $19.805/ounce, up by $0.258/ounce
Oil: $102.34/barrel, up by $0.64/barrel
RBOB Gas: $2.9512/gallon, up by $0.021/gallon
Natural Gas: $4.364/MMbtu, up by $0.006/MMbtu
Copper: $3.164/pound, up by $0.0285/pound
Platinum: $1,481.00/ounce, up by $25.00/ounce
TMS Continuing To Impress
Although the quarterly report from Encana (NYSE:ECA) yesterday were not all about the Tuscaloosa Marine Shale, or TMS, they might as well have been. Readers know that we have been interested in the TMS for some time as it is one of the last frontiers in the shale race and there are a few large acreage holders in the play which have caught our attention. Encana is certainly one of those names, holding roughly 200,000 net acres. The other names we like are of course Halcon Resources (NYSE:HK) and Goodrich Petroleum (GDP).
With the success that these companies have been having recently we think it is safe to say that the TMS play is about to hit the mainstream and that this might be the last opportunity to move in before the start of the big move we are expecting.
As the results in the TMS have improved, so too have the returns in two of the most levered names to the play. Both Goodrich Petroleum and Halcon Resources have had very strong moves in the last few months.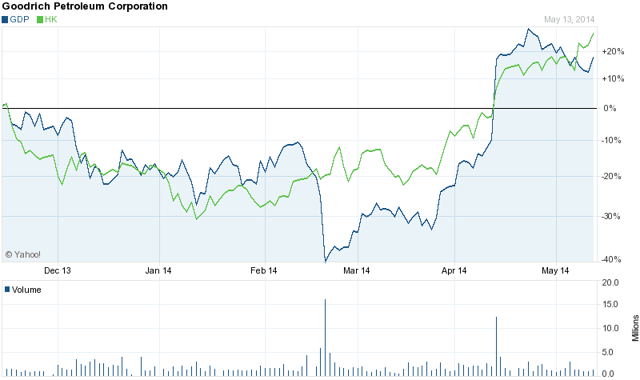 Source: Yahoo Finance
It certainly seems that the science of the play has been cracked and with Encana saying yesterday that they were pleased with their three wells in the play from this quarter and that all either met or exceeded the company's expectations. With the geology and science now figured out for the most part, we should be able to see a roll out over the next 12-24 months of large-scale drilling programs that capture investors' attention. This certainly looks like the quarter where the management teams were sold on the TMS, we suspect the next quarter or two shall be when investors are sold on the play.
LNG Politics
There continues to be a strong movement among politicians, both Republicans and Democrats, to export excess US natural gas to allies and others in Europe who depend on expensive natural gas imports from Russia. The latest news is generated by an op-ed from former Energy Secretaries Spencer Abraham and Bill Richardson which can be read here.
Cheniere Energy continues to trade near its highs and investors can expect that to continue so long as Russia and Ukraine remain in the headlines.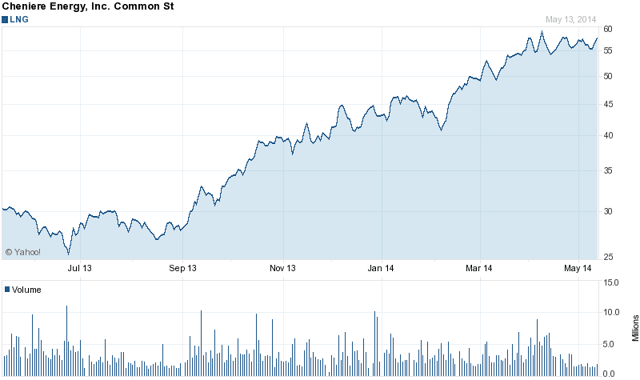 Source: Yahoo Finance
Although the point is made that approving these exports still takes time due to the long lead times to construct the facilities, we still think that this is good news for Cheniere Energy (NYSEMKT:LNG) and Dominion Resources (NYSE:D), two liquefied natural gas plays we have previously discussed for investors with different risk appetites. The longer Russia remains in the headlines the more dire the outlook for their energy exports to Europe. The movement has started to make the US a major player in natural gas exports and this shall be an economic tool as well as a diplomatic tool.
Disclosure: I am long HK. I wrote this article myself, and it expresses my own opinions. I am not receiving compensation for it (other than from Seeking Alpha). I have no business relationship with any company whose stock is mentioned in this article.
Additional disclosure: HK has previously been recommended.