On Friday the FDA announced that it will examine the potential heart risks of Novartis' (NYSE:NVS) Parkinson's drug Stalevo. This comes as the FDA has been notably stricter with new drug approvals, and also very cautious with any drugs showing hear related risks.
More than 154,000 patients have been prescribed Stalevo since June 2003 and FDA action could hamper shares of Novartis stock. Novartis is also expecting to present Phase 3 data for both FTY720, Multiple Schlerosis Drug, and Zometa, Breast Cancer Drug, by the end of this year. Furthermore, Phase 3 Tasigna, for Chronic Myelogenous Leukemia (CML) is expected in Q3.
So, there are at least 4 catalysts before now and the end of the year that could cause volatile moves in Novartis' shares. Implied Volatility is at 27.5%, which is near a 1 year high, but still seems cheap with these catalysts upcoming, the September straddle pricing in a 6% move in the next 5 weeks.
A fifth potential catalyst for shares to move lower is that Novartis may have to eventually up it's offer price for shares of Alcon (NYSE:ACL), after seriously low-balling investors.
Option traders have been very active in Novartis the past few weeks, positioning for these catalysts. Novartis trades an average of 3,000 option contracts per day, but has traded more than that 7 of the past 20 trading days. Looking at open interest I can see than 15,014 September $50 puts are in open interest, 33,963 October $55 calls are in open interest, and 31,075 October $45 puts are in open interest, extremely elevated in those strikes.
Some of the larger trades the past two months include:
On June 14th a trader bought 10,000 October $45 puts and sold 10,000 October $55 calls for a $0.90 debit, a bear risk reversal betting on shares heading lower.
On June 30th the same bear risk reversal traded 5,000 contracts, while another 5,000 of the spreads traded the next day, July 1st
On July 7th the exact same October $55/$45 bear risk reversal traded 11,000 contracts at an $0.80 debit
On August 10th, more than 11,000 September $50 puts were bought for $1, including a block of 5,500, while on August 17th a buyer for an additional 2,000 contracts paid $1.05
Shares of Novartis formed a double top at the $55 level with 2008 and 2010 highs, and have since pulled back to around $50, struggling to ever hold above the 200 day moving average for consecutive days, momentum waning in the name.
click to enlarge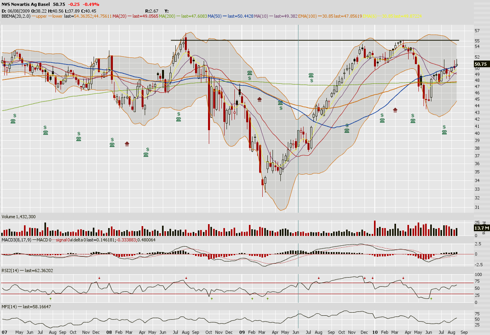 Novartis shares trade 10.3X earnings, a PEG of 2.43, 2.08X book, and 15X free cash flow, also yielding a3.84% dividend. Profit margins are near 10 year lows, as is the revenue growth rate, while debt/equity is nearing a 10 year high.
Novartis fundamentals are weakening along with the price action (technicals), and with 5 potential catalysts by year end, and a major bearish sentiment in the options market, shares look like a great short at the current price of $50.75.
Disclosure: Author is planning to go long October $50 puts at $1.70