By Todd Shribber & Tom Lydon
Yes, investors have heard this before: Russian stocks are inexpensive. Then again, that is usually the case, at least when Russian equities are measured against broader emerging markets benchmarks.
Against the backdrop of slowing economic growth, a sovereign credit rating that was recently lowered by Standard & Poor's to BBB-, the lowest investment grade, and the invasion of Ukraine, Russian stocks are currently extremely discounted even by historical standards. The P/E ratio on Russia's benchmark Micex Index is about half that of the MSCI Emerging Markets Index.
Those discounts are reflected in some of the marquee holdings of Russia exchange traded funds, including the largest, the Market Vectors Russia ETF (NYSEARCA:RSX).
At the Sohn Investment Conference last week, Jim Grant, founder, Grant's Interest Rate Observer, called OAO Gazprom (OTCPK:OGZPY), one of Russia's state-run energy giants, cheap. As Adam Johnson for Bloomberg reports, Grant highlighted the fact that Gazprom is a prodigious generator of free cash, supporting a dividend yield of 5%.
Gazprom trades 2.5 times earnings, or 59% discount to its 10-year average, according to Bloomberg. The stock is RSX's largest holding at a weight of 8.8%.
Another Russian energy giant trading at a deep discount to historical averages is Lukoil (OTC:LUKFY). It trades at four times, a 38% discount to its 10-year average, according to Bloomberg. That makes telecom name Mobile Telesystems look almost expensive. Still, that stock is trading at a 23% discount to its 10-year average, Bloomberg notes.
Plus, Mobile Telesystems (NYSE:MBT), like Gazprom, generates impressive free cash flow and lobs off an enticing dividend. Last month, J.P. Morgan forecast a 2014 dividend yield of 8.2% on Mobile Telesystems American depositary receipts. By comparison, shares of AT&T (NYSE:T) currently yield 5.2%.
Gazprom, Lukoil and Mobile Telesystems combine for 21.3% of RSX's weight, according to Market Vectors data.
Investors with a taste for adventure might want to know that it is not just Russian large-caps that are inexpensive.
Although it has tumbled nearly 11% since the end of February, the Market Vectors Russia Small-Cap ETF (NYSEARCA:RSXJ) holds some attractively-priced names among its 31 constituents. RSXJ is inexpensive compared to RSX. The small-cap ETF had a trailing 12-month price-to-book ratio of just 0.34 at the end of March, less than half RSX's price-to-book ratio.
By at least one estimate, RSXJ trades at just 2.2 times weighted average cash flow.
Market Vectors Russia ETF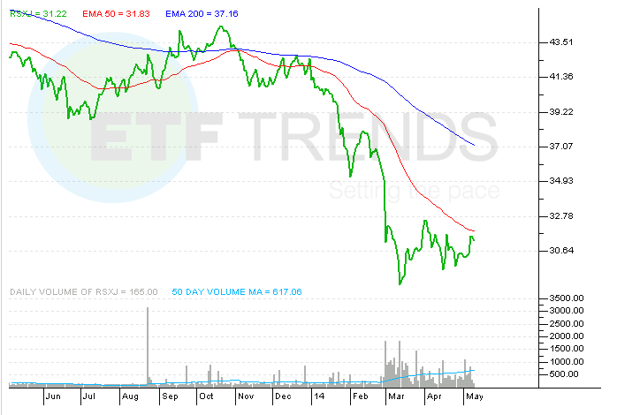 Disclosure: I have no positions in any stocks mentioned, and no plans to initiate any positions within the next 72 hours. I wrote this article myself, and it expresses my own opinions. I am not receiving compensation for it. I have no business relationship with any company whose stock is mentioned in this article.
Editor's Note: This article discusses one or more securities that do not trade on a major U.S. exchange. Please be aware of the risks associated with these stocks.