Winn Dixie (NASDAQ:
WINN
) is at an all time low, SuperValu (NYSE:
SVU
) is less than $2 from a 21 year low. Market sentiment is extremely negative. Consumers are becoming more price conscious, Wal-Mart (NYSE:
WMT
) continues its quest for world domination and a pill has been invented that makes eating obsolete! You get my point, the hysteria is getting out of hand and creating the perfect buying opportunity to exploit. It could be an appropriate time to step up to the checkout line and load up on supermarket stocks. Isn't it right to be greedy when others are fearful? Two chains that peak my interest that have been beaten beyond recognition are Supervalu and Winn Dixie.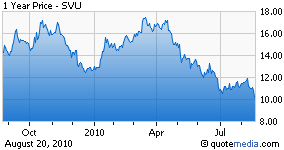 SVU: Bargain priced at a mere 6 times 2010 earnings estimates of $1.70, including a fat dividend yield of 3.5%, this stock almost seems almost too good to be true. Out of 13 analysts that follow the company, all have price targets above its current share price, with a mean one year price target of $12.50 - implying it could be susceptible to an upgrade or two based on valuation purposes alone.
Besides a very brief one day touch of $8.50 in Nov 2008 (it subsequently vaulted 50% in the next four weeks), the stock has not seen these very depressed levels in more than 20 years. Mr. Market is apparently spooked that its $6 billion debt will be the death of it, yet the company has been steadily whittling that burden down by paring $700 million the past year. Even if SVU ends up earning just half of analyst expectations (about .85), those earnings would still translate into a reasonable multiple of 12!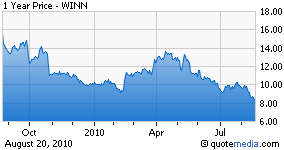 WINN: Five analysts provide research coverage on WINN with a $13 mean target price. The lowest target price of $10, represents almost a 25% premium to today's share price. The stock could be ripe for an upgrade or two, simply because of the severity and quickness of its fall. It has plainly gone down too much in too short of a timeframe. You would think at the very least, it would experience a "dead cat" bounce, prompted by some very fortunate "shorts" with the mindset to "book their profits" by buying to cover. Ultimately, the cheaper the shares get, the more vulnerable WINN becomes as a private equity firm's target.
Earnings report approaching: WINN is slated to report its fourth quarter results on 8/30 and is expected to report unchanged earnings of 16 cents, on sales of $1.78 billion (a 3% increase). Since the supermarket operator recently indicated that it would generate results at the bottom end of its EBITDA guidance range of $140 to $160 million, I expect earnings to come in closer to the 12 cent vicinity on sales of $1.73 billion. That being said, the shares won't see another selloff if this occurs, because this disappointment has probably already been factored into the share price and then some. The real issue will be management's subsequent fiscal 2011 guidance, because Wall Street is concerned only with the future, not the past!
Bottom line: Both WINN and SVU are too cheap to pass up. I know conventional wisdom says don't try and catch a falling knife, but with these two, you have to go with your gut feeling. I like WINN because of its huge cash hoard, minuscule debt and substantial book value. SVU is on my buy list, due to its generous dividend yield, its sheer size and the fact it owns the real estate on more than ½ of its locations. For those skeptical investors who need more prodding: two SVU insiders (the CEO and VP) both put up their own cold hard cash, by buying 35,000 shares. It is time to pick the low hanging fruit!

Disclosure: long SVU and WINN