Corporate Stocks versus Corporate Bonds: and the winner is? Money has been moving out of stocks into bonds, driving down bond yields to eye popping low levels.
Case in point: Kimberly-Clark's (NYSE:KMB) 7.5% November 2018 bond (A2 rated Moody's) is now selling for a yield of 3.1%. Meanwhile, the stock KMB yields 4.1%. Clearly, bond holders want to be associated with KMB; they've entrusted their money to the company for the next 8 years. The most they can make if they hold the bond to maturity is the 3.1% yearly interest.
In contrast, KMB has consistently raised its stock dividends the past 22 years. Eight years ago, KMB's dividend was $1.20 a year; now, it's $2.64. KMB will likely continue raising its dividend. It would seem far safer and more lucrative to own the stock rather than the bond and have the potential upside in price and dividend.
These bond holders risk having their notes called, resulting in a very significant loss with a premium of $31 over par. It's hard to see the value in an investment with such a significant risk. At these low yields, KMB bonds should outperform the stock only if the economy goes into a period of prolonged deflation in which just enough Kleenex and Huggies are sold to keep the company afloat.

Below are KMB.GV charts of bond yields and price, while KMB dividend is 4.1%.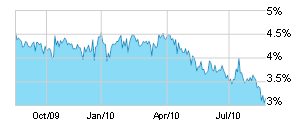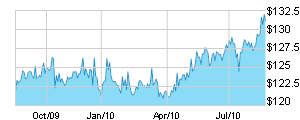 KMB is not the only case where bond holders are willing to settle for yields below those of the stock. Both Altria Group Inc. (NYSE:MO), Lockheed Martin (NYSE:LMT), and Verizon (NYSE:VZ) have dividends paying more than 8 to 9 year bonds.

MO, November 2018 with a coupon rate of 9.7%, currently is priced also at a premium $132 yielding 4.87% (not callable). MO, the stock, has a dividend of 6.16%. Below are MO.HC charts of yield and prices, while MO dividend is 6.16%.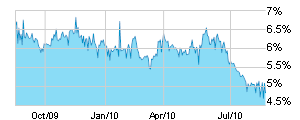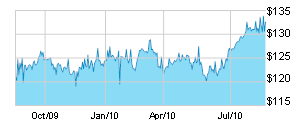 LMT, November 2019 with a coupon rate of 4.25%, priced at $109 with a yield of 3.1%. The stock LMT has a dividend rate of 3.44%. Below are charts of LMT.HK yields and price in charts below while LMT dividend is 3.44%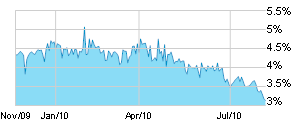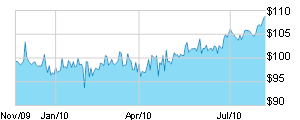 VZ November 2018 with a coupon rate of 8.75% priced at $134 yielding 3.83%. VZ stock yields 6.47%.
Below are VZ.RW charts of yield and prices, while VZ dividend 6.47%.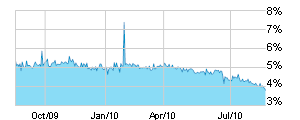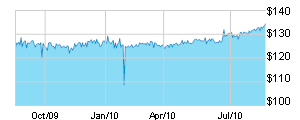 Bonds may continue to appreciate in price for a while. When the move into corporates ends is anyone's guess. However, stocks with strong dividends look more attractive than bonds. Bond holders should be prepared to be nimble in trading to avoid losing their principal to rising interest rates or a dreaded call.
Disclosure: Author is long KMB.