Are emerging markets risky, unstable investments which should be shunned by conservative investors? Or are they, as I believe, must-have, wave of the future investments which everyone should have at least some positions in?
Ever since then Fed Chairman Ben Bernanke first mentioned tapering -- scaling back the Fed's asset purchases (aka QE) -- last May, emerging market equities have been weak. The thinking is that higher interest rates will drain capital out of these "risky" regions and back to the "safe" developed countries.
Why Invest In Emerging Markets?
It's simple: Emerging markets are where global growth is. Developed nations such as the U.S., Japan, or in Europe are heavily indebted, have high taxes, and are mired in the economic doldrums.
Emerging markets, however, have great potential. Look at Vietnam. Back in the late 1970's, after the ignominious U.S. exit, the country was supposedly lost in the "black hole of communism." But a funny thing happened on the way to the forum. Vietnam, though nominally communist is prospering and on good terms with the U.S. -- it's an excellent lesson on how cooperation and trade trump ideology and conflict.
Then there is this: Roughly 85% of the world's population live in or near emerging markets. In many cases these markets have younger populations and fast growing middle classes. If per capita income simply goes from U.S. equivalent $2 to $3 per day (still far below that of developed countries) the growth ramifications are enormous. It's foolish for investors to avoid these markets.
Yes, many companies in emerging markets are unproven. That's why Exchange Traded Funds (ETFs) are so useful. Their diverse array of holdings provides protection. You ride up with the good ones; the bad ones fall by the wayside.
Why Funds Are Best
As noted above, ETFs are one of the best ways North American investors can invest overseas. ETFs have two big advantages:
First, ETFs provide a simple, cost efficient way to own overseas based companies -- companies which are often difficult, if not impossible, to trade on U.S. exchanges.
Second, ETFs provide investors with diversity. While occasionally one company may comprise up to 20% or so of holdings, that company, thanks to indexing, will almost always be a large, well regarded, blue-chip multinational. The ETFs profiled below are well diversified and no one company dominates holdings.
Are Emerging Markets A "Buy" Now?
As noted above, ever since tapering concerns began a year ago, emerging markets have been weak. Now, however, with tapering a fait accompli, the fright seems to be over and emerging market equities are once again on the rise.
Lets look at how the three ETFs profiled in this article have performed over the last year. Notice that the recovery since last February, while not spectacular, is steady.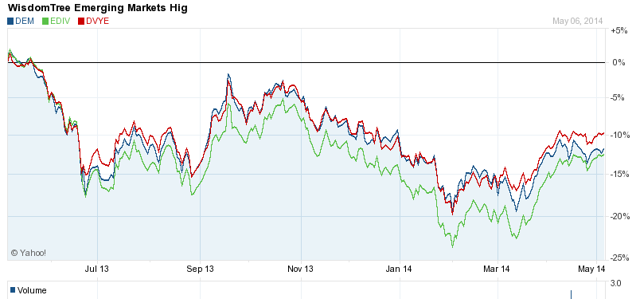 Click to enlarge
Source: Yahoo Finance
WisdomTree Emerging Markets Equity Inc has nearly $3.8 billion in assets under management and over 300 companies in its holdings. The WisdomTree Emerging Markets Equity Income ETF (DEM) tracks the performance of the highest dividend yielding stocks in the WisdomTree Emerging Markets Dividend Index. Top country holdings are Russia (17.9%), China (16.7%), Taiwan (14.1%), Brazil (12.4%), and South Africa (9.7%).
Top sectors in DEM are financial services (23.7%), energy (19.1%), basic materials (18.4%), and communication services (16.6%).
Since 2 of the top 3 holdings (Gazprom (OTCPK:OGZPY) and Rosneft (OTC:OJSCY)) are large Russian oil and gas companies and the Ukrainian crisis has Russian stocks stumbling, DEM is, to some extent, a contrarian play -- a bet the crisis is temporary.
With a price of 50.1 at the time of writing DEM is now 12.2% off its 52 week high of 57.1. The annual yield is 4.32%.
SPDR S&P Emerging Markets Dividend ETF (NYSEARCA:EDIV) holds 126 stocks and has $490 million in assets under management. The ETF tracks the S&P Emerging Markets Dividend Opportunities Index.
EDIV's top sectors are communication services (17.2%), technology (16.0%), financial services (15.5%), basic materials (15.4%), and utilities (10.0%). Top countries are: Taiwan (18.6%), China (14.3%) and Brazil (10.9%). No one company comprises more than 4% of holdings.
EDIV is attractive because it is well diversified over regions, sectors, countries, and companies. Thus investors are as protected as possible from individual negative developments in the volatile emerging market arena -- and there is always something.
The dividend yield is a robust 4.97% and should increase over the long term as emerging markets growth resumes.
With a current price of 39.8 EDIV is 10% off its 52 week high of 43.97.
iShares Emerging Markets Dividend ETF (NYSEARCA:DVYE) holds 113 stocks and has $191 million in assets under management. The ETF seeks to track "the investment results of an index composed of relatively high dividend paying equities in emerging markets."
DVYE's top sectors are communication services (16.0%), basic materials (15.1%), consumer cyclical (12.2%), and technology (11.1%). Top countries invested in are: Taiwan (25.4%), South Africa (9.8%) and China (7.0%). No one security comprises more than 4% of holdings.
DVYE is a relatively new ETF; the inception date was February 23, 2012. Over a quarter of DVYE's holdings are in Taiwan. Taiwan's parliament is currently debating a controversial trade pact with mainland China -- only 100 miles away across the Taiwan strait. If approved the trade pact should be a boon for Taiwan opening up trade with it's huge neighbor.
With a price at time writing of 49.3, EDIV is 10.8% off its 52 week high of 55.2. The current annual yield is 4.65%
Conclusion
Most U.S. investors are probably underweight emerging markets. Yet emerging markets are where global growth is highest. Right now, with many global markets near or at all time highs, emerging markets are one of the few contrarian plays available.
The above emerging market ETFs provide diversity, income, plus potential for capital gains. Now may be a good time to start or add to positions. Remember, these are not bet the ranch on type investments. Investors should, however, be aware that these markets offer great potential for superior long term returns.
Note: Holdings, and returns data is sourced from etfdb.com while 52 week highs and yields are sourced from Yahoo Finance.
Disclaimer: The above article is informational only. Investors are advised to do their own due diligence before investing.
Disclosure: I have no positions in any stocks mentioned, and no plans to initiate any positions within the next 72 hours. I wrote this article myself, and it expresses my own opinions. I am not receiving compensation for it (other than from Seeking Alpha). I have no business relationship with any company whose stock is mentioned in this article.