By Bryan McCormick
US stock index futures are fractionally higher after European markets rebounded from their plunge last week and acquisition activity heats up.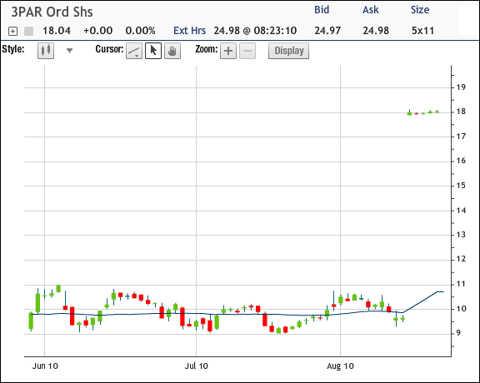 Click to enlarge
(Click to enlarge)
Hewlett-Packard (NYSE:HPQ) offered to pay $24 a share for 3Par (NYSE:PAR), a data-storage company Dell (NASDAQ:DELL) had agreed to buy for $18. Potash (NYSE:POT) formally rejected the bid from BHP Billiton (NYSE:BHP), and the Wall Street Journal this morning noted that China's Hopu might be contemplating an offer for the fertilizer maker. Bloomberg also reported that Sinochem and Brazil's Vale (NYSE:VALE) could make a bid. HSBC (HBC) meanwhile was in talks to acquire a majority stake in South Africa's Nedbank (OTCPK:NDBKY).
The activity is unusual for this time of year, with August normally being quiet. Mergers and acquisitions are considered very bullish indicators for the health of the general market. While the deal calendar itself is still light, M&A talk tends to spur speculation in companies related to the takeover target. That has been the case with Mosaic (NYSE:MOS) and other competitors to POT.
On the international front, the general elections in Australia failed to give either Labour or the Conservative coalition the votes needed to form a majority government. Some traders consider this bullish because it may prevent passage of a "super tax," on mining companies favored by the ruling Labour government. Worries about the tax have weighed on shares of BHP Billiton and Rio Tinto (RTP) since the plan was proposed in April.
Currency markets are flat this morning, with the US dollar slightly lower against its basket. Commodity prices have firmed up from last week's dip, but the action generally is quite muted. Expectations are that this will be an even lighter trading week than has already been the case this summer. What little stock-specific and macro-economic news there may therefore have greater impact than normal.
Disclosure: No positions