Shortly before the holidays late last year, I opined that deep discounts in the CEF space presented an opportunity for income investors. In this article I'd like to take a look at how the funds I highlighted performed, as well as discuss the forward outlook for this often overlooked group of securities.
Our Shopping List
In that article, I mentioned a group of five diversified CEFs that I thought merited investors' attentions. Here is how they performed over the six months since that article:
| | | | | | |
| --- | --- | --- | --- | --- | --- |
| CEF | Discount Then | Discount Now | 6 mo. Total Return | Yield Then | Yield Now |
| Prudential Global Short Duration High Yield (NYSE:GHY) | 9% | 5% | 8% | 8.7% | 8.4% |
| Western Asset Emerging Markets Debt (NYSE:ESD) | 13% | 9% | 10% | 8.6% | 8.0% |
| Alpine Global Premier Property (NYSE:AWP) | 13% | 11% | 6% | 8.6% | 8.4% |
| Neuberger Berman MLP Income (NYSEMKT:NML) | 8.5% | 9% | 9% | 7% | 6.6% |
| Nuveen Preferred and Income Term (NYSE:JPI) | 11% | 8% | 13% | 9.2% | 7.8% |
Overall the performance here was rather consistent - a narrowing of discount (except in NML), drop in yield, and very respectable total return over a six month period. The standout was the Nuveen Preferred product, while the Alpine fund, which I actually decided to eliminate from my portfolio during the first quarter, was somewhat of a laggard.
So while there were no home runs here, we achieved a respectable return from a small, eclectic group of securities skewed towards income generation.
Understanding The CEF Discount/Premium Mechanism
But even with our returns, these funds, as well as many other CEFs still sell at fairly substantial discounts to their net asset values. Unlike open-ended funds, which price their actual NAV once a day, and open market ETFs, which tend to sell near their net asset value, there is no governance regarding CEF pricing. Just like equities, the market can value them in a highly inefficient and potentially irrational manner on a day to day basis.
Therein rests the allure of the CEF, however. When selling at a discount, investors are able to own the underlying assets of the fund at a cheaper price than they'd be able to buy them on the open market. For example, as of February 28, the largest holding in NML was ETE, Energy Transfer Equity, which sells for roughly $50 on the NYSE. By buying NML at a 9% discount, you are effective buying ETE for $45.50 a share. Of course CEFs are not free. Between management fees and leverage expense you could be looking at upwards of 200 basis points (2 percent), per annum, of fee.
NML-chart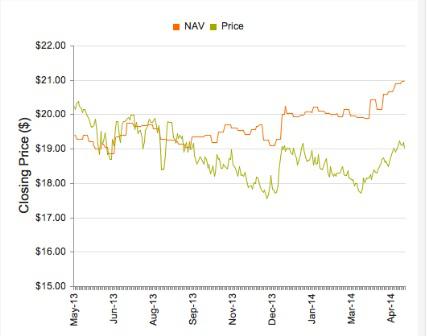 courtesy: CEFconnect.com
If we look at the above chart for NML, we can see a market discount (green line) developing last fall, expanding toward the end of the year, and persisting to this day. If we look at the orange line ((NYSE:NAV)), however, we see a much different story, with a somewhat non-volatile, slow-but-steady move from $19 a share to $21 a share. So even though the fund has gained 10% in asset value, the market price has actually dropped 5% over the past year - what I tend to term a 15% "stealth" loss.
So-called "stealth" loss has been a very common occurrence in CEFs over the past year. Another example is seen below in the chart for Western Asset High Income (NYSE:HIO), a fund that invests in junk bonds. After the Fed announced the taper last year, the fund took roughly a 15% nosedive from its earlier year highs. An 8 percent price premium quickly became an 8% price discount. This, notwithstanding the fact that net asset value dropped less than 5 percent following last year's infamous Fed announcement.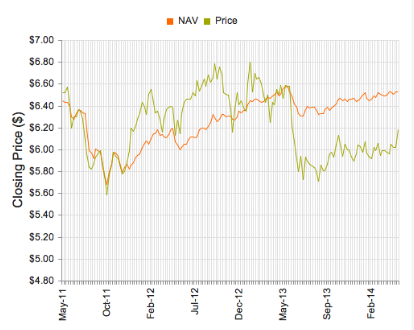 So even if your fund gains asset value, it is possible for the market to ignore that fact and trade the CEF lower. The opposite could also occur.
Why Do Discounts/Premiums Appear And Disappear?
Unfortunately, there's no easy answer to this question. Just like stocks, CEFs tend to price on momentum, sentiment, and a cycle of fear and greed. Sometimes they are priced on perpetual over- or under-performance or because of an unusual structural issue. Since CEFs are somewhat difficult to analyze and understand, they are often times overlooked or perhaps even mishandled by the average investor. And since they are mostly managed to generate income, there may be an element of yield chasing that occurs with them from time to time.
Indeed, if we refer back to HIO, I think it's fair to say that investors were chasing yield when purchasing shares at hefty premiums during the summer of 2012. As sentiment towards fixed income shifted a year ago, bond CEFs as a whole sold off significantly, swinging from premiums to discounts in an instant. During the summer of 2012, 90% of high-yield bond CEFs traded at a premium. Today, only about a quarter of them trade at a premium. Sector-wide only about 13% of all tracked CEFs trade at a premium, according to CEFconnect.com.
In a rising rate environment, net asset values of fixed-income related products will variably decline in value, thus, with the market currently sensing a rate shift on the horizon, a symmetric sentiment shift has seemingly already discounted that fact. Further, since most CEF products, fixed-income or not, are designed to generate income, the group in general has developed poor standing with the investment community.
Near-term with interest rates having backed up a bit since the beginning of the year, CEFs have rallied somewhat, as I opined they might six months ago. Of course if rates start to tighten again, then the opposite should be expected. So while the current discounts and yields in the group continue to be alluring, one should understand the consequences of an about-face move in rates.
Of the five funds mentioned in last year's article, I still like GHY, NML, and JPI, and would probably accumulate them at current levels. As I mentioned earlier, I sold AWP and I also decided to sell ESD, because I'd rather own flexibly managed, global oriented high-yield products, than tie into the narrow, unpredictable world of emerging markets debt. Basically, I believe that the risk/reward of the space seems to be skewed towards risk, which is certainly reflective in the discount.
Floaters
If we scan the broad offerings in the CEF space today, if you believe in the theme of higher interest rates, then a floating rate fund that could stand to benefit in a tightening rate scenario may make sense. There are about a dozen funds that advertise themselves as "floaters," but there are probably many more that include floating strategies and/or securities.
Quantitatively speaking, there are few differentiators amongst the available funds, with most yielding in the 6% neighborhood, trading with discounts ranging from 4-7 percent. While I don't personally own any of them, I'd feel comfortable with JFR, Nuveen Floating Rate Income, currently yielding 6.3% at a 7% discount. The fund, on an NAV basis, has a good track record over the long haul, although t has underperformed over the near-term.
JFR Performance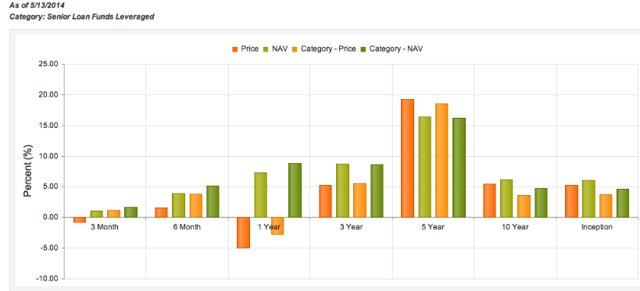 Utilities
If you don't necessarily believe in the forward rate tightening theme, but see modest economic growth ahead, I would suggest looking at double digit discounts in the utility space, which has already had a good run this year, but could be poised to move further. I would recommend:
Cohen & Steers Infrastructure (NYSE:UTF): Investing in a mix of utility, communications, other mission critical equities, as well as fixed income, UTF offers a current yield of 6.4% at a nearly 12% discount to net asset value, despite regularly beating its peer group. Its leverage runs at about 30 percent.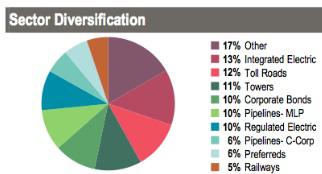 Duff & Phelps Global Utility (NYSE:DPG): A more pure-play equity fund than UTX, DPG also trades at a better than 11% discount, while yielding 6.7%, with leverage running about 25 percent. Although the track record here isn't long, I like the construction of the portfolio and what's not to like about the discount?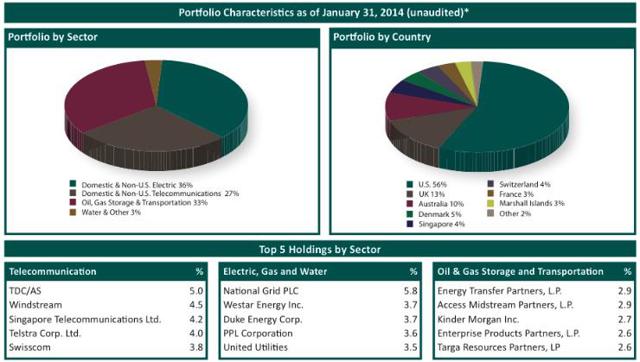 Option Income
Another space that possesses value, especially for income investors desiring a mix of elevated income and capital growth potential are the covered call funds. These funds, otherwise known as option-income funds, generate generally tax-deferred, return of capital distributions, by writing call options against various portions of an equity portfolio.
Distributions of between 7-10% with NAV discounts of up to double digits can be found. Discounts have been narrowing however, with investors waking up to the value inherent in these products. Eaton Vance, which operates a handful of option CEFs, has been running a share buyback program for nearly two years now, which seems to have been successful in narrowing the discounts. One of its funds, ETV, which I have recommended in the past, has seen a nine percent discount basically disappear over the past year. I would not be a buyer here.
ETV- 1 year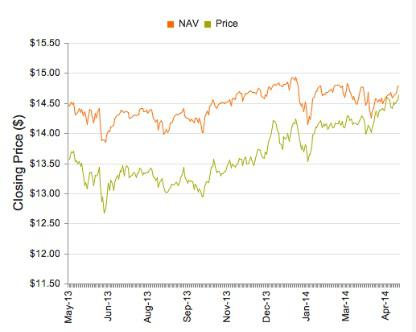 Today, there are still a dozen option-income funds with assets of better than $500 million, discounts of 5% and below, and distributions of better than 7 percent. I copied a search from CEFconnect.com with those parameters:

Single Country
Although not usually for the faint of heart or risk averse, single country funds are commonly found trading for double digit discounts in CEF-land. Though the distributions are usually nominal, you can buy Irish (NYSE:IRL), Israeli (NYSEMKT:ISL), Thai (NYSE:TTF), Mexican (NYSE:MXE), Indian (IFN,IIF), and many other foreign country equities and regions for less than 90 cents on the dollar. But again, the expense for doing so is not cheap. Without thorough due diligence or some inclination or thesis why a specific country's stock market will outperform, these funds are probably better off left untouched. Still, the ability to buy these assets on the cheap may present an opportunity for sophisticated investors.
Conclusion
Though CEFs tend to be overlooked by most investors, the ability to visibly buy assets at a discount can be a alpha generating endeavor. While many funds have undergone a tightening of discount over the past six months, value, especially if interest rates remain on the benign side, remains. But whatever the market environment, expect investor pricing of CEFs to be a bit on the irrational side - just like retail shopper behavior on Black Friday.
Disclosure: I am long NML, GHY, EXG. I wrote this article myself, and it expresses my own opinions. I am not receiving compensation for it (other than from Seeking Alpha). I have no business relationship with any company whose stock is mentioned in this article.
Disclaimer: The above should not be considered or construed as individualized or specific investment advice. Do your own research and consult a professional, if necessary, before making investment decisions.