The world's largest miner, BHP, bid for Potash Corp. (NYSE:POT) at a hefty premium, but the bid was shot down by Potash's CEO, who said it significantly undervalues the company. Therefore, he, as well as BHP, thinks that the global demand for fertilizer for food should remain strong. BHP seems determined to buy Potash, and they may raise their bid. This may cause consolidation hype in the industry, causing all fertilizer makers to rise. Further, other fertilizer makers could become acquisition targets, as noted here and here.
This may also be a long term trend of consolidation in the industry. Last year, Agrium (NYSE:AGU) made a hostile takeover bid for CF Industries (NYSE:CF), which made a counter bid for Terra Industries (TRA). With other companies still out there such as Intrepid Potash (NYSE:IPI), Mosaic (NYSE:MOS), and Terra Nitrogen (NYSE:TNH) as well as smaller players such as China Agritech (OTCPK:CAGC) and China Green Agriculture (NYSE:CGA) out there, the consolidation game may just be beginning.
China Agritech (OTCPK:CAGC) is a leading organic fertilizer producer in China. It has a 60% market share in rural China. As the Chinese population grows, its products will become more in demand. It just reported a week ago that net income jumped compared to a year ago (see here). Trading at a forward P/E ratio of 15 according to Yahoo Finance also says the stock is cheap compared to 19 for Potash. Lastly, it may be a smart acquisition target for a foreign buyer who wants to move into China, due to its inexpensive price, its large market share, and its growth.
In the short run, fertilizer may be in demand due to the Russian wheat crisis. And by a technical point of view, CAGC is down about 50% in the last 6 months due to the weakening Chinese economy. But Chinese growth is still 8-9%, down from 11%. So CAGC has a lot of room to go up. At a price of $17.50 per share, it is well off its high of $30 it reached in March. Lastly, one could argue that it is forming a nice cup base and is poised to go higher.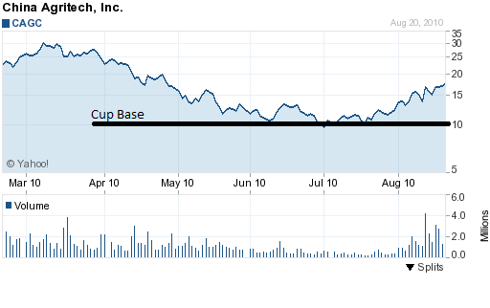 Click to enlarge
I strongly believe CAGC will do well in the near term and the long term. However, agriculture plays are seasonal, and Chinese stocks may continue to be under pressure. The road may be bumpy, but in the long run, it should be a winner.
Disclosure: Author is long CAGC