I suppose I am tired of hearing how wonderful Warren Buffett is. I do not disagree that he has been perhaps the most successful investor on the planet, but in my opinion it is all about himself. I am not saying he is not a generous man, so don't misunderstand me. What I am saying is that his investing acumen and insight for Berkshire Hathaway (NYSE:BRK.A) (NYSE:BRK.B) has been amazingly wonderful for HIM mostly, and he knows precisely what he is doing every single step of the way. Obviously the man is a genius.
I will offer this one example of a relatively recent purchase that Buffett made of DirecTV (DTV). Warren bought 22 million shares of the stock less than 2 years ago at a price of less than $46.00/share. More than wonderful timing in my opinion and now he has seen his investment increase by nearly 100% to around $86.00/share as AT&T (NYSE:T) is nearing a buyout of DTV for around $100 per share.
So far, Warren, or BRK.A and BRK.B have made nearly one billion dollars and that figure will likely be a bit higher when all is said and done. The gains will go into the coffers of Berkshire Hathaway and enrich an already highly enriched conglomerate. That is a good thing right?
Hey Warren, What About Us Little Guys?
The DTV deal is just one tiny sampling of Warren's investing acumen. Of course he also talked the government and or Bank of America (NYSE:BAC) into issuing him warrants at $7.14 to buy 700 million shares of BAC common stock by 2021, which Buffett stated that he will hold until the last month the warrants are eligible to be converted.
Why not? Those warrants pay him 6% to hold them while the common shares pay only .30%. By 2021, maybe he will or maybe he won't hold shares of BAC, but for now, his deal is sweeter than sugar, and those dividends go right back into Berkshire Hathaway.
The same goes for the dividends from Coca Cola (NYSE:KO), Wells Fargo (NYSE:WFC), General Motors (NYSE:GM), Wal-Mart (NYSE:WMT), Exxon Mobil (NYSE:XOM), Procter and Gamble (NYSE:PG), American Express (NYSE:AXP), IBM (NYSE:IBM), and a few more of Buffett's top 15 holdings.
The yield from BRK.A and BRK.B to shareholders is zero. Warren does not believe in giving dividends to shareholders. He would rather use the dividends HE receives to buy other businesses or buy back his own shares when the price is right to grow his company and offer the capital appreciation of the share prices as shareholder value.
In other words, Buffett is a dividend growth investor for himself, but keeps the dividends in his "pocket" so to speak. Actually, there are very few companies that Buffett invests in that do NOT pay a dividend. Take a look at this chart from 2011 (pre BAC) to get an idea of what I mean: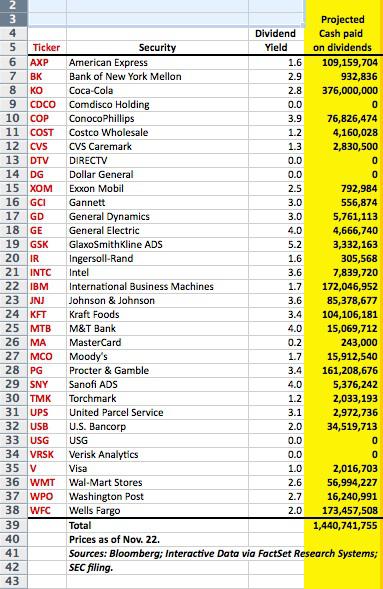 I have not checked recently whether the numbers are the same or if the shares of every company are still owned, but you get the idea.
Within the article I highlighted, in which this chart came from, it was stated thusly:
Buffett's apparent obsession with dividend payers is somewhat ironic given that Berkshire Hathaway continues to eschew paying out cash to its own shareholders. Most likely for tax reasons, Buffett is a stock buyback man.
Ironic? Nope, he is as greedy as the rest of us in my opinion, and wants to invest in companies that pay HIM but chooses to shun his shareholders of this obvious value.
So How Has Berkshire Been Doing?
At the annual shareholder meeting, there were thousands upon thousands of the Buffett faithfuls (shareholders) who were on hand to listen to the words of Warren himself, as he shrugged off concerns about his stock's rather flimsy performance in 4 of the last 5 years.
Warren Buffett shrugged off concerns about his Berkshire Hathaway conglomerate, which has trailed the overall market, and told shareholders Saturday to remain optimistic about his company and the U.S. economy.....Inevitably, there were rumblings about Berkshire's failure to beat the stock market in four of the past five years. Buffett said investors should not have been surprised that Berkshire's results trailed the S&P 500 last year......"We will underperform in very strong up years," Buffett said.

Buffett and Munger have said for several years that Berkshire's immense size makes it impossible to match the investment gains that the company delivered decades ago.

"It's not a tragedy that you succeed so much that future returns go down," Munger said. "That's success."
So in Warrens mind, there is nothing wrong with underperforming, while most of the stocks he owned outperformed. Plus those companies paid him billions upon billions in dividends while anyone who invested in Berkshire got nothing but lip service and underperformance?
Ahh, right, according to Charles Munger, "that's success"!
Look, let me be candid here, if I owned Berkshire stock 30 years ago I would be one of those Buffett worshippers myself, but I didn't and perhaps many shareholders today have only had the stock for 5-10 years anyway.
If underperforming 4 out of 5 years is a success, then I will pass, thank you. Of course if Berkshire was a dividend champion, it would probably have been my largest holding, basically forever! Alas, it is not, it pays zero dividends, and in my humble opinion, Buffett is a cheapskate!
The Bottom Line
I think Warren Buffett is an amazing man, as well as being enormously successful, but his position on paying shareholders a dividend is more than confusing to me, no matter how often he explains himself.
I will stick to holding most of the stocks he owns, and I will get paid for owning them myself. I guess I am just like Warren, a dividend income investor and a cheapskate!
Disclosure: I am long KO, T, WFC, XOM. I wrote this article myself, and it expresses my own opinions. I am not receiving compensation for it (other than from Seeking Alpha). I have no business relationship with any company whose stock is mentioned in this article.