Duke Energy (NYSE:DUK) has delighted investors with recent growing numbers. The nation's largest power company posted a loss of $97 million or $0.14 per share compared to last year's profit of $634 million or $0.89 per share. The earnings results were adversely impacted due to a pre-tax charge of $1.4 billion or $1.23 per share that was tied to Duke's decision to exit from its Midwest commercial generation business. However apart from that Duke's overall results were strong enough to beat analysts' earnings estimates.
Duke Beats the Estimates
In the first quarter Duke's revenues received a healthy jump of 12% and reached $6.6 billion from $5.89 billion in the first quarter of 2014; analysts were expecting $6.44 billion in revenues. The strong growth came from the regulated electric business that added $5.578 billion in revenues reflecting an increase of around 14.1%. The revenue growth from the non-regulated electric, natural gas, and other sources remained flat however regulated natural gas revenues increased 20% to $222 million. The improved revenues stream was on the back of serving power to approximately 7.2 million electric customers in six states in the Southeast and Midwest. Duke also experienced a 2.6% jump in retail sales mostly driven by residential and commercial customers for the quarter compared to the previous period.
Excluding one-time items, adjusted earnings boosted $1.17 per share from $1.02 and topped the analysts' earnings estimate of $1.12 per share. The higher adjusted earnings were driven by the favorable revision of customer rates and strong weather-normalized retail volumes. The extreme cold weather led to strong growth for energy across the company's service territories and the company experienced its third consecutive quarter of improved economic growth.
The future earnings stream is likely to be supported by the strong performance of its regulated utilities business that contributed $737 million reflecting an increase of 12% from same quarter of prior year. The improved net margins were responsible for the net income growth. Duke's international business includes 4,600 megawatts of generation in Latin America half of which is hydro generation in Brazil. This business represents around 10% to 15% of Duke Energy's earnings mix and historically has been a good performer. The international business continued its growth trend and generated $130 million adjusted earnings compared to $97 million in the first quarter of 2013. The improvement in the quarterly results was due to better results in Latin America, higher spot volumes, and pricing in Brazil.
Wind Energy May Take Duke Higher
Although the commercial power business is a small proportion of Duke's total portfolio it is important due to the improved earnings that are being driven by renewable resources. For the first quarter the commercial business generated $10 million in adjusted net income compared to $6 million in the first quarter of the previous year. The growth was primarily from favorable wind production and lower associated costs. Going forward, the renewable resources may become one of the key earning drivers for Duke. In the U.S. wind turbine system market demand is expected to grow 55% annually through 2018 to $18.9 billion reflecting a nearly nine-fold increase compared to the depressed 2013 sales.
Duke entered the wind industry with the acquisition of Austin, Texas-based Tierra energy. Since then Duke has invested $2.5 billion to strengthen its foothold in the wind industry and now the company owns and operates 15 wind farms including a 50% stake in the Sweetwater project. Duke is headed in the right direction by enhancing its wind energy portfolio and with the completion of two wind power projects in South Texas Duke will be in a better position to reap the benefits from the industry growth.
Competitor Comparison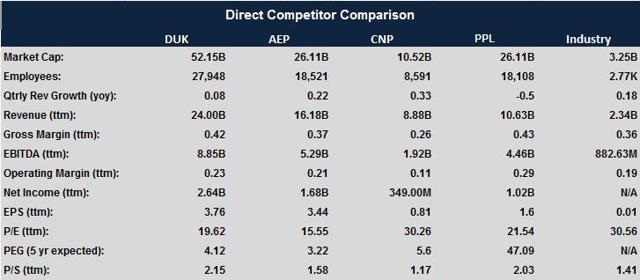 Source: Yahoo Finance
Comparatively Duke is the better performer compared to other utility stocks. Duke possesses various bright spots to attract the investors' attention. Duke's revenue stream is way above its close competitors such as American Electric Power (NYSE:AEP) and PPL Corporation (NYSE:PPL). Duke's profit margins are even higher than the industry and two of its competitors which gives Duke the advantage of maintaining higher profitability in the future. Due to its strong performance Duke's higher net income and earnings per share are good enough to reward investors in the form of improved and stable dividends.
On a P/E multiple basis Duke is less expensive than the industry average, PPL, and CenterPoint Energy (NYSE:CNP). Duke is trading at a twelve months P/E of 19.62X which is significantly lower than the industry's P/E of 30.56X. Duke is slightly more expensive than American Electric but this is justified because Duke is expected to grow 13.8% in the current quarter and 10.30% in the next quarter while in comparison American Electric is expected to grow 4.10% in the current quarter and growth is expected to decline 2.7% in the next quarter.
Conclusion
Apart from the recent impressive performance Duke is one of the attractive dividend-yielding stocks. The stock is currently paying an annual dividend of $3.12 per share with a dividend yield of 4.23% while in contrast American Electric is paying an annual dividend of $2 per share with a 3.74% yield and CenterPoint Energy is paying a dividend of $0.95 per share with a 3.88% yield. The dividend stream is likely to remain stable because the company now has $856 million in free cash flows in its basket after allowing for $5.5 billion for capital expenditure along with $1.55 billion cash and short-term investment to aid in future dividend payments.
Duke continues to do better than expected in costs savings and is achieving its 2015 target to shift its energy mix proportion primarily from coal towards nuclear and natural gas. The company will experience more improved earnings in the future due to favorable natural gas pricing and increasing electric demand from nuclear generation due to the retirement of older plants in the industry and lack of investment in the new nuclear plants. Over the past twelve months the stock has not seen a significant jump but year to date this stock has performed well and is up 8%. The analysts' target price for this stock is $77 reflecting an upside potential of 4.4%.
Disclosure: I have no positions in any stocks mentioned, and no plans to initiate any positions within the next 72 hours.
Business relationship disclosure: The article has been written by a Gemstone Equity Research research analyst. Gemstone Equity Research is not receiving compensation for it (other than from Seeking Alpha). Gemstone Equity Research has no business relationship with any company whose stock is mentioned in this article.