Valmont Industries (NYSE:VMI) announced its capital allocation philosophy on Tuesday, outlining priorities for capital over the next few years. These included the announcement of a $500 million share repurchase program and common share dividends on the range of 15% of the prior year's fully diluted net earnings. Valmont had already announced a 50% increase in its quarterly dividend from $0.25 / share to $0.3725 per share, with a forward yield at current market prices of 0.94%. Capital expenditures for the next 3 years are forecast to run in line with recent years, totaling $340 million for the period. The market reacted favorably to this announcement, bidding up VMI's shares by about 5% as of this writing.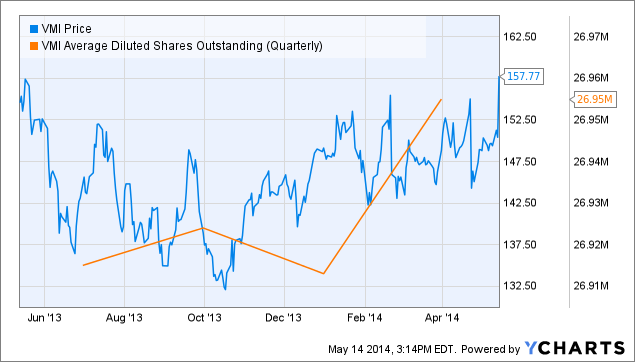 Valmont's share repurchase program will be conducted over the next 12 months through the open market and through privately managed transactions, funded through working capital and short-term debt. Assuming all $500 million allocated for the program is used, and assuming an average market price of $160 / share, this would reduce shares outstanding from 26.8 million to 23.7 million. This would raise forecasted 2014 diluted EPS from $10.00-10.50 to $11.30-11.90. I had previously derived a FV of $168, implying a forward PE of 16. Applying the same forward PE to adjusted EPS would yield a new FV estimate of $185. Under a highly conservative scenario, assuming that only a 25% portion of shares outstanding are actually repurchased, and assuming an higher average cost per share of $170, we arrive at a new FV estimate of $168. Averaging the two estimates yields an updated FV estimate of $177.
With current market prices hovering around $158 / share, I still believe shares are meaningfully undervalued, even after today's price action. Shares may be slightly overbought in the short term, and some additional downward volatility after today's run up may afford the chance for a better entry point. I believe that, given the undervalued status of Valmont's shares relative to their probable intrinsic value, that the share repurchasing program acts in the best interest of VMI shareholders. I am holding my shares and looking to add on any price weakness.
Disclosure: I am long VMI. I wrote this article myself, and it expresses my own opinions. I am not receiving compensation for it. I have no business relationship with any company whose stock is mentioned in this article.