Many areas of the market have rallied to new highs lately. Additionally, the momentum names have fallen out of favor a bit. One beneficiary of the recent rally is the cigarette space. The cigarette names have seen their shares jump recently, but the rally may have gotten ahead of itself. This is especially true for Philip Morris (NYSE:PM), a name that investors should wait for a pullback before buying. Today, I'll detail why.
Current expectations:
When comparing Philip Morris to others in the space, I look at three other names: Lorillard (NYSE:LO), Altria (NYSE:MO), and Reynolds American (NYSE:RAI). The following table is one I've used in several articles for this industry. It shows current expected growth in terms of both earnings per share and revenues. These are the analyst estimates for 2014 and 2015, as well as a two-year total. I've also provided each company's dividend yield as another way to compare these names. The yellow highlight indicates the leader in that specific category. This is my first full update of these numbers in about a month. A quick reminder on the Philip Morris numbers. These are analyst estimates. Philip Morris has guided to 6% to 8% currency neutral EPS growth in 2014, which takes out a $0.61 currency hit. Including currencies, Philip Morris guided to EPS of $5.09 to $5.19 in 2014, compared to $5.26 in 2013. Analysts are currently expecting $5.18.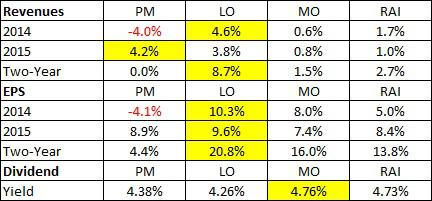 Since my last full update, Philip Morris reported Q1 earnings, which I analyzed here. The company missed on revenues but beat on the bottom line. The company raised its full year forecast thanks to a smaller than expected currency hit. Philip Morris also took advantage of low share prices in the quarter to buyback more shares than originally expected.
So let me start with where estimates stand now, compared to my last full update. The average revenue estimate for 2014 is up from $29.94 billion to $29.96 billion since that early April update. However, as I noted in my earnings wrap, revenue estimates were being raised into the quarterly report. At that Q1 report, analysts were expecting $30.00 billion for 2014, so the revenue estimate is down since the Q1 report, thanks to the revenue miss. Analysts are looking for a 4% decline this year in revenues, as shipment volumes decrease and currencies impact the business. Philip Morris also will be looking to new product launches later this year, but the main impact of those will be felt in 2015. Analyst revenue estimates for 2015 are down by nearly $0.1 billion since my last full update, probably due to the Q1 revenue miss. Analysts have raised their 2014 EPS average by 7 cents since the Q1 report and 5 cents for 2015. This is due to the company's reduced currency hit forecast. However, earnings per share including currencies are still expected to decline by a similar amount to revenues this year.
Lorillard has seen its estimates reduced quite a bit since my last full update. The two-year revenue total for Lorillard has come down from 12.1% growth to 8.7%, with earnings growth down from 23.1% to 20.8%. However, Lorillard still maintains the best growth profile in this space. This is why we've heard several rumors of Lorillard being a takeover target, and one analyst just put the chance of a merger with Reynolds at 80%. We've now seen two spikes in Lorillard shares in recent months. Those that bought on the initial rumor saw their shares fall when cooler heads prevailed, but shares have rallied again. The whole space has been pushed up on buyout hopes, and it usually is a fool's game to purchase a stock when you are only gambling on a buyout. I like Lorillard's prospects, but the stock has risen a tremendous amount so far on buyout hopes. If no buyout comes, this stock could fall back a bit.
When it comes to Altria, the company's 2014 revenue forecast has been reduced a bit, from 1.1% growth to 0.6% growth. However, the company's 2015 revenue growth rate, as well as the EPS growth rate for both years, have been maintained. In terms of Reynolds, the company's 2014 revenue growth forecast has been increased from 1.2% to 1.7%. Reynolds' 2014 EPS forecast has been decreased from 6.0% growth to 5.0%, while 2015 has been increased from 8.0% growth to 8.4%.
In the end, the takeaways are mostly the same as they were a month ago. For 2014, Lorillard is the best name in terms of revenue and earnings per share growth. Philip Morris is having a down year, but is expected to rebound in 2015. In fact, Philip Morris now has the highest expected revenue growth rate in 2015, of course that is after a decline first. Altria and Reynolds do not offer a lot of growth potential, but have the two highest yields.
Reduced capital returns:
One reason why investors love the cigarette space is plentiful capital returns through dividends and buybacks. Philip Morris reduced its buyback target to $4 billion this year as a rising debt pile has become an increasing concern. With earnings and cash flow expected to be down this year, it was a good move from the company. In Q1, the company spent $1.25 billion on the buyback as share prices were low. Now that shares have rallied a bit, I don't see the company being very aggressive at $86 or so a share. If the company isn't buying back shares heavily at these prices, investors shouldn't be either.
Additionally, the recent rally has pushed dividend yields for all four names down a bit. Investors looking to accumulate shares or enter new positions are not getting the income they were a few months ago or even a few weeks ago. At its 52-week low, Philip Morris was yielding about 5%. In my last full update, Altria and Reynolds were yielding over 5%, with Philip Morris at 4.49%. You saw above where current yields are. Dividend yields have come down, which means less income potential for investors.
Think about it this way. The investor that buys Philip Morris at $84 instead of $86 gets an extra 10 basis points or so of yield per year. If this investor buys 100 shares a quarter, saving $2 on each buy nets an extra $800 a year, or an extra 9.5 shares per year. Not only do you get extra shares, but a higher dividend yield as well. That may not seem like much to the individual investor. But now think of this example in terms of Philip Morris' buyback, when you are talking about perhaps a billion dollars worth of shares each quarter. The math really starts to add up there.
I've also stated in the past that I wouldn't expect a normal dividend raise this year. I'm currently looking for a 6 cent per quarter raise to $1.00 per quarter for Philip Morris later this year. I think investors will be a bit disappointed if that is the case. However, with cash flows down a bit, the company has pulled back on the buyback and I think it will do so on the dividend as well. The debt pile is getting to the point where the company is starting to worry about its credit rating, and you don't want to see a rating downgrade. I'll have an initial dividend prediction article out in the next month.
Current valuations:
You could have the greatest company on earth, with great growth, dividends, buybacks, etc., but that doesn't mean it will be the best investment. Sometimes, it all comes down to valuations. If that "greatest company" is just too expensive, it might not be worth it. As those who follow me know, Philip Morris' valuation against the rest of these names is one item I've tracked extensively in the past. The following table shows valuation metrics for each company in this article, as of my last full update and now.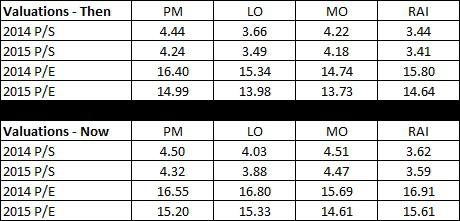 Every name has seen a rise in every single valuation metric. Obviously, that is mostly due to stock price increases. These names have moved higher since my last update, so a rise in valuation fits. Also, when you have a name like Lorillard that gets a cut to its revenue and EPS numbers, that will push the valuation higher too.
Anyone that has read my continuous coverage of Philip Morris knows that PM shares trade at a premium. Investors have been willing in the past to pay for a solid amount of growth and a sizable buyback. I've continued to track that premium, on both a price-to-sales and price-to-earnings basis, with the results found below (compared to my last full update).

The premium Philip Morris trades at has definitely come down, and the stock is fairly valued to its peers on an earnings per share basis. Normally, I would say this is a good thing and this fact would lead to a buy recommendation. However, there's a key point here. Just because Philip Morris is fairly valued to others doesn't make it a buy if those others are overvalued. As I mentioned above, these names have risen on merger/buyout rumors, and I do feel some are a bit inflated. I'll show even more proof of this in the next section with analyst opinions. Had Philip Morris gotten cheaper compared to the pack without a rise since my latest update, I might have felt differently. But Philip Morris has gotten cheaper only because the others have gotten more expensive, and that doesn't make it a buy in my opinion currently.
Analyst opinions - fairly valued or perhaps overvalued:
I always like to look at what the professional Wall Street analysts think when it comes to the names in this space. The following table shows the average analyst rating, where a 1.0 is a strong buy and a 3.0 is a hold (a 5.0 would be a sell). The table also shows the average, or mean, price target currently, and the upside to that target from Wednesday's close. You can view Philip Morris' current analyst opinions here.

Since my last full update, Philip Morris has seen its average rating decrease by 0.1, making it a slightly stronger buy according to analysts. On the flip side, Lorillard's and Altria's ratings have increased by 0.1. Since that article, Philip Morris' average target is down by $0.74, with Lorillard's up by $1.28, Altria's down by $0.37, and Reynolds' up by $1.71.
Three of the four names are above their average analyst targets, and Philip Morris is getting close to its average as well. In the past, the time to buy Philip Morris has been when the upside was in the 8%-10% range (or more), like we saw when shares were in the low $80s. As I mentioned above, Altria and Lorillard saw slight decreases to their ratings, and that makes sense given how much they are now above their average price targets. If these buyout rumors don't materialize into something concrete rather shortly, I wonder if you'll see more analysts becoming neutral on this space.
High end of the technical range:
Philip Morris shares have rallied nicely off their lows set earlier this year. Right now, they are at the upper end of the range, and that means they are slightly overbought. As you will see in the chart below, the stock is well above its 50-day moving average, and near its upper bollinger band.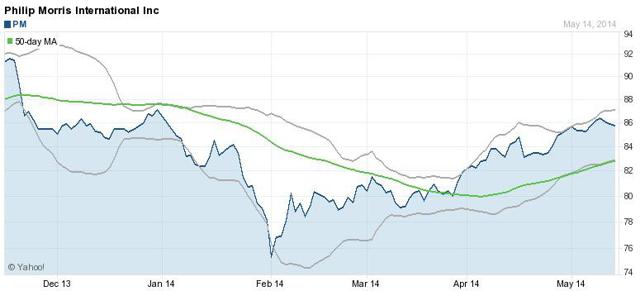 (Source: Yahoo! Finance)
The upper bollinger band is usually a resistance point for the stock, and I do think a pullback will come. Investors don't need to be in this stock for another month to get the dividend, so there is time to wait for a pullback. As you saw in the chart, the lower bollinger band and 50-day moving average are close to each other. Both of these should be support if the stock pulls back, and that would be my next recommended buying point. Just think logically. If you think the company is going to wait for a pullback to buy back stock, doesn't that mean you should wait too?
Final thoughts:
Philip Morris shares have risen lately along with the rest of the cigarette space. This is not due to better growth prospects, and has a lot to do with buyout/merger rumors, along with certain areas of the market hitting new highs. Philip Morris is still a great long-term investment, but that doesn't mean you have to overpay for the name. This stock is due for a normal pullback, and that will be the next opportunity for investors to buy. Remember, this is not going to be a great year in terms of revenues and earnings, so growth will have to wait for now. The buyback will be a little slower, and higher stock prices mean lower dividend yields. Right now, it just seems like investors should wait for a pullback before buying Philip Morris.
Disclosure: I have no positions in any stocks mentioned, and no plans to initiate any positions within the next 72 hours. I wrote this article myself, and it expresses my own opinions. I am not receiving compensation for it (other than from Seeking Alpha). I have no business relationship with any company whose stock is mentioned in this article.
Additional disclosure: Investors are always reminded that before making any investment, you should do your own proper due diligence on any name directly or indirectly mentioned in this article. Investors should also consider seeking advice from a broker or financial adviser before making any investment decisions. Any material in this article should be considered general information, and not relied on as a formal investment recommendation.