"When it rains it pours"
This idiom means that when things go wrong, a lot of things go wrong at the same time. This is exactly what has happened to Bank of America (NYSE:BAC). The bank's shareholders can't catch a break. It seems a new downgrade, negative article or a new legal issue arises as soon as the last one is settled. Even so, it seems we have reached a crescendo in the downward pressure. This may signal we are in the final inning of the stock's woes. Couple this with the fact the bank's turnaround has come to fruition and a trickle of good news just came out and you have a recipe for a major buying opportunity presently. In the following sections I will explain why the risk/reward equation has turned positive and lay out my bull case for the stock.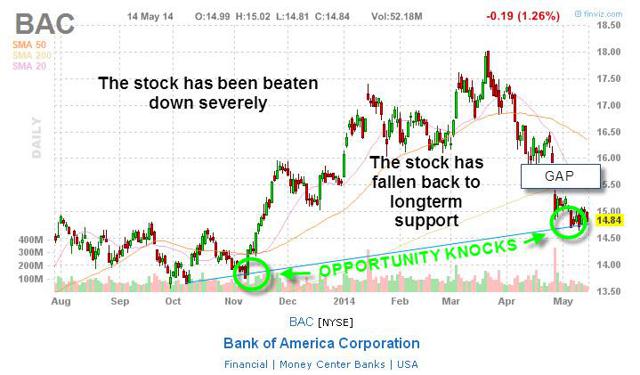 (Chart provided by Finviz.com)
We have reached the point of maximum pessimism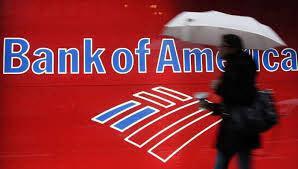 Bank of America's stock has been beaten down to within an inch of its life, so to speak. The stock is now at its lowest level since November of 2013. A plethora of bad news has revealed itself just as the bank's turnaround reached maximum overdrive. The funny thing is, Bank of America's stock has actually held up relatively well in the face of the throng of negative news over the last week or so. Case-in-point, Treasury Secretary Tim Geithner's new book 'Stress Test' was just released Wednesday. The following is an excerpt of a review of the book released Wednesday by Jim Cramer of CNBC:
"After you read Stress Test by former Treasury Secretary Tim Geithner, you may never want to buy a bank stock again. Put simply, I know now that banks are far more enslaved and straitjacketed than I had realized. The ability for them to earn a real return on anything other than fees and conservative lending may be gone for the foreseeable future."
That is a strong statement from an extremely well-respected pundit in Cramer regarding negative impact to the banking sector in my opinion. The stock should have sold off severely on the news, but it didn't. This was telling to me. I posit most of the weak hands have folded at this point and the selling pressure has abated. Now let's focus on the positives, which have been dubiously left out of the conversation for quite some time.
Moynihan's turnaround program is on track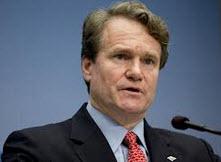 Bank of America's recent results underpin my thesis the bank is a buying opportunity. Case-in-point, at Bank of America's latest annual meeting, Brian Moynihan meticulously laid out the bank's incredible progress in regards to loan, deposit and earnings growth.
Global banking loan and deposit growth on the rise
Average loans and leases are up approximately 11% year-over-year with the bank posting $271 billion in 2013 vs. $244 billion in 2012. Moreover, Deposits are up nearly 16% year-over-year growing from $221 billion in 2012 to $256 billion in 2013.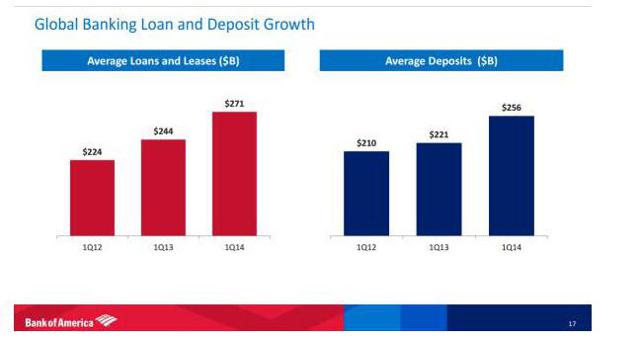 (Table provided by BankofAmerica.com)
Bank of America has achieved this growth by providing excellent customer service and focusing on the company's core strengths. The bank has gained significant market share. Bank of America is one of the top three global players in Corporate and Investment Banking currently. Furthermore, the bank is ranked second in middle market products as well. The growth in loans, leases and deposits is a sure sign the bank is on the right track regarding organic growth.
Vastly improving net income and EPS
Net income was up nearly three fold year-over-year with the bank posting $11.4 billion in 2013 vs. $4.2 billion in 2012. Furthermore, diluted EPS was up significantly year-over-year at 0.90 for 2013 vs. 0.25 in 2012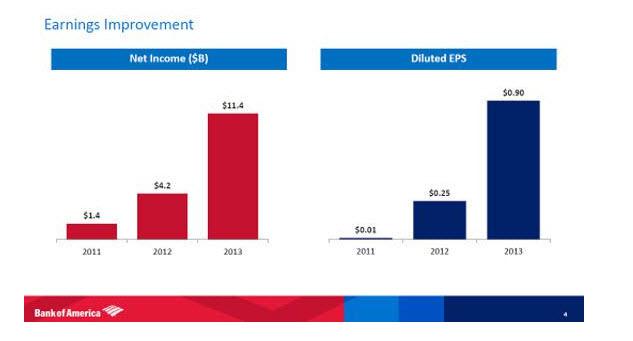 (Table provided by BankofAmerica.com)
While revenues have mostly stabilized over the past year, the bank has done a fantastic job cutting costs and streamlining operations. When Moynihan took over the bank was a sprawling mess. The buyouts of Merrill Lynch and Countrywide mortgage had made the bank practically unmanageable. Nonetheless, this left Moynihan with plenty of costs to cut and operations to streamline. It has been a long drawn out process, yet the bank has come out on top.
Isn't the idea to buy low and sell high, not the other way around? The thing is you never get a chance to buy low when everything is hunky-dory. Bad news and buying opportunities go hand in hand. The time to buy is at the point of maximum pessimism, which seems to be right now. Moreover, when Warren Buffett was recently asked about Bank of America's $4 billion faux pas he stated:
"That error that they made doesn't bother me. It doesn't change my feeling about Bank of America's risk management one iota."
Back when Buffett bought the preferred stock at $7, many believed Bank of America on the brink of bankruptcy. Nevertheless, Buffett was proven correct. He was right then and I submit he is right now.
Breaking news hit Wednesday regarding two major positive developments
Bank of America was in compliance with mortgage settlement
It was just reported Wednesday, Bank of America, JPMorgan (NYSE:JPM) and Citigroup (NYSE:C) passed all tests in regards to compliance with the National Mortgage Settlement during the third and fourth quarters of last year, said the monitor for the settlement, Joseph A. Smith. This sounds like good news to me regarding the progress the banks have made over the past few years.
Mortgage loan policy U-turn augurs well for banks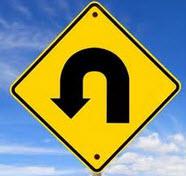 Obtaining a mortgage may be about to get a lot easier as FHFA chief Mel Watt, in his first public speech since taking over as regulator of Fannie Mae (OTCQB:FNMA) and Freddie Mac (OTCQB:FMCC) in January, stated the mortgage goliaths should focus on making credit more readily available to homeowners. The decision is a complete 180 from the policy of previous FHFA boss Ed DeMarco.
I posit this is great news for Bank of America. In the run up to the housing debacle of 2008 mortgage loan standards were way too lax. Loans such as the NINA (No Asset No Income) were prevalent. There is no disputing this fact. Nonetheless, what inevitably happens is the pendulum swings just as far out of whack in the other direction once the bubble pops. The current regulations regarding getting a home loan have become way too strict. The fact the government has realized this and has taken action is a huge positive for the banks and the housing sector.
Conclusion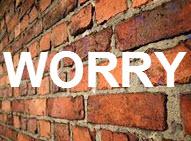 The current "wall of worry" seems to be growing taller, no doubt. Nonetheless, its negative effect on Bank of America's stock seems to have diminished. Furthermore, these concerns are amplified by the fact the market is trading at all-time highs. Yet, I submit this is exactly the time to buy not sell. When you reach the point of maximum pain that is exactly the time you should be buying not selling. I submit Bank of America is on the right track and the numbers back me up. Nonetheless, based on the unending stream of negative headlines regarding Bank of America's past transgressions, the stock has been sold off indiscriminately. You have to buy low to sell high. With a PEG ratio of .83, a forward P/E ratio of 9.70 and a price to book ratio of .72, the bank appears undervalued on a historical and relative basis.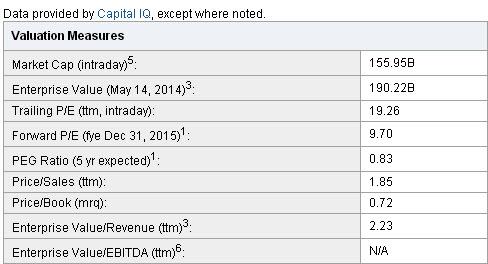 (Table provided by Yahoo.com)
Final Thought
The current negative headlines regarding Bank of America are related to the past, not the future. Remember, nothing is ever as good or as bad as it seems. The risk appears well worth the reward at this point. The time to buy is when others are selling. My twelve month price target for the stock is $20 based on current fundamentals, forward guidance and recently revealed potential catalysts for the stock. Look for the selling to abate in short order. If you have a high risk tolerance, buy a chuck now. If not, wait for a trend reversal prior to starting a position. Either way, I would scale into a full position over time to reduce risk. We are heading into the summer doldrums.
Disclosure: I have no positions in any stocks mentioned, but may initiate a long position in BAC over the next 72 hours. I wrote this article myself, and it expresses my own opinions. I am not receiving compensation for it (other than from Seeking Alpha). I have no business relationship with any company whose stock is mentioned in this article.