The share price of Silver Wheaton (NYSE:SLW) has dropped by 17% since mid-March, while prices for gold and silver have only declined by 5% and 8%, respectively. In my view, SLW's recent price weakness has presented a buying opportunity as the company's cash flow is poised for significant growth.
The company recently reported Q1 2014 results. Quarterly revenue came in below consensus estimate due to lower-than-expected metal sales. Quarterly EPS was in line with market expectation. On the operation front, the company delivered 9.0 Moz of silver-equivalent production in the quarterly, which is in line with consensus estimate. Management reiterated their full-year production guidance at 36 Moz and continued to expect the production to reach 48 Moz by 2018, representing a 33% growth from now. In addition, the development of Constancia project remains on-track, and commercial production is expected to start in first half of 2015.
Based on the most recent developments, I have performed cash flow projections for SLW over the period from 2014 to 2016 to gauge the company's liquidity growth potential (see chart below).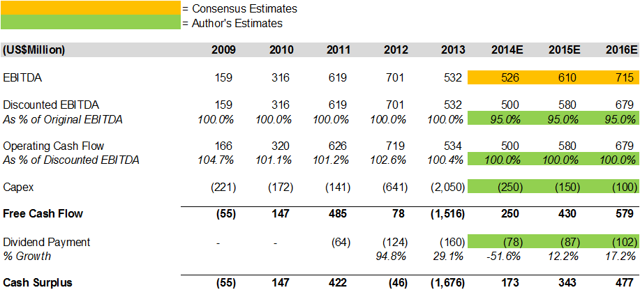 Click to enlarge
My analysis started with consensus EBITDA estimates from 2014 to 2016. This is because SLW has been able to maintain a very steady EBITDA to operating cash flow conversion rate ranging from 101% to 104% (or an average of 102%) over the past 5 years. To be conservative, I applied a 5% haircut to the market's EBITDA estimates and assumed a flat 100% EBITDA/operating cash flow ratio throughout the forecast period to account for risks of production shortfall and negative silver/gold price movement. These assumptions would suggest operating cash flow will grow from $500M in 2014 to $679M in 2016, at a 16.5% CAGR. In terms of capex, I assumed the metric to decrease from $250M in 2014 to $100M in 2016. The estimates were based on the facts that SLW just made a $125M payment on Constancia project for its silver stream in Q1 2014 and the remaining major spending items would be the last $135M payment on Constancia for its gold stream in Q4 2014 and a $115M payment to acquire 100% of production from Rosemont project in 2015. It is noted that my capital spending estimates well exceed these pending payments in order to account for risk of cost overrun. The model now projects free cash flow to increase from $250M in 2014 to $579M in 2016, representing a 52.2% CAGR. Based on management's target to pay quarterly dividend at 20% of operating cash flow in previous quarter, I estimated that the dividend payout would increase by an average of 14.5% per annum from $78M in 2014 to $102M in 2016, and my forecasted free cash flows are able to comfortably cover this commitment. As such, my model suggests that SLW can accumulate approximately $1.0B cash over the forecast period. Given the current $82M cash balance and $1.0B undrawn credit, SLW would have a total of ~$2.1B liquidity over the coming 3 years to pursue new streams opportunities, which would further enhance my projected growth rate for operating cash flow.
Despite the significant growth potential ahead, the stock trades at a relatively inexpensive valuation. SLW's forward 2015 P/E multiple now stands at 20.6x, which is 40% above the same multiple of S&P 500 Index at 14.7x. Nevertheless, SLW's consensus long-term earnings growth estimate at 35% is way above the average estimate of 8.5% for S&P 500 companies. As such, on a PEG basis, SLW only trades at 0.60x, compared to S&P 500's 1.7x.
In conclusion, SLW is poised for a strong growth potential as free cash flow would likely double in near term even with conservative assumptions. As valuation still trades at a notable discount to the company's growth potential, investors are recommended to accumulate shares at the current price level.
All charts are created by the author, and data used in the article and the charts is sourced from S&P Capital IQ, unless otherwise specified.
Disclosure: I am long SLW. I wrote this article myself, and it expresses my own opinions. I am not receiving compensation for it (other than from Seeking Alpha). I have no business relationship with any company whose stock is mentioned in this article.