Last year around this time, I wrote a pair of articles describing American International Group (NYSE:AIG) and what I believed to be an inflection point in investor sentiment regarding the company at that point in time. Cumulative returns for investors following the advice were in around 55%, and compared to the return for the S&P 500, which was around 35%, the performance seems reasonable. Catalysts for this increase in value ranged from dividend initiation to the government's close of their position in the company. However, all has not been great as could be as operations today still lag behind peers in terms of ROE, and this as well as the company's decision to no longer update on achieving their original goals by 2015 has led to a discounting in the stock.
Despite these headwinds, I believe we are at yet another inflection point, and investors holding or investing in AIG at today's price can take advantage of a few situations leaning heavily in their favor. These factors (in order of when I believe they will be realized) include the sale of ILFC which will put a minimum of $2.4B cash in the company's pocket for funding buybacks/dividends, monetization of over $21B in net deferred tax assets, and even investment in infrastructure today which should create an eventual rise in return on equity. Lastly, although not necessary to the thesis, the possibility for increased interest rates over the longer term should serve as an industry tailwind to push this company into even greater profitability.
ILFC Sale
A lot of commentary has been made about AIG's sale of its aircraft leasing unit, so I will keep this part short. Certain terms limit the amount of stock that can be sold, and AIG isn't even allowed to start liquidating until about 9 months from now. Despite this, there is still $2.4B in cash AIG has received which will more than likely be used for buybacks. Although the company has only stated that the funds will be used for "general corporate purposes," AIG has already given shareholders a strong hint this is possible, as just this past quarter the company bought back $867M worth of shares. Obviously management sees the disparity, and realizes that investing excess funds in the company's stock provides a solid return.
Deferred Tax Asset Ready to be Unlocked
Current Balance Sheet values have the net deferred tax asset for the company valued at just over $21 billion. While the company shows this amount under equity, the assets are not actually tangible, but are nonetheless still valuable. There are many factors that affect the realization of this asset, and it may not reach its full value for the company. Usually in these instances, I find it prudent to value the asset at 60% of the stated value, or $12.6B. While this represents a substantial decrease in BV for the company, I believe it tempers expectations that the company will be able to fully realize the benefit of this asset, and acts as a short hand for discounting due to the time value of money.
Lowered Revenues? I'm not Worried
It's amazing to look back at analyst estimates versus actual results. There is certainly a pattern for over-estimating revenues and underestimating EPS.
While normally it would be worrisome to invest in a business with declining revenues, I believe this is a necessary evil as the previous book of business is clearly not as profitable as it could be. While bears state correctly that the business still has trouble with writing profitable business with a combined ratio over 100, I believe the decrease in revenue today is a clear sign that management is serious about not chasing business just for the float.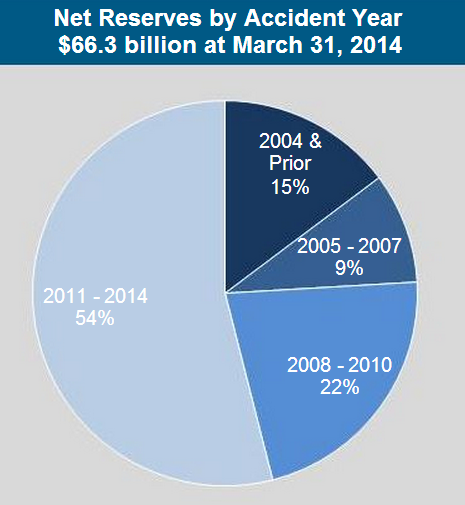 It should be noted that according to the annual report, and summarized in this chart, AIG has greatly reduced its long tail business, which will greatly reduce unpredictable variability in reserving for the future. Although nearly half of the reserves are for business written before 2011, the trend has been increasing towards current business.
While the results have not been as stellar as I had originally hoped for the company, their continued spending revamping their IT infrastructure gives me hope for the business. Signs of this improvement can already be seen through the decrease (lower = better) in the loss ratio (chart from recent 8-K previously cited).
Accident Year Loss Ratio as Adjusted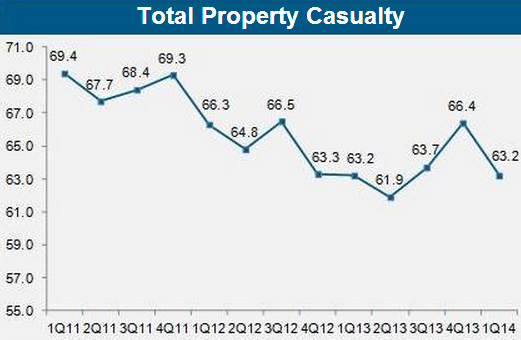 Valuation
While on the topic of increasing performance, and a shrinking tail for business, I wanted to point out an observation I made in calculating what could be a fair value for the company. While they have yet to deliver the stellar results some have anticipated, I believe the company is well on track to reach at least 10% return on equity without too much help from interest rates. If the company is able to do so, then the company should arguably be worth at least book value (currently about $105.8B or $73/share including the gain from ILFC sale, but adjusted to $97.4B or $67/share due to tax asset). If the company is able to reach 10%, then investors today are buying a company with a possible 25% upside to wait for the stock to reach BV, which will then grow BV at a rate close to 12.5% on the original investment. Therefore, investors are looking at a possible one-year return of almost 40%, which would compound even more until book value was finally realized. As I've illustrated above, the improvements are there, and should only compound on each other as the company rids itself of pre-crisis business.
Another way to understand just how cheap the company is could be to examine the size of the discount and understand what it would take to eliminate that discount (assuming the share price stayed the same). To put it bluntly on how cheap the company is, the current discount to book value is greater than the net deficiency on reserves all the way back to 2002 ($28.593B discount versus $27.121B cumulative net deficiency back to 2002). The discount also amounts to nearly the entire reserve for all the business before 2004 in-between and through 2010. That is a sizable chunk, and as this portion of the business reserves shrinks, I believe the discount will shrink as well.
The Possibility of Rising Interest Rates
As of this writing, the 10-year treasury is yielding under 2.6%, which is well below longer-term averages. Although the rise in interest rates could mean a lower book value for the company, this decrease in BV is already accounted for, and investors would be compensated with a relatively equal trade-off for higher yields, and higher ROE.
Risks
1. Investment in infrastructure does not help profitability and Combined ratio does not improve
While this is likely the biggest risk, which is more likely than the others, it is also the area I believe no one is going to give AIG credit for until it happens. The timeline of improved results points to at least 2015 or later, but as shown above, the company has already been improving their adjusted loss ratio, which is distinctly lower than it was even three years ago.
2.Under-reserved losses plague earnings and add volatility to company's cash flow
This is a possibility, but again as shown above the market is already giving investors a wide margin for errors like this to arise. Given the constantly diminishing pre-crisis book, this risk continues to grow more negligible as net reserves are beginning to stabilize.
3. Housing market decline/defaults increase
I am not an economist/housing market specialist, and I cannot adequately assess the possibility of another crisis like 2008, but I can assess that the balance sheet of today's AIG is a lot sturdier than it was during 2008, with far greater reserves and Assets/Equity at 5.25 compared to 10.9 at year-end 2007.
Conclusion
Although the company would have gone insolvent if it weren't for external tax payer aid, the company has shown it can repay its debts and move on to improve its business. The stock provides investors an opportunity to realize nearly 40% returns in a year assuming no buy-backs are made and the company is able to achieve a reasonable 10% return on equity. Regardless if the company achieves these metrics by next year, book value provides a reasonable target which has many catalysts mentioned above which will help the stock realize the company's true value.
Disclosure: I am long AIG. I wrote this article myself, and it expresses my own opinions. I am not receiving compensation for it (other than from Seeking Alpha). I have no business relationship with any company whose stock is mentioned in this article.