Kraft Foods (KRFT) operates in a mature and competitive North American consumer packaged food and beverage industry, which is expected to grow by 1.5%-3% in the long term. As the industry has matured and offers low single digit growth, Kraft has been focusing on improving productivity, reinvesting in marketing and strengthening its brands to support mid-to-high single digit long-term EPS growth. Kraft has also been improving its cash flows to further back its healthy dividend yield of 3.7%, which makes it a good investment prospect for income-seeking investors.
Long-Term Prospects Remains Compelling
Kraft has been aggressively and successfully working to make its cost structure leaner and to expand margins, as currently it has lower margins in contrast to its peers. Kraft's 5% gross productivity target is the highest in the industry; General Mills (NYSE:GIS), Kellogg (NYSE:K), and Dean Foods (NYSE:DF) have gross productivity targets of 4%, 3.8% and 1.2%, respectively. In my opinion, Kraft has the space to enhance productivity and lower costs through the simplification of supply chain and the adoption of lean Six Sigma practices. Kraft's increased focused on productivity efficiency and accomplishing low-cost producer status will further improve the stock's quality and provide earnings growth in coming years. The chart below shows the lower gross margin for Kraft relative to its peers including The Hershey Company (NYSE:HSY), Kellogg and General Mills.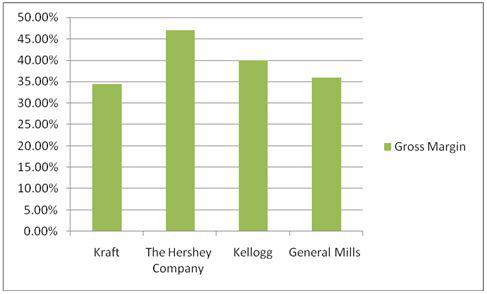 Source: Financial Reports and Calculations
The initiatives undertaken by Kraft in the recent past to enhance productivity and expand margins seem to be successful, as it has been consistently expanding margins in the recent three quarters, reflected by the chart below.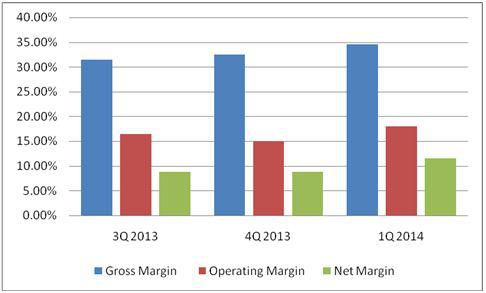 Source: Financial Reports and Calculations
Other than strong margin expansion opportunities, Kraft offers the best-in-class cash returns. The company has an impressive payout ratio of 65% and an attractive dividend yield of 3.7%; Kraft's dividend yield is about 60-70bps above its industry average. Dividends offered by Kraft are safe, evident from its dividend coverage ratio of 1.25x (dividend coverage ratio= free cash flow/dividends). Also, the company has been making efforts through cost controls and better cash flow cycle to further improve its cash flow base; free cash flow was up 19% year-on-year in the first quarter of 2014.
A solid brand portfolio is key to Kraft's high quality earnings. Kraft has a strong presence in the market, evident by its high household penetration of 98% in the U.S. and 99% in Canada. Also, Kraft's dominance in the market is proven by the fact that 80% of the company's total sales are earned from categories in which it holds the number 1 or 2 position. In addition, Kraft stays focused on product innovation to address the changing consumer preferences/tastes and competition. In my opinion, the company's solid brand portfolio and aggressive product innovation approach will bode well for its revenues and earnings growth visibility. The chart below shows the percentage of revenue contribution from product innovation for the last three years.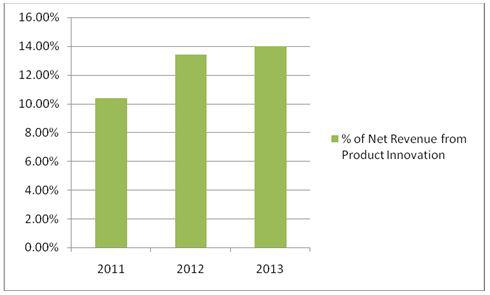 Source: Kraftfoodsgroup.com
Short-Term Pressures Prevail
The company's first quarter of 2014 results remained soft, mainly because of Easter timing and inventory de-loading by retailers, which resulted in a total revenue drop of 3.3% year-on-year. Adjusted revenues (adjusted for Easter timing) for the quarter were up 0.5%, as compared to same quarter last year.
In my opinion, the recent quarter's weak top line numbers are not much of a concern in comparison to rising input costs, which the management expects will be the case for the remainder of 2014; the management anticipates input cost pressures from coffee, dairy and protein categories. To counter and address the input cost inflation impact, the company will be increasing prices in the coming quarters, which in return will impact sales volume. Kraft has already adjusted prices for 45% of its portfolio, mainly for its cheese and meat categories. The company is yet to announce pricing for its coffee product, which is expected in the coming months.
In my opinion, in the short term, Kraft's sales volume and market share will be challenged due to price increases; however, the impact remains unknown. The company's marketing initiatives remain important to support sales volume in response to a price increase. In 2011, aggressive marketing tactics helped the company enjoy a 5.6% year-on-year increase in total organic sales, despite a 6% increase in pricing. The following table shows the pricing and sales volume trend for the last three years.
| | | | |
| --- | --- | --- | --- |
| | 2011 | 2012 | 2013 |
| Pricing | 6% | 2.8% | -0.6% |
| Sales Volume | -0.7% | -2.8% | 0.7% |
| Organic Sales growth | 5.3% | 0% | 0.1% |
Source: Annual Financial Reports
Final Take
Kraft remains an attractive margin expansion story. The company's focused approached of enhancing productivity and attain low cost producer status seems to be on track, and will bode well for long-term earnings growth. Furthermore, the stock remains a good long-term investment prospect for income-seeking investors, as it offers an above industry average dividend yield of 3.7%. In my opinion, any stock price weakness, due to rising input costs, will prove to be a good entry point for long-term investors.
Disclosure: I have no positions in any stocks mentioned, and no plans to initiate any positions within the next 72 hours. I wrote this article myself, and it expresses my own opinions. I am not receiving compensation for it (other than from Seeking Alpha). I have no business relationship with any company whose stock is mentioned in this article.