Over 10 years ago, Apple (NASDAQ:AAPL) transformed the music industry by launching iTunes. Today, Apple continues to hold its position as the biggest music retailer in the world. Thus, the news that Apple seeks to purchase Beats Electronics' streaming music and headphone service has some Apple watchers scratching their heads.
With an estimated purchase price of $3.2 billion, this acquisition would be the largest in the company's history; however, it is unclear whether it will truly bolster Apple against its streaming competitors.
A Small Acquisition By Silicon Valley Standards
While $3.2 billion is certainly a large amount, by Silicon Valley standards, it is negligible. Beats Electronics reported revenue of just over $1 billion in 2013. Thus, the purchase price amounts to just three times the revenue (far cheaper than Facebook's purchase of WhatsApp for $19 billion).
Unraveling Apple's Strategy
When the negotiations first made the news, many assumed Apple wanted the streaming music service that Beats Music launched recently; however, Beats' core business is its headphones. The idea that Apple would buy hardware instead of designing it in-house with the Apple cache seemed an impossibility.
Currently, Apple's iTunes is responsible for 90 percent of all digital downloads of music in the U.S. Lately, the company has focused on expanding iTunes availability in dozens of other countries.
However, streaming services such as Pandora (NYSE:P) and Spotify have captured a fair share of the music market. As reported by the Recording Industry Association of America, digital downloads produced 40 percent of revenue in the music industry. At the same time, subscription and streaming services have grown to 28 percent of the revenue generated. So far in 2014, sales of digital downloads have declined 12 percent from the prior year.
It is questionable whether Beats can deliver the competitive edge that Apple requires in the streaming business.
As Apple Faces Criticism On Other Fronts, Investors Should Watch For Slowed Growth
Apple recently faced analyst and investor concern over lower than expected iPad sales, leading to greater worry over whether growth had plateaued.
In 2014, Apple has performed perfunctorily thus far.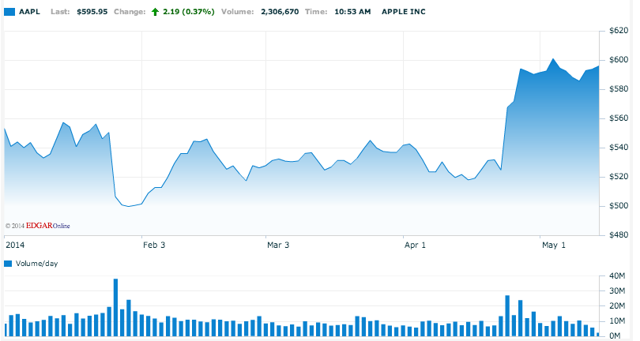 Click to enlarge
(Nasdaq.com)
While in the music industry, Apple has been working to cement its relationships with music labels and artists through the iTunes Festival and partnering with Beyonce to launch her surprise new album, it's unclear if these will cement Apple's leadership in a fluid industry.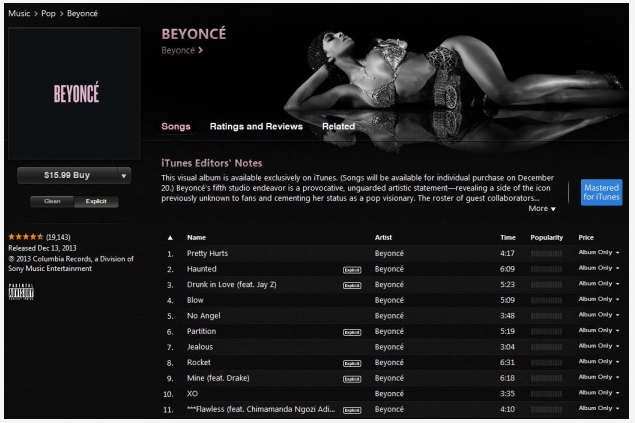 (http://digitaltrends.com/)
Rapper Dr. Dre owns approximately 20-25 percent of Beats Electronics, which could boost image and users; however, it still remains to be seen if this was Apple's best use of $3.2 billion.
Investors should monitor Apple in the case of slowed growth in the music business in 2014.
Those wishing to join the discussion on Apple should click the +Follow button above the title of this article.
Disclosure: I have no positions in any stocks mentioned, and no plans to initiate any positions within the next 72 hours. I wrote this article myself, and it expresses my own opinions. I am not receiving compensation for it (other than from Seeking Alpha). I have no business relationship with any company whose stock is mentioned in this article.