Illness in Samsung's Upper Ranks
In the consumer electronics industry, Samsung (OTC:SSNLF) has become one of the most profitable companies in the world. Although not directly responsible for the company's product lines, including its ubiquitous smartphones, Chairman Lee Kun-hee has guided the company to become a world leader in a wide range of consumer electronic goods-a range that is as diverse as washing machines and smartphones, semiconductors and flat-screen TVs.
Mr. Hee's recent heart attack had many concerned about the future of Samsung as the Chairman has played a pivotal role in transforming the company into a technology leviathan.
At present, the 72-year old is currently at Samsung Medical Center in Seoul, where he was transferred from a hospital after the heart attack. Lee Kun-hee's son, Vice Chairman Lee Jae-yong, who served as CFO in 2012, is expected to be the next chairman. The discussion for a succession plan has been renewed after Mr. Lee's recent heart attack. Previously, he has overcome other life-threatening illnesses-first lung cancer, then pneumonia.
A Family Business
Mr. Lee succeeded his father as chairman, and it is expected his son will succeed him. Besides serving as Chairman of Samsung Electronics, Mr. Lee is also the chairman of the conglomerate, Samsung Group. This conglomerate includes some 70 businesses, including the electronics and the financial services divisions. The billionaire and his children control the many companies associated with the Samsung Group.
Samsung v. Apple
While Mr. Lee was a strong force in shaping Samsung's exponential growth, his son may still be able to follow in his footsteps. This is far different from the position Apple (NASDAQ:AAPL) found itself not too long ago. When the late Steve Jobs was in declining health, there was much speculation about whether the company would thrive without him. Investors had doubts about whether or not the company's breakthrough inventions would continue.
Samsung does not rely on the prevailing vision of a charismatic leader. Instead the South Korean company has many competent executives running the network of businesses, giving this complex company tremendous stability. Each division of the company has its own executive leadership. For instance, the mobile devices sector, is run by J.K. Shin and the television sector, is run by Kim Hyun-suk.
By contrast, at Apple, Jobs drove the company's vision and fashioned its leading product line. Since he orchestrated the company's product development down to the smaller aesthetic details, it was hard to imagine the company without him. Fortunately for Apple, the new Chief Executive Tim Cook was able to help Apple successfully weather the change in command when Mr. Jobs died of cancer in 2011.
At Samsung, even if Lee Jae-yong somehow does not fill his father's rather large shores, there are many able executives who can keep the company strong, likely without anyone noticing a lull in business.
Mega-success in a Competitive Smartphone Market
Although Samsung has a strong leadership in many product lines, it's main claim to fame, in the eyes of the public, is its predominance in the smartphone market, an alternative to Apple's iphone.
While lower cost phones from China, like those from Xiaomi and Huawei, are challenging Samsung's global position, the quality of Samsung's phones remain popular with consumers. Their latest offer, the Galaxy S5 has earned kudos for its 5.1 inch screen and its impressive 1080 p HD display that adjusts in ambient light.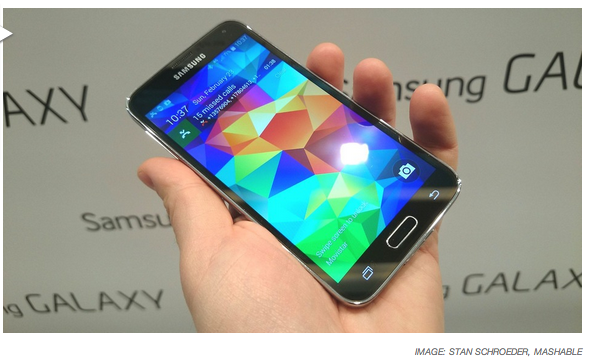 (mashable.com/2014/04/11/samsung-galaxy-s.../)
Outlook For Samsung Shareholders
Samsung has become a legendary company in South Korea and the world. It's shares have grown some 400 percent over the past decade and a half, and the company has an estimated $50 billion in cash.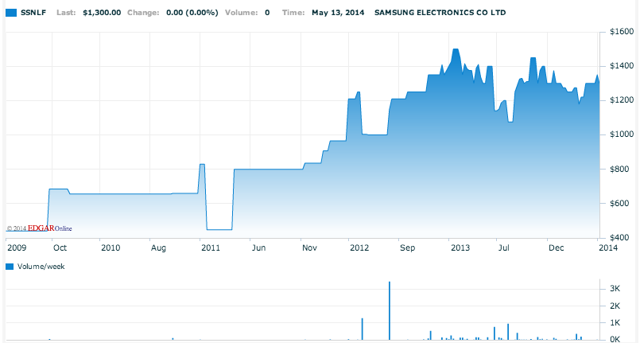 Click to enlarge
(Nasdaq.com)
Samsung is working to differentiate itself from the competition by working on ideas to make its tablets and its devices wearable, stepping up next to Google and Apple in this regard.
Samsung has posted consistently increasing net income for the past five years.

(WSJ.COM)
Its increasing cash position will allow the company to navigate into new markets with new products as the tech sector continues to innovate at a blistering pace.
Despite a potential switch in Samsung's uppermost ranks, we are optimistic on the stock, going forward in 2014.
We invite those wishing to join the discussion on Samsung and other tech giants to click the +Follow button above the title of this article.
Disclosure: I have no positions in any stocks mentioned, and no plans to initiate any positions within the next 72 hours. I wrote this article myself, and it expresses my own opinions. I am not receiving compensation for it (other than from Seeking Alpha). I have no business relationship with any company whose stock is mentioned in this article.
Editor's Note: This article discusses one or more securities that do not trade on a major U.S. exchange. Please be aware of the risks associated with these stocks.