Zendesk Inc. (NYSE:ZEN), provider of a SaaS customer service platform, plans to raise $100.0 million in its upcoming IPO. The San Francisco, California-based firm will offer 11.1 million shares at an expected price range of $8.00-$10.00 per share. If the IPO can find the midpoint of that range at $9.00 per share, ZEN will command a market value of $712 million.
ZEN filed on April 10, 2014.
Lead Underwriters: Credit Suisse Securities (USA) LLC, Goldman Sachs & Co., Morgan Stanley & Co. LLC
Underwriters: Canaccord Genuity Inc., Pacific Crest Securities LLC
Scanning ZEN's Business
ZEN is a software development firm offering a SaaS customer service platform designed to improve customer engagement and make service available over popular mediums including email, chat, websites, social media, and voice.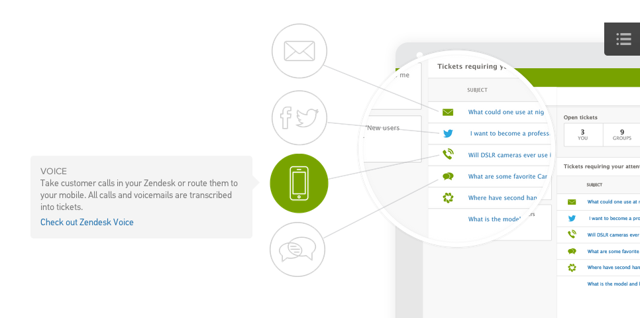 (Source)
ZEN's platform also assists customers in finding answers through knowledge bases and through communities in order to better accommodate the increasing number of customers who prefer self-service.
The platform tracks data from customer interactions and provides feedback to organizations through analytics and performance benchmarking. ZEN has over 42,000 customer accounts on its platform, with customers spread across over 140 countries using its platform in over 40 languages.
Customers can tailor ZEN's product to their own brand.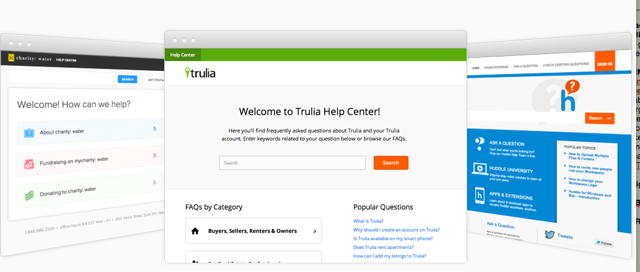 (Source)
The firm primarily derives income from sales of subscriptions to its platform.
Valuation
ZEN offers the following figures in its S-1 balance sheet for the three months ended March 31, 2014:
Revenue: $25,092,000.00
Net Loss: ($10,259,000.00)
Total Assets: $117,162,000.00
Total Liabilities: $88,712,000.00
Stockholders' Equity: ($42,931,000.00)
ZEN has seen significant revenue growth over the past two years; the firm posted revenues of $38.2 million for the year ended December 31, 2012 and $72.0 million for the year ended December 31, 2013. However, the firm also posted net losses of $24.4 million for the year ended December 31, 2012 and $22.6 million for the year ended December 31, 2013.
Several SaaS Competitors
ZEN competes with large integrated systems vendors as well as other firms offering alternative SaaS applications, some of which have access to far greater financial resources than ZEN. Competitors include salesforce.com Inc. (NYSE:CRM), Microsoft Corporation (NASDAQ:MSFT), Oracle Corporation (NASDAQ:ORCL), Verint Systems Inc. (NASDAQ:VRNT), ServiceNow Inc. (NYSE:NOW), BMC Software Inc. (NASDAQ:BMC), and Hewlett-Packard Company (NYSE:HPQ).
Management's Technicalities
Co-founder Mikkel Svane has served as ZEN's CEO since 2007 and was appointed Chair of the firm's board of directors in January 2014. He previously founded and served as the CEO of Caput A/S, and worked as a technology consultant.
Mr. Svane holds an A.P. in marketing management from Arhus Kobmandsskole.
It should be noted that ZEN has excessively paid some of its executives in recent years. Senior Vice President Marcus Bragg received a total compensation of $2.9 million in 2013, while Senior Vice President Adrian McDermott received a total compensation of $1.9 million in 2013. We believe these figures are excessive given the firm's high losses in 2013.
Conclusion
We are neutral on this IPO.
ZEN continues to post significantly huge net losses while paying its executives huge amounts of compensation. However, the firm has shown impressive growth in recent years.
The platform is catchy and convenient, and demand certainly exists for Zendesk's products in an era of rising expectations and complexity for customer service. The firm's choice to focus on developing a platform that can handle chat, social media and other popular communications is a wise one; however, the field of competitors is very strong.
We recommend investors stay optimistic on the company post-IPO but wait on the initial offering.
We invite those interested in joining the discussion on IPOs to click the +Follow button above the title of this article.
Disclosure: I have no positions in any stocks mentioned, and no plans to initiate any positions within the next 72 hours. I wrote this article myself, and it expresses my own opinions. I am not receiving compensation for it (other than from Seeking Alpha). I have no business relationship with any company whose stock is mentioned in this article.