"I'm pleased with our performance in the third quarter. Our financial results exceeded the guidance we provided last quarter as we demonstrated clear progress on returning to growth. The entire team is focused on moving Cisco forward aggressively and we remain confident in our long-term goal to be the #1 IT company."

-John Chambers, Cisco CEO
My last article on Cisco (NASDAQ:CSCO) was about the company's foray into cloud computing and whether or not it was going to be late to the party. In its earnings call yesterday, the company continued to allude to creating the cloud for the "internet of everything". The company noted that it plans to partner with companies like IBM and Intel (NASDAQ:INTC) to create a massive Internet-style United Nations body - similar to the www consortium.
Cisco is a manufacturer of IP-based networking equipment and items for use in information technology and communications. This very article is being brought you through a series of Cisco routers and switches; all designed to bring the chaos in my head directly onto your screen.
Cisco has traded well in the last six months, up about 10% from its lows in mid-December, where it tested $20/share briefly. Since then, confidence is trickling back into the stock.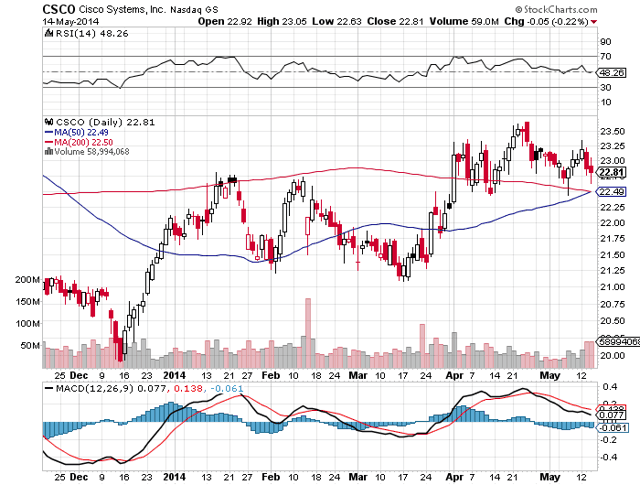 Yesterday, Cisco reported after the bell.
The analyst expectations of $0.48 EPS and $11.4 billion in revenue were both beat, as Cisco posted $0.51 EPS (adjusted) and revenue of $11.5 billion. Net income for the quarter was $2.2 billion, off 12% from the same period last year.
However, Cisco's revenue dropped, and the company continues to be in the crosshairs of companies like Microsoft (NASDAQ:MSFT) and Google (GOOG, GOOGL). Product sales also decreased 7.7% from the same quarter last year.
Seeking Alpha reported on the details:
Cisco expects FQ4 EPS of $0.51-$0.53 vs. a $0.51 consensus. In spite of posting an FQ3 gross margin of 62.7%, the company is only guiding for an FQ4 GM of 61%-62%.
John Chambers once more states Cisco is seeing price pressure in markets such as campus switching (Huawei and H-P are competing aggressively here), but insists SDN (generally seen as a 2015-and-later problem) isn't a factor. Switching, emerging markets, and carrier sales are expected to stay pressured near-term.
Though GAAP opex fell 2% Y/Y, non-GAAP opex fell 6% (boosted EPS). Headcount declined by 230 Q/Q to 73.8K.
Data center (UCS server) sales remain strong, growing 29% Y/Y (share gains against Dell/H-P/IBM). Likewise, service provider video sales (-26%, set-top share loss toARRS) remain weak.
Wireless sales only rose 3% (possible share loss to the likes of ARUN, UBNT, andHIVE), but orders rose 12%, and Meraki continues seeing strong user growth. Recently-acquired Sourcefire saw orders grow 20%.
Cisco says its new ACI/Nexus 9000 SDN/networking virtualization platform (praised for its feature set, but not for its pricing) gained 175 customers, and has a pipeline of 1K+.
The market generally saw Cisco's numbers as signs of progress. The fact that the company was able to beat its own guidance, as well as analyst estimates, gave the market the impression that the stock was starting to get some momentum swimming upstream.
Moving into the company's Q4, the company guided for revenue to be down 1% to 3%.
While the guidance was certainly more than consensus estimates, delivering is what's going to be the most important thing for Cisco. Even though confidence has waned out of Cisco's stock in a big way recently, I'm not sure that this news was deserving of moving the stock up 7% in after-hours trading.
On the bullish case, as you can see from the above chart, a boost in the company's share price during regular trading today is likely to catalyze a "golden cross", where we could see the 50-DMA curl up and cross the 200-DMA - a bullish sign for technical traders and chartists.
However, my sentiments from my last article continue to hold:
As such, I've currently gone from considering Cisco a buying chance, to very likely sitting on the sidelines for a while to come. While I wish the company the best in its endeavors, I think this program will have a short-term negative effect on the stock. Until its foray into cloud is proven and Cisco "rights itself," consider me watching from the sidelines.
While this report seems to have fueled some bullishness, and there is a chance of the stock taking on a technical run-up, it's not going to be enough for me to dabble into Cisco stock yet. I'll be eagerly waiting and watching to see if these signs of growth materialize into substance, or if it's much ado about nothing.
Best of luck to all investors.
Disclosure: I am long MSFT. I wrote this article myself, and it expresses my own opinions. I am not receiving compensation for it (other than from Seeking Alpha). I have no business relationship with any company whose stock is mentioned in this article.