No, we actually expect to break ground on the first Gigafactory location, I want to precise about this because I don't want any of the states with which we are talking to sort of have the wrong impression. We are going to move forward with breaking grounds on multiple sites in order to minimize the risk of completion of the Gigafactory and we expect to break ground on the first of those probably next month. So I think quite soon and then shortly thereafter maybe a month or two after that we'll break ground on the second one.

- Tesla CEO Elon Musk, via Tesla conference call
Breaking ground in two places, instead of one. Creating redundancy for efficiency and safety reasons. You've got to love the way Elon Musk does business. So much of the focus on Tesla (NASDAQ:TSLA) lately has been on the company's coming Gigafactory.
Bears have been using the argument that the facility is going to be a capex nightmare - a costly Frankenstein of a project that ultimately, isn't going to deliver batteries that are going to be more cost effective or efficient than gasoline. And, even if they do, it'll be too late and will have cost the company too much money.
Tesla longs and the company see continued growth for their vehicles, and realize the somewhat urgent need to make a hell of a lot of batteries, very quickly.
An argument that I read about yesterday for the first time was that the automaker wasn't just going to need batteries for brand new cars, but for the first Model S sedans, which will then be at the back end of the 8 year warranty for their batteries. As the CleanTechnica linked article states, these warranties are rated for unlimited mileage, but don't cover capacity loss.
The battery winds up being the biggest point of maintenance for electric vehicles. They need nothing more than basic fluid changes and occasionally, tires.
Tesla is a company that wants to keep its reputation for keeping customers happy, and this could seemingly be a way to do it.
Imagine, if you will, a similar scenario with the original iPod.
If the original iPod battery could simply be swapped out, would it make you less inclined to buy a new one in the short-term? Probably. In the long-term, though, you'd probably want to update the features of the iPod for a new one eventually. Thus, leading to continued sales of iPods through Apple (NASDAQ:AAPL) - just with a bit longer life in the hands of consumers. This would contribute to the customer experience and quell the "my iPod can't hold a charge" argument that's oft cited when iPods are "recycled".
Additionally, Apple would still be making supplemental revenue on the batteries. So, if you fell in love with the 3rd gen iPod, you'd essentially never have to give it away.
This could be the coming culture for Tesla enthusiasts.
If you happen to like the body style and features of an earlier year, simply swap your battery out and continue to get full mileage on full charges. Want to update your vehicle in its entirety? Go out and buy a newer model Tesla. It's really quite a novel concept to keep customers happy and keep revenue coming in for Tesla.
Of course, again, this is all predicated on the coming Gigafactory. The company hopes to have the ability to deal with this demand by 2020, when the Gigafactory is supposed to begin commercial production. By then, Tesla is likely to be even more of a household name than it is now.
The pressure on the Gigafactory to come through is immense - so it's no wonder that Musk is being safe with his approach to getting it built - it essentially holds a good portion of the company's long-term livelihood behind it.
In other news, the company beat earnings expectations across the board recently, but investors pulled out of the stock.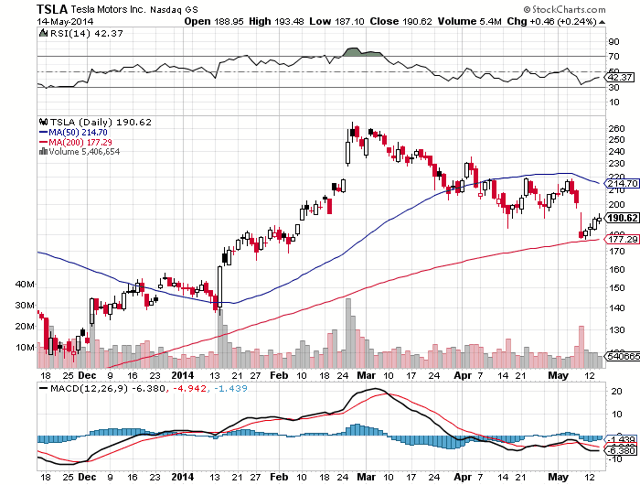 Tesla reported $0.12 EPS ex-items on revenue of $713 million. Analyst expectations were for $0.10 EPS ex-items on $699 million in revenues, from the Reuters consensus estimate.
Tesla also beat on its number of vehicles delivered. The company produced 7,535 Model S vehicles, and guided for 7,500 units for the second quarter.
I wrote an article detailing earnings - since the initial pull back to the $180 area, Tesla has already bounced back to $190, seemingly on its way back up to $200. It seems to be increasingly difficult to separate Tesla shareholders from their shares as time goes on.
Going forward, this is a story about Tesla growing and expanding hyper aggressively. As Slate.com said:
If Tesla's goal were simply to become a world-beating luxury automaker, crafting pricey toys for the environmentally conscious elite, it would already have succeeded. But Elon Musk's aim all along has been to build an electric car for the masses. Specifically, the company's plan is a $35,000 "third-generation" electric sedan with competitive performance and a 200-mile-plus range-all by the year 2017. (This third-generation sedan has been popularly dubbed Model E, though that's unlikely to end up as its real name.) By 2020, Tesla hopes to be shipping 500,000 cars a year. That's more than 10 times its current output. And it will probably have to do it without the federal subsidies that have helped make its cars more affordable so far.
So much of the argument surrounding Tesla fails to take into account that all of the goals that Elon Musk has encountered so far, he's handily taken care of. All Tesla has done, as a company, has been proving its critics wrong - from the get go. I don't doubt that the company will do the same with its coming Gigafactory.
I continue to contend that Tesla is one high multiple stock that deserves its large valuation. I remain long-term bullish on Tesla.
Disclosure: I am long TSLA. I wrote this article myself, and it expresses my own opinions. I am not receiving compensation for it (other than from Seeking Alpha). I have no business relationship with any company whose stock is mentioned in this article. I have Tesla calls.