By Mike McDermott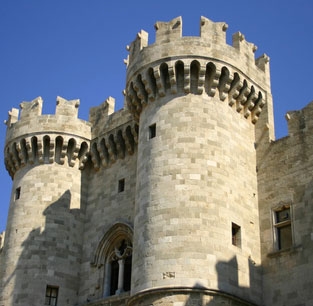 Another trading week begins as we look over the precipice into what appears to be the ugly slope of a double-dip recession…
After ratcheting down previous estimates for GDP growth earlier this year, economists are becoming increasingly worried about stagflation – and traders have been hitting the bids in an attempt to game the escalating urgency as mutual fund managers and individual investors pursue safety over returns.
The disappointing weekly jobless claims last week underscored how difficult the prediction game has become, and also continued to support the thesis that the U.S. consumer is in bad shape.
Not only are layoffs adding to the number of unemployed, but a broad portion of the population can ill-afford to go for even a short time without the regular paycheck. Access to credit continues to be limited, and as we noted in last week's turret, weakness in the housing market is not only pressuring builders, but also leading to negative equity for long-time homeowners.
So as we enter this new week, my trading focus continues to center around consumer-sensitive names with an eye for shorting situations where investors are realizing that estimates are too high, multiples are too optimistic, and business risk mirrors the risk of investment loss.
It's a dog-eat-dog environment out there, and so far we're not going hungry…
High End Retail, Low End Returns
Luxury retail boutiques have previously been considered somewhat immune to an economic downturn. If you've got the money to buy an $800 handbag and $80 flip flops, you should be able to see your way through a few months of weakness…
But investors are now realizing that many of these high-end purchases were fueled by cheap credit, inflated asset prices, and the ATM feature built into home "ownership."
Many luxury retailers are facing the ugly decision of whether to cut prices (and thus cheapen the brand – pissing off their long-term loyal clientèle), or watch sales dry up as the country club twentysomethings and trust fund babies face the reality of limited resources.
We've taken a position in Coach, Inc. (NYSE:COH) as retailers take on water. Management's spring decision to repurchase $1 billion in outstanding stock doesn't appear to be supporting the price. And with earnings growth expectations in the low teens for the next few years, the valuation appears to be a bit rich.
Q1 earnings won't be available until October (the company operates on a June 30 fiscal year end) so in the meantime, the stock should mirror trends in the luxury retail space.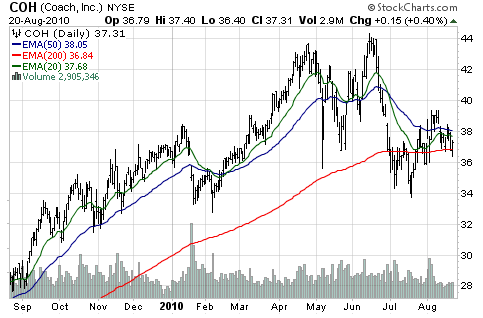 Another luxury retail name I've been involved with is Sotheby's (NYSE:BID) which is well-known for their art auctions as well as merchandising other novelty items. The chart below has a bad tick, so the pattern is a little harder to discern. The stock is at the support area of a minor trend line that has been rising since the beginning of July… a pattern which is repeated across the board for many retailers.
If this week features more selling in the retail space, it will set off alarm bells for technical traders who could add to an already fearful situation by sending shares back to test the lows from more than six weeks ago.
Compared to next year's earnings expectations, BID is not incredibly expensive. But the Wall Street analysts didn't accurately forecast the company's profit losses in 2009 and there's no reason to expect that they will get it right this time either. Deteriorating fundamental issues for the US consumer coupled with rising fear for investors could push this stock back into the low $20's if not below.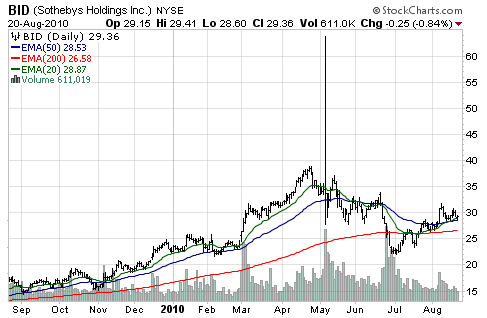 As long as we're talking about novelty purchases, Tiffany & Co. (NYSE:TIF) which was featured in our Luxury Retail Strategic Intelligence Report looks particularly vulnerable.
The stock held above $42 for the majority of last week, and a break below this level would get me interested in shorting this name once again. TIF announces earnings on Friday and retail traders along with the company's competitors will be listening in on the conference call to hear what management has to say about the state of the global luxury consumer.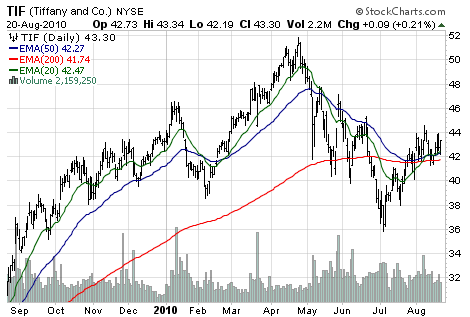 Lodging Follows Suit
The weakening consumer appears to also have investors in lodging stocks concerned. Of course hotels rely on both consumers as well as businesses to book rooms, but with corporations still pinching pennies and attempting to build balance sheet strength, it's a difficult time for many hotel operators no matter how you cut it.
Starwood Hotels (HOT) is trading at an earnings multiple north of 40, and yet revenue growth has averaged single digits in the first two quarters of the year. With a debt to equity ratio listed at 162%, the firm has some vulnerability to a global reduction in growth – and even if growth continues, liquidity concerns associated with a double dip recession could cause severe multiple contraction.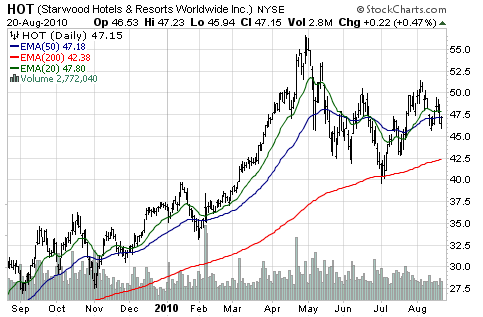 Another name in the sector worth considering is Marriott Intl. (NYSE:MAR). The price / earnings multiple isn't quite as excessive as HOT, but trading at 30 times earnings, there is certainly a good bit of optimism build into this name.
A debt to equity level of nearly 200% raises the risk factor, and investors appear willing to sit this one out if the consumer continues to show signs of weakening.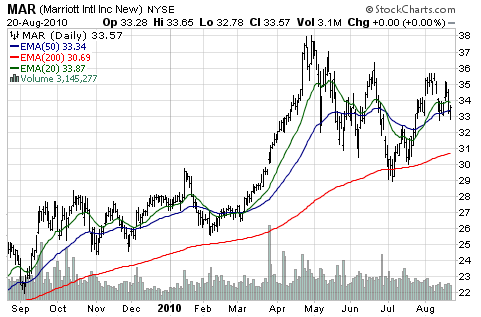 A Few Bullish Themes Still in Play
As I mentioned last week, we're still involved in the gold miner industry as precious metals come back into play and the leverage built into many of these businesses appears to be very attractive.
We're sitting on healthy gains in our Allied Nevada Gold Corp. (NYSEMKT:ANV) position and are looking for areas to add additional exposure (either vertically in ANV, or more likely horizontally in other miners).
Despite a bit of volatility in the sector last week, ANV continues to shine and is a relative strength leader.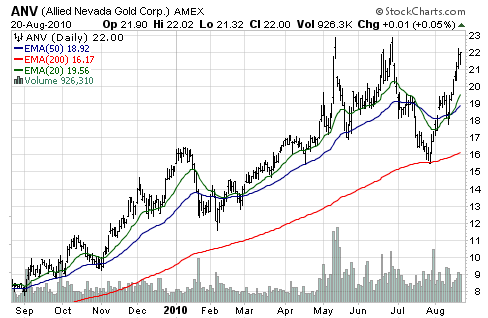 Speaking of gains, Potash Corp. (NYSE:POT) is indicated higher yet again as management is assuring investors that additional bids are in the works. The company rejected a takeover offer from BHP Billiton (NYSE:BHP), and investors obviously believe that a higher offer is coming.
The stock is trading at a significant premium to BHP's offer, and we continue to tighten our stops to lock in profit on this fertilizer opportunity. POT is only one of the Three Fertilizer Stocks Poised for Growth we identified for subscribers to our Strategic Intelligence Reports and the other two may be worth pursuing as price action offers attractive entry points with managed risk.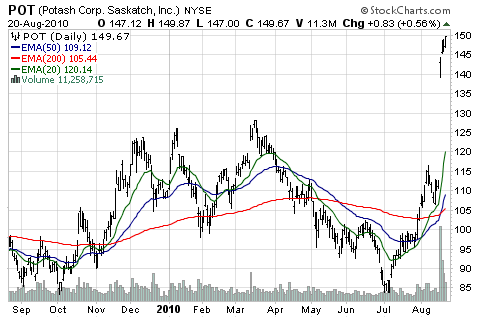 Today's environment offers plenty of opportunity for nimble traders. Jack and I have a higher conviction level for this week as the price action is confirming many of our investment and trading themes. With risk management always a focus, we are putting a little more juice behind our trades in keeping with rule #4, and expecting some attractive action in the old equity curve.
I hope you're locked and loaded and ready for another exciting week as a Mercenary Trader,
MM