Shares of Alcatel-Lucent (ALU) are consolidating in the $4 region after the telecommunications equipment company presented first-quarter results. Alcatel-Lucent reported first-quarter earnings last week, which seemed to disappoint investors -- shares fell by 4% last Friday -- even though the underlying trends suggest that Alcatel-Lucent's underlying profitability has materially improved.
For the first quarter 2014, Alcatel-Lucent reported the following results (assumed exchange rate: Euro 1 equals US-$1.35):
Total revenues of approximately Euro 3.0 billion ($4.05 billion), which have been flat y-o-y.
Core Networking revenues increased 6.9% to Euro 1,352 million ($1,825 million), compared against Euro 1,311 million ($1,770 million) in the year-ago quarter.
A gross margin of 32.3% vs. 28.2%: A y-o-y improvement of 410bps.
Operating expenses have been reduced to Euro 923 million ($1,246 million), down 12% from last year's Euro 1,044 million ($1,409 million). Cost reductions have been a major driver of Alcatel-Lucent's performance over the last year.
A net loss of Euro 73 million ($99 million), compared to a net loss of Euro 353 million ($477 million) in the year-ago quarter.
Alcatel-Lucent's adjusted net loss stood at Euro 0.03 per share ($0.04 per American Depositary Share), which compares against a net loss of Euro 0.15 in Q1 2013 ($0.19 per American Depositary Share). Analysts expected a net loss of $0.08 per ADS.
Bottom line: Alcatel-Lucent's revenue challenges persist while the company is busy cutting fat off its cost structure. Cost costs will likely remain the primary driver of shareholder value in 2014 and 2015.
Restructuring-related cash outflows will normalize
In the first-quarter 2014, Alcatel-Lucent's cash restructuring outlays came in at a massive Euro 110 million (approximately $149 million), compared to Euro 99 million (approximately $134 million) in the year-ago quarter. Ongoing restructuring costs, as can be seen below, had a material effect on Alcatel-Lucent's quarterly free cash flows, which I expect will normalize in 2015.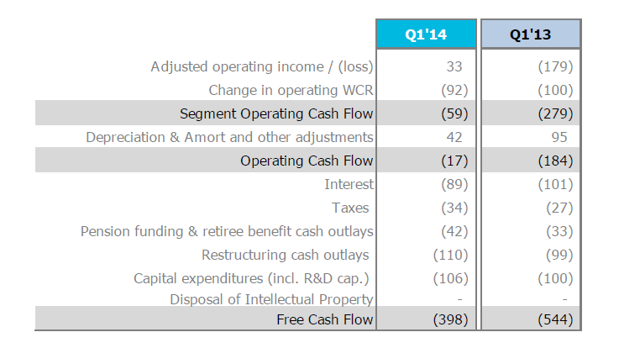 (Source: Alcatel-Lucent, Q1 2014 Results Presentation, May 9, 2014)
Cost savings
Cost savings are another major theme that I think will drive shareholder value in 2014 and 2015. As part of Alcatel-Lucent's landmark Shift Plan, the equipment manufacturer wants to cut off Euro 1.0 billion ($1.35 billion) of the cost structure until 2015. So far, the company has cut Euro 478 million ($645 million) in expenses, and I am optimistic that Alcatel-Lucent can achieve the remainder in cost savings in the next 6-7 quarters.
Reasons to purchase Alcatel-Lucent
The main reason I like Alcatel-Lucent is because its results are perceived so badly that not a lot of investors like to purchase the equipment manufacturer. It ultimately comes down to whether investors believe management will be able to execute the Shift Plan and deliver value to shareholders via cost savings, debt restructurings and asset sales -- while top line risks continue. I have repeatedly endorsed Alcatel-Lucent as a turnaround investment and, since earnings expectations have been driven so low already, the company does indeed have a good shot at surprising to the upside and might even be able to announce the accomplishment of the Shift Plan targets sooner than expected.
Technical picture
As I have already indicated, Alcatel-Lucent's results were largely perceived negatively by investors, due to the occurrence of continued (high) restructuring expenses. Shares of Alcatel-Lucent are now down 13% from their 52-week high at $4.68, and are still attractive at around $4 (I have a target price of $8 on the stock).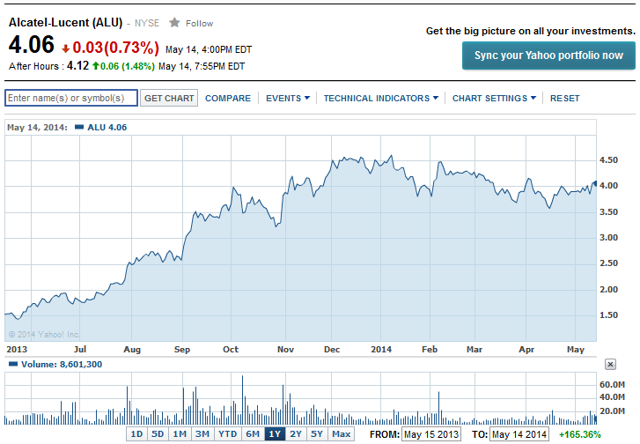 (Source: Yahoo Finance)
Bottom line
Not everything was bad with respect to Alcatel-Lucent's first-quarter results, and investors should give management the time to execute its ambitious Shift Plan. The company has achieved respectable y-o-y improvements: Free cash flow has improved by Euro 146 million ($197 million), and Alcatel-Lucent's higher gross margins are also worth mentioning. Another positive has been the sales momentum in the core networking business, where revenues rose 7% y-o-y. I believe there is a good chance that Alcatel-Lucent will swing back to a profit in 2014, which should be a major catalyst for the stock. Contrarian BUY with a reaffirmed target price of $8 per share.
Disclosure: I am long ALU. I wrote this article myself, and it expresses my own opinions. I am not receiving compensation for it (other than from Seeking Alpha). I have no business relationship with any company whose stock is mentioned in this article.