Past earnings are no guarantee of future earnings, especially not in the continuously mutating environment of electronic payment services in the BRIC region where Qiwi operates. However if you were to assign some predictive powers to the earnings trend of Qiwi things do appear very interesting.
The Business
Qiwi (NASDAQ:QIWI) is a provider of "next generation" payment services based in Russia. Qiwi Ltd was established in 2007 and did an IPO around mid 2013.
Qiwi is divided in two main segments, Qiwi Distribution (Distribution) and Visa Qiwi Wallet (Wallet). Distribution is essentially a network of kiosks and terminals allowing payment of bills and goods and transfer of cash money to the Wallet. Wallet is an online account and payment framework used to send and receive money and pay for bills and goods.
The Growth Rate
The growth rate of Wallet is much stronger than the growth rate of Distribution. The adjusted net revenue of Wallet will overtake Distribution this year.
The CAGR of the adjusted net revenue of Wallet is pretty much 100% per year - or 6% per month! But the effect on the overall adjusted net revenue of the company has so far been "swallowed" by the more modest growth rate of the Distribution segment (10% CAGR).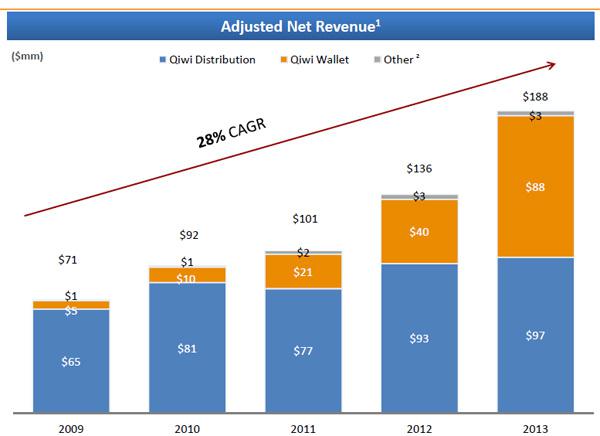 Source: Qiwi Update Presentation, April 2014
In round numbers this means: Since the adjusted net revenue of Wallet now contributes to almost 50% of the bottom line of the company, the overall adjusted net revenue will grow another 28% in 2014, even if Wallet growth goes from 100% to 50% and Distribution growth stalls completely. So it actually has to be a catastrophic year for Qiwi to not have another great year!
Looking at the adjusted net profit the exponential effect of the massive growth in the Wallet segment is also starting to visualize: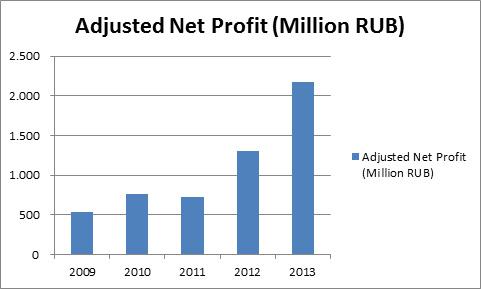 Source: Qiwi 2013 20-F SEC filing
The Stock
Since the IPO mid 2013 the stock price pretty much tripled within 8 months but has lately declined almost 50% since the all-time high of $59.24. It's currently trading at $33.20. The P/E at 36.75 is quite high relative to comparable companies, but if earnings continue to double every second year the P/E and/or the stock price will look fabulous end of 2015. And you'll be collecting a 4% dividend annually while you wait for that to happen.
The 2014 Q1 results are due 21st of May and should give us a hint if Wallet growth can keep the momentum in 2014.
No doubt, this is a very volatile and quite risky stock. The risk however seems mainly associated with macroeconomics and politics (which are serious enough). The drop in the share price coincides with the Ukraine/Crimnea crisis. If you believe that Russians still have to pay for goods, housing, heating, electricity and phone bills for the rest of the decade, maybe the current situation could prove an opportunity to buckle up before Qiwi takes off.
The Qiwi 20-F SEC filing of Qiwi has a long list of risks that you should consider carefully.
Disclosure: I am long QIWI. I wrote this article myself, and it expresses my own opinions. I am not receiving compensation for it (other than from Seeking Alpha). I have no business relationship with any company whose stock is mentioned in this article.