Alcatel-Lucent (ALU), a global French telecommunications firm, has recently announced earnings that show a substantial improvement in comparison to last year. While undergoing restructuring, changes in management and asset sales, sentiment toward the company and its stock is shifting. Though its stock is up 200% since January of 2013, a favorable opportunity for investors may be at hand.
Perhaps indicating market sentiment, optionMONSTER reports the purchase of 12,000 January 2015 calls betting that shares of ALU will trade above $4.63 over the next seven months. However, with stock currently closed at $4.06, shareholders would enjoy a 14% profit before the option trade is profitable.
Either way, there has been information conveyed through the financial media that institutions typically are restricted from buying equity that trades at under $5 per share. So, if ALU appreciates 25% it potentially could be just the beginning.
Analyst Ratings
Turning to institutional research, there have been several recent downgrades and lowered price targets. Shares could weaken in light of them.
UBS has issued a 20 page, May 12th report on Alcatel-Lucent entitled "No longer an ugly duckling, not yet a swan," that belies a Buy rating and €3.80 ($5.21) target. Similar to the rest of Wall Street, the Swiss firm has in fact lowered its diluted, adjusted target 2014E EPS from $0.16 to $0.13. However,
With the prospect of an EBIT margin of 7% in 2015 as cost savings accrue, we believe ALU will continue its transition into a swan, something not reflected in the current share price.
A helpful valuation table from UBS comparing peers on the basis of infrastructure follows, and ALU is inexpensive in light of several metrics. (China's ZTE (OTCPK:ZTCOY) might also be worth looking into):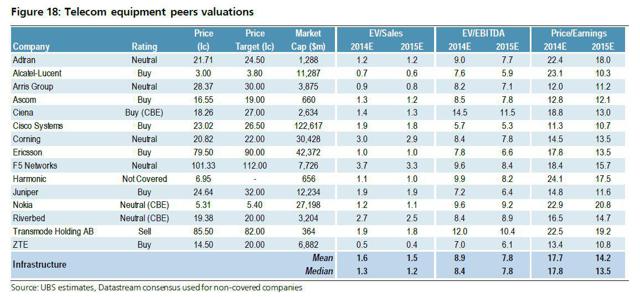 Increasing Telco CapEx and Revenues
There is a favorable backdrop supporting projections. Alcatel Lucent gets revenues from Capital Expenditures ("CapEx") of telecommunications operators and equipment businesses. There has been some press describing global telecom CapEx. Indeed there is an extensive list of indicators that the situation is favorable:
China's Huawei aims to double sales growth at its network-gear business to 8% this year;
Credit Suisse has estimated that carriers' spending on wireless projects could rise by 20%;
Vodafone (NASDAQ:VOD) plans to spend $13.3 billion on cellphone networks in Europe by March 2016;
Telefonica (NYSE:TEF) plans to increase CapEx up to 25% in 2014;
Deutsche Telekom (NYSE:DTE) may up its spending 5%.
According to UBS, "the visibility in mobile CapEx [is] the best it has been in 7 years. For 2014 the mobile CapEx environment looks buoyant with the US stable at high levels and China, Europe and India all likely to post strong growth;"
Equipment and electronics spending should increase now that civil projects such as cell phone towers have been installed or are being shared: there is lower passive spending;
Alcatel CEO Michael Combes says his company is in position to grab CapEx growth in North America from 11% of sales customer AT&T (NYSE:T) and 12% client Verizon (NYSE:VZ) (Source: 1Q 2014 Transcript).
Increased telco CapEx does not mean rising sales of a particular industry company. An important consideration is leadership's ability to execute. There is a brief history upon which to form judgment.
Management
Combes has been with the company and at his post for just over one year; since shares were priced at $1.38. Jean Raby, Chief Financial & Legal Officer, has been with the corporation and at her post since August 28, 2013; when shares were priced at around $2.60. Data shows that they have been effective at implementing The Shift Plan, launched in June 2013.
The goal of The Shift Plan is transformation into an IP and cloud networking and ultra-broadband specialist refocused on unlocking innovation, with a growing and cash generative business and a sound balance sheet by the end of 2015 (Source: Form 20-F).
Fiscal Stability and Risks
The company has done some substantial shuffling of its debt. Per the prepared remarks section of the Conference Call, less than €500 million needs reimbursement between now and 2017. It has already been pre-financed and proceeds have been earmarked for reimbursement.
Standard & Poor's maintains a junk, B- credit rating with a positive outlook.
With these things in mind, pertaining to a foreign firm, attention to future solvency is pertinent. The Altman Z-Score indicates stress that is likely to lead to bankruptcy when it is below 1.8. Here is a graphic from Y Charts comparing peer firms: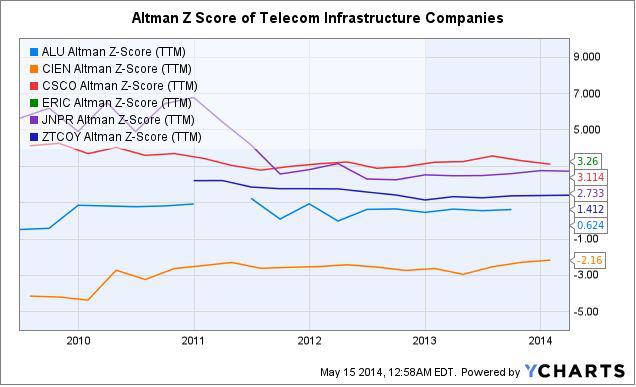 Also, the company's market cap is roughly 2.75x shareholder's equity. YCharts has a graphic showing equity as a percentage of assets. While not as troubling as the Z-Score, a comparison is not especially appealing: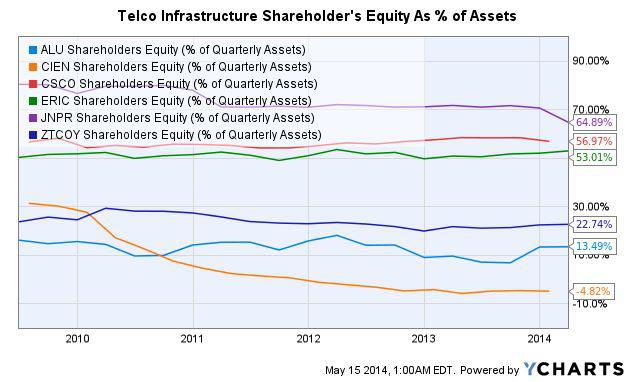 Currency valuations are particularly important. Some results are given in constant currency.
The Good
Turning away from risks and toward the turnaround, one of the highlights of the past quarter is Alcatel-Lucent's adherence to strong operating expenditure ("OpEx") controls, resulting in higher operating profit. A result is a 0.7% EBIT margin when consensus was for -0.1% (Source: UBS). In fact, OpEx is down nearly 12% year-on-year, mainly driven by a decline in SG&A expenses of €100 million or nearly 21%.
Alcatel-Lucent is a diversified business within telecommunications. Company revenues are reported across divisions, which lie within segments. Internet Protocol ("IP") Routing, IP Transport, and IP Platforms fall under the Core Networks segment. Wireless Access, Fixed Access and comparatively miniscule Licensing and Managed Service are within Access Networks. The company's Enterprise business is now discontinued and includes only LGS, which is deconsolidated following its March 31, 2014 sale. A graphic of Q1 2014 data follows (Source: Press Release).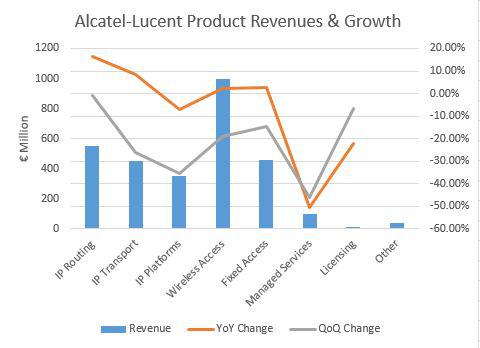 Core Networks Revenues, close to 45.6% of the corporation's total, are up year over year 6.9% overall. As shown above, IP Platforms is the only segment division to have witnessed a decline. Access Networks revenues, 53% of sales, have decreased 4.2% over the same time.
However Wireless, the product accounting for the largest percentage of Access revenues at close to 34%, has increased in comparison to Q1 2013. Strong Long-Term Evolution ("LTE") growth, an agreement with China Mobil (NYSE:CHL), and small cell announcements with Verizon and TIM in Brazil are specified reasons. Notably, Wireless has helped the Access Networks segment's operating income to improve 5.4%.
There have been several recent stories from Australia (I, II, III).
There is also a strategic partnership with Qualcomm (NASDAQ:QCOM), which purchased $20 million in treasury stock last year, and can purchase the same amount each year through 2016.
Conclusion
Amidst a favorable environment for telco vendors, Alcatel-Lucent's new management continues its remarkable effort. There are improvements. A peer comparison shows compelling valuation of the stock.
Reduced price targets, or downgrades, might result in lower priced shares, which would have greater appeal. The market might not agree, but there is no hurry here to take on the risk.
ALU is worth careful consideration though, particularly if it can eventually get past $5.
Disclosure: I have no positions in any stocks mentioned, but may initiate a long position in ALU, JNPR, ERIC over the next 72 hours. I wrote this article myself, and it expresses my own opinions. I am not receiving compensation for it (other than from Seeking Alpha). I have no business relationship with any company whose stock is mentioned in this article.
Additional disclosure: I may initiate a short position in CIEN over the next 72 hours.
Editor's Note: This article discusses one or more securities that do not trade on a major U.S. exchange. Please be aware of the risks associated with these stocks.