Shares of Vipshop (NYSE:VIPS) soared Wednesday afternoon after the Company posted record revenues during the first quarter. It seems to be a quarterly tradition now as Vipshop beat analyst expectations once again on both the top and bottom lines.
The good news didn't stop there as management expects second quarter revenue to be even higher than what it previously had planned. The table below shows the company's strong earnings results.
| | | | |
| --- | --- | --- | --- |
| VIPS Earnings Results | Revenue | EPS | Guidance |
| Analyst Estimates: | $652.4M | $0.46 | $680.4M |
| Actual Results: | $701.9M | $0.63 | $785.0M* |
*VIPS Q2 guidance is between $780M and $790M
As you can see, Vipshop once again produced another fantastic earnings report. During after-hours trading on Wednesday, shares surged as much as 12%. Not only did the company break records in its quarterly report, but shares should also be making all-time highs as well.
Over the last two months, shares of Vipshop have been a trader's dream as shares have been stuck in the $130-$160 range. With such a strong quarter behind them and with guidance being so strong, shares are poised to take on the next level of resistance at $180.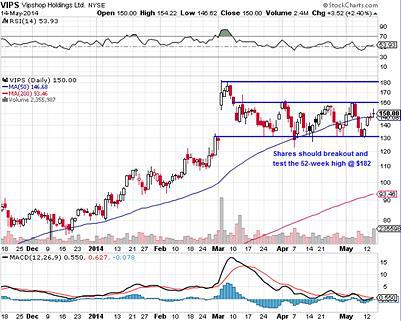 Vipshop Q1 Highlights
Vipshop produced record net revenues of $701.9M for an increase of 125.9% over the prior year.
Vipshop expects second quarter revenue to be between $780M and $790M, representing year-over-year growth of approximately 122% to 124.9%.
The number of active customers grew to 7.4M from 2.8M, for an increase of 165.1% over the prior year.
Total orders increased to 20.2M from 8.8M, for an increase of 129.3% over the prior year.
Gross margins increased to 24.9% from 23.4% in the prior year period.
Non-GAAP income from operations increased by 394.3% year-over-year to $42.8M from $8.7M in the prior year period. Non-GAAP operating income margin increased to 6.1% from 2.8% in the prior year period.
Non-GAAP net income increased by 253.9% to $28.8M from $8.1M in the prior year period. Non-GAAP net income margin increased to 4.4% from 2.7% in the prior year period.
Eric Shen, Chairman and CEO of Vipshop, talked about Vipshop's strong quarter saying:
"We are very excited to report robust first quarter 2014 financial results, which reflect our continued strong growth momentum and increasing operational efficiencies, evidenced by 125.9% year-over-year growth in net revenues and incremental gross margin expansion to 24.9%. ... In addition, we aim to further improve the customer experience for viewing and purchasing products across both the PC and mobile platforms and evolve with our customers' purchasing habits. We are confident that our initiatives in 2014 of expanding our warehousing, merchandizing and IT capabilities will help further enhance our ability to satisfy, retain and attract customers, through delivering the best-in-class customer experience and product selection, and drive long-term value for our shareholders."
Vipshop Will Continue To Soar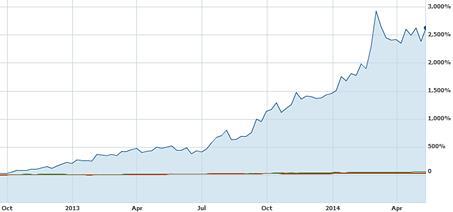 It's certainly no secret that Vipshop has been the darling of Wall Street as shares continue to keep climbing. As of yesterday, shares of Vipshop have soared more than 2,500% in just the last two years. As you can see on the right, this is one beautiful chart that only continues to get better. Which such a magnificent rise, short sellers seem to be chomping at the bit as they wait to see if earnings can justify the current valuation. So far, Vipshop has delivered that and more.
While the bull market has given investors great returns over the last couple of years, Vipshop has taken things to a whole different planet. So where do Vipshop's fundamentals currently stand after taking into consideration the after-hours closing price of $163?
When we crunch the numbers, Vipshop currently has a trailing P/E of 103. Yet, on a forward looking basis, Vipshop's P/E drops all the way down to 36. Quite a remarkable drop for a company that is currently and consistently growing revenues at phenomenal levels. On a price/sales level, Vipshop is going for 2.87x 2014 estimates. Looking ahead into 2015, Vipshop is trading at 1.85X estimates. Again, pretty cheap when compared to the growth (+100% yoy) that Vipshop has delivered year after year.
After such a huge quarter and with guidance coming in 15% higher than what analysts expected, analysts will have no choice but to fix their models and up their current price targets. Because of these reasons that I've outlined, I believe Vipshop still has plenty of room to run and will be getting many upgrades from analysts over the coming days and weeks. With that, don't be surprised to see price targets up in the $250 range now.
As always, I'm providing you with my track record and other particular stocks that I recommend. The link provided will show you all of my picks, how they have fared, and where I think they will be going in the near future. I think you will find my track record to be very impressive and useful.
Disclaimer: Investors are always reminded that before making any investment, you should do your own proper due diligence on any stock mentioned in this article. On that note, have a great day and as always, I look forward to hearing your thoughts or questions that you might have.
Disclosure: I am long VIPS. I wrote this article myself, and it expresses my own opinions. I am not receiving compensation for it (other than from Seeking Alpha). I have no business relationship with any company whose stock is mentioned in this article.