Google Glass (NASDAQ:GOOG) (NASDAQ:GOOGL) is finally being offered to the general public, sheepishly. The announcement to finally bring the $1,500 wearable technology glasses to the market has come and gone and nobody seems to have noticed. Google Glass has been the talk of the town over the past couple of years with many if not most analysts believing that wearable technology will be the successor to the smartphones that we have come to depend on.
Now that Google Glass has finally arrived, the hype train surrounding the product seems to be totally derailed. Glass may be innovative and it may invigorate the wearable boom that we've all been waiting for, but for several reasons Google Glass will probably not be the winner.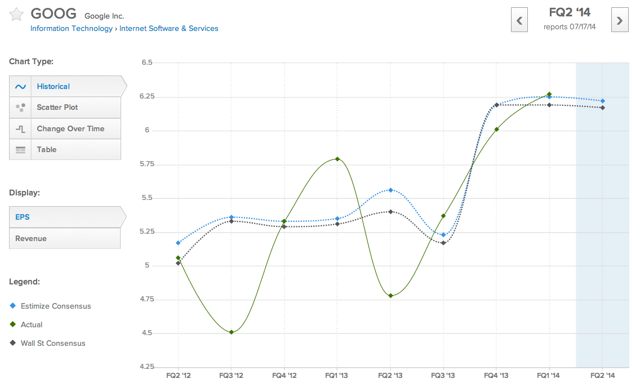 Click to enlarge
Click here for chart.
Right off the bat, the $1,500 price tag is a major issue. The average person doesn't have $1,500 lying around to spend on an unproven new toy. In addition to the sticker stock that comes with buying the product, Google has declared that anyone may buy Glass, but the technology will remain in the "Explorer" program.
The Google Explorer Program is a nice way of saying, it's still in beta. $1,500 is a lot of cash for a product still in beta and more importantly, Glass does not yet have a mountain of apps built for it. One of the primary reasons that smartphones have become so ubiquitous is that there is an app available for just about anything you could want in a mobile experience.
If we were living in 2300, Google Glass might have a better shot at success. The design is problematic. Glass looks like something out of a science fiction movie, not like a product that anyone wants to be seen with walking down the street today. Google Glass instantly manages to make anyone wearing a pair look like a doofus. These are not exactly Beats by Dre that we are talking about here.
Speaking of Beats by Dre, let's talk about Apple (NASDAQ:AAPL), which appears to be in late stage talks to acquire Beats Electronics. But the single most significant burden that Google has encumbered itself with is the first mover disadvantage. Over the past 10 years, being first to the market with a consumer tech product has more often than not turned to be an absolutely terrible business decision.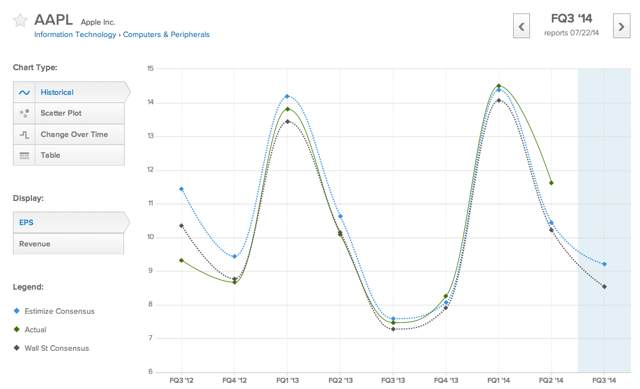 Click to enlarge
Click here for chart.
Trivia time: which shadow of the company that it used to be was one of the major players in the consumer smartphone market? Back in the late 90s they may have been called PDAs, but there is no denying that BlackBerry (NASDAQ:BBRY) was a key innovator in the infancy of smartphones. Google benefited massively by not being the first one out of the gates on consumer products in the case of smartphones. Google sat back, waited, and then made one of the best acquisitions of the 21st century. Google saw the shortcomings of BlackBerry, had a vision of how to improve the smartphone experience, and purchased Android to capture and build upon a new mobile operating system. Considering that Google wasn't the first search engine, but then mercilessly crushed AltaVista, you might guess that they would understand this problem a little bit better.
Developing a first in class consumer technology product can be prohibitively expensive and is inherently risky. Google has probably sunk more cash into Glass than it used to acquire Android back in 2005 for an undisclosed fee, which is estimated to be around $50 million, according to Gizmodo. How does a $50 million deal for Android less than 10 years ago sound now when we see WhatsApp going for $19 billion and SnapChat getting a valuation upwards of $4 billion?
The real problem for Google though is that while everyone wants to be the innovator, which is first to a new market, being first just doesn't work in consumer technology products. Apple has become one of the largest and most profitable companies in the world - not by being first to market with consumer tech products, but by delivering best in class offerings with exceptional design.
Google may be the first to market in high-end wearables with Glass, but having the best product is more valuable than being the first one to sell. In this industry it's better to sit back and forego the initial hype sales to learn from the mistakes of your competitors and improve upon their faults. Google has the first product on the market in high-end wearables but Apple remains tight lipped as ever, and you can bet that Apple is studying Glass inside and out. This is a battle of two completely opposite philosophies.
Google has been loud about Glass, while no one knows what the heck Apple is working on behind closed doors, although it's widely speculated that some type of iWatch wearable product with integrated biotechnology may be upon us in the near future.
If the battle for wearable consumer technology were played out in a poker room in Las Vegas, Apple would be the stoic and wily pro studying the intricacies of its opponent's behavior without giving off a quantum of information. The way Google has handled Glass, it would be a 21-year-old kid uploading all of his cards to Instagram who is more concerned about drinking Jack and Coke and high-fiving his friends than making any money.
Disclosure: None.