Lumenis (NASDAQ:LMNS), an Israeli medical equipment developer and manufacturer, went public in February with impressive multiples and margins that made the company a solid healthcare pick: an IPO price-to-earnings ratio of 2.43, an IPO price-to-sales ratio of 1.24, a gross margin of 54%, and an operating margin of 10%. That would be a good and simple investment opportunity if you ignore that the company was delisted in 2006 following a Securities and Exchange Commission (SEC) investigation accusing the company of "a fraudulent scheme to inflate revenues and misrepresent other important financial metrics so as to deceive investors as to the company's true financial condition". Should investors keep away from Lumenis in light of its history and poor Q1'14 results, or should they invest in light of the IPO information?
Previous Round of Lumenis on NASDAQ, in Brief
Lumenis was originally listed to NASDAQ in 1996 under the name Energy Systems Corporation, which was later changed to Lumenis. In 2002 the SEC began investigating transactions made between the company and its distributors in the United States for improper recognition of a series of sales transactions that resulted from Lumenis' publication of materially false and misleading financial statements in six consecutive financial reporting periods, starting with those for the year ending December 31, 2001. Some of the statements enabled Lumenis to meet previously announced quarterly revenue targets in two quarters and others helped to lessen the shortfall in certain quarters when Lumenis missed its predicted revenue figures. The improper sales transactions also materially lessened the severity of losses reported by the company during the relevant period, both on a quarterly and yearly basis. One year later, in 2003, one of the accounting firm Deloitte Touche's auditing staff was summoned to the SEC to provide evidence for the SEC investigation and discovered the existence of documents that Lumenis withheld from Deloitte regarding one of its distributors. Later in 2003, Deloitte refused to sign Lumenis' Q3'03 reports after the company failed to pass these significant documents to the accounting firm. In 2004, Deloitte resigned from its role of Lumenis' independent auditor after an internal investigation managed by outside independent auditor Debevoise found that the company inflated its revenues in 2001 and 2002. In 2004, Lumenis shares were delisted from NASDAQ and started trading on the pink sheets, and in 2006, after the SEC completed its investigation, the company was also delisted from the pink sheets.
Lumenis 2014 Public Offering and Earnings
In February 2014, Lumenis, under new management, went public and raised $75M that reflects a $42M market cap to the company. The Lumenis IPO was different from other recent Israeli IPOs such as Varonis and Enzymotec, who experienced an overwhelming demand for their shares, in that Lumenis had low demand for its shares. Lumenis' initial IPO price range was $15 to $16 but in the end the IPO closed at $12 per share, which was disappointing for the company. Lumenis develops and manufactures laser and light-based systems for surgical, ophthalmic, and aesthetic applications and operates worldwide through a network of third-party distributors, direct sales force, and independent distributors. As shown in chart 1 below, the surgical segment is the most profitable with a 59% gross margin and 13% operating margin in 2013. The surgical segment gross margin increased between 2011 and 2013 mainly due to the cost of revenues staying flat and increased revenues.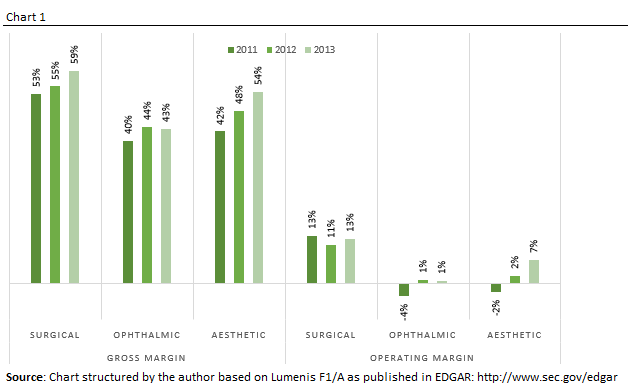 As shown in chart number 2 below, most of the company's revenues are generated in the US (35% in 2013) and in China (32% in 2013), which is part of the recent year's trend showing that revenues from APAC increase while revenues from the other geographies decrease. In dollar terms, revenue generated in the US is almost flat from 2011 to around $92M, while revenue generated in APAC (mainly China) is up around 20% every year, which shows a clear shift of focus from sales in the American market to the Asian market.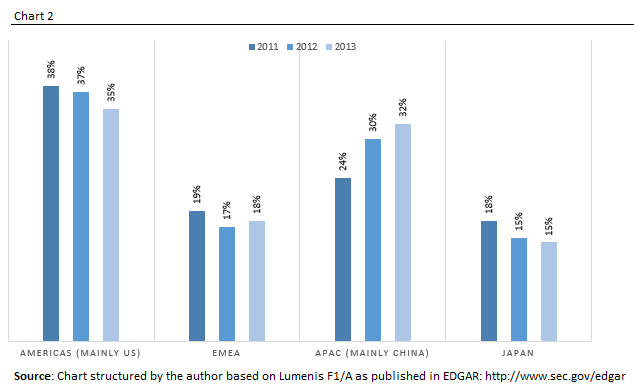 Lumenis reported its Q1'14 results on May 12. The gross margin is 53%, up two points compared to Q1'13, mainly due to improvement in the services segment, but one point below the 2013 full year gross margin. Lumenis' operating margin for 2013 is 7%, however in Q1'14 the company presented a negative operating margin due to expenses associated with the IPO. Lumenis provided disappointing guidance for the year:
EPS range for 2014 of $0.5 to $0.54 (Non GAAP) that reflects a downside of 6% to 13% in share price based on 16.21 P/E from price at the announcement.
Revenue guidance for 2014 is between $282M to $285M representing a low 5% four years' revenues CAGR.
Lumenis presents a decent growth in gross margin (four points, year after year) and in operating margin (four points year after year); however, after the 21% decline in share price since the IPO and with another 7% to 13% decline ahead of it (according to the company's guidance), I wouldn't buy Lumenis right now.
Conclusions
Eight years after it was delisted from the US stock exchange, Lumenis is back on NASDAQ. The company knew some hard times in the past with the SEC and the auditing firm, however with new management and solid financials things now look different. Lumenis presents an above 50% gross margin and generates revenues worldwide with increasing amounts from emerging markets. However, the company's disappointing outlook for only a 7% increase in revenues in 2014 over 2013 and an EPS range that reflects a decline in stock price makes make Lumenis not an attractive investment compared to the risk implied in investing in a micro-cap healthcare company such as Lumenis.
Disclosure: I have no positions in any stocks mentioned, and no plans to initiate any positions within the next 72 hours. I wrote this article myself, and it expresses my own opinions. I am not receiving compensation for it (other than from Seeking Alpha). I have no business relationship with any company whose stock is mentioned in this article.