As part of its first quarter earnings release on May 9, 2014, Apache Corporation (NYSE:APA) announced that it was going to increase its rig count in the East Texas Eagle Ford ("ETEF") play from four to eight by mid-year. This is a significant increase and is somewhat of a pleasant surprise given that at the time of its investor conference in late February they were running three rigs in the play with plans to add just one more rig in the second quarter. The announcement represents a major commitment to the play and is a strong endorsement of its commercial viability. While the doubling of rigs (and presumably production) will not be a "needle-mover" for a company the size of Apache, this is big news for the other operators in the play, as Apache will quickly become its most active operator. Other major operators, Halcon, Clayton Williams and Comstock, have a combined total of just 6 rigs.
During the earnings conference call, Apache CEO Steve Farris gave the following reason for the big jump in rig count:
"In our Gulf Coast region we saw some very encouraging results from our Eagle Ford acreage. Earlier this year at our investor day, we outlined our 400,000 gross acreage position in the northern part of this play. We're continuing to progress on de-stranding (PH) of the area. We spud nine additional wells during the quarter. Our most recently completed well was McCullough-Wineman in Brazos county which 30-day IP averaged 1,455 barrels of oil equivalent a day well above our initial type curve. Based on this recent well result, and our overall understanding of the play, we plan to increase our rig count from four currently to eight by midyear."
Source: Seeking Alpha (as edited)
Apache's "Earnings Release Operations Supplement" summarized the current status of its ETEF activities as follows:
"Apache has drilled 10 wells to date in its emerging Eagle Ford play in Brazos and Burleson counties and has five wells currently on production. Thus far, we have seen positive results from each section of Apache's core development area."
This last statement is somewhat curious because, as "old-time" ETEF well-watchers will recall, Apache's involvement in the ETEF dates back to at least 2007 and Apache was an important part of its early development. Apache's "pioneer" status in the ETEF is well-documented in Richard Zeits' excellent article entitled "Apache Trumpets Reveille In East Texas Eagle Ford" which is located here.
To summarize that article (plus add some facts and color commentary): In September, 2007 Apache, EverVest and EV Energy Partners (NASDAQ:EVEP) entered into what was described as a "multi-year exploration joint venture" for "zones below the Austin Chalk" to the more than 400,000 acres owned by EVEP and Enervest. The essential terms of the deal was that EVEP and EnerVest would contribute the acreage and receive an overridding royalty, while Apache would be the operator for these deeper zones and contribute the "initial exploration capital."
Very shortly thereafter, on October 31, 2007, Apache began the recompletion of the W.H. Giesenschlag C #1 well targeting the Eagle Ford formation. The well was completed on February 1, 2008, and is credited as being the "discovery well" for the Giddings (Eagleford) field in Burleson County. Over the next several months, Apache obtained seventeen more vertical recompletion permits targeting the Eagle Ford. Fourteen of those wells were "successful" in that they produced in the Eagle Ford as oil wells. But five wells were not, and they ended up being re-completed as gas/condensate wells. These wells are marked on the map below with "red stars." Their significance is that they provide, I believe, important evidence of the boundary between the "oil window" and the "gas/condensate window" in this area of the ETEF. Although the county line is not shown on the map below that boundary appears to be approximately 1-2 miles north of the Burleson-Washington County line.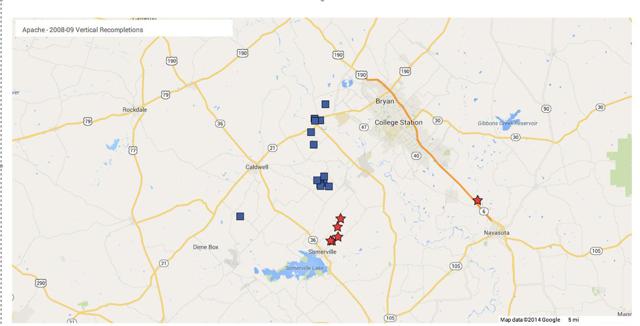 In January, 2008 Apache spud its first horizontal recompletion targeting the Eagle Ford: the Giesenschlag, W.H. "C" Gas Unit #3H. Over the next year Apache drilled and completed eight additional horizontal Eagle Ford wells. Although all of these wells are still producing, none would be considered "commercial" by today's standards. However, it is important to note, as pointed out by Richard Zeits in his article, that most of these "pioneer" wells had extremely short laterals. In fact, my review of the completion reports for these wells shows that the average lateral length for these nine laterals was only 1,762 feet and four out of the nine wells had laterals less than 1,000 feet. Average proppant per lateral foot was only 546 lbs. Today laterals are probably averaging more like 7,000 feet and somewhere between 1,200 and 1,500 lbs. of proppant per lateral foot.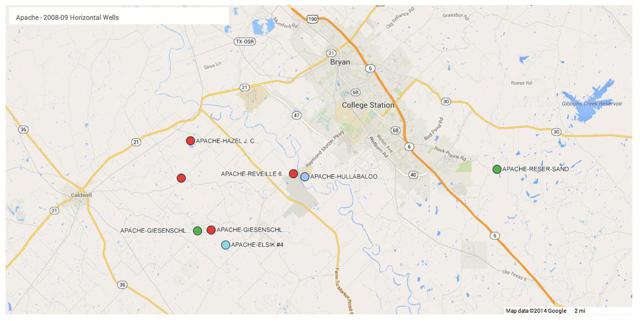 By the end of 2008 Apache's ETEF program pretty much came to a screeching halt. Why? SA Contributor Richard Zeits suggests that "based on the results of its evaluation program, Apache decided not to pursue the play further..." I suggest, instead, that the decision to halt the program was driven more by the start of the financial crisis in September 2008 and the complete collapse of oil prices, rather than any negative conclusion about the East Texas Eagle Ford itself. To give you an idea of the magnitude of the collapse in oil, WTI dropped from $145.31 on July 4, 2008, to $32.94 on Christmas Eve. A lot of oil plays that are economic at $145 oil are not close to being so at $32. It does not take an oilman to realize that $32 oil will cause a lot of drilling programs to be put on the back burner.
In mid-2013 EnerVest/EVEP and Apache re-structured the 2007 joint venture from overriding royalty interest deal to a 50/50 joint venture. Shortly thereafter, in late August, 2013, Apache re-entered the ETEF play and spud its first horizontal well since 2008, the Reveille 7H. Since then it has drilled and completed four other wells: Leone 2H, Stasny-Porterfield EF 1H, Stasny-Porterfield EF 2H and McCullough-Wineman EF 2H (see location map below). It's still early, but all the wells (except the Leone 2H where 2/3 of the lateral landed below the pay zone) are tracking on or above Apache's very modest 330 MBOE type curve (average lateral length of 7,000 feet).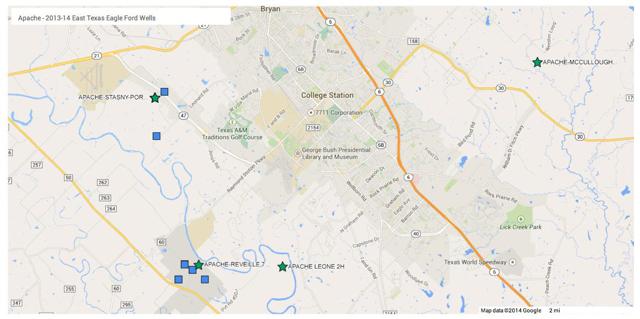 The most important of these wells may well be the McCullough-Wineman well. It was completed on March 3, 2014, and has a lateral of 8,370 feet. It produced 35,209 boe in March which earned it a mention in both the Apache and EVEP earnings conference calls. The significance of this well is that it is located less than a mile from the Grimes county line (the Navasota River) in an area where the Apache/EnerVest/EVEP joint venture has a large block of acreage (see below). EVEP has about a 14% share of EnerVest's interest in the EnerVest/Apache 50/50 joint venture. This translates to EVEP having a 7% interest (on average) in each well Apache drills in this area.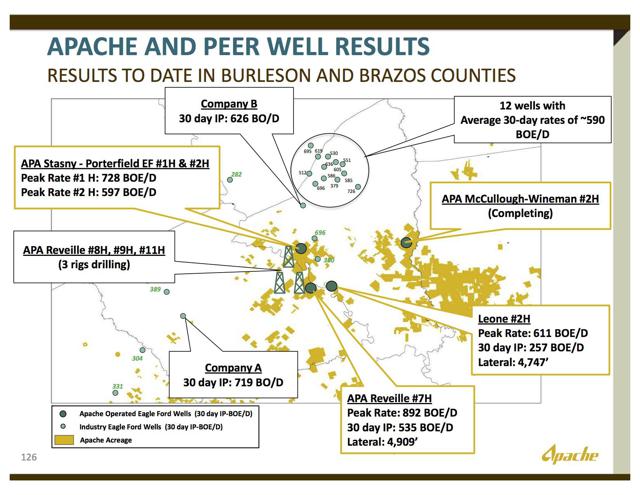 The map below is from EVEP's recent presentation and shows the Apache/EnerVest/EVEP joint venture area with a little more detail. It is also useful to show the boundaries between the different oil/gas/condensate "windows." For additional context and perspective I've added the names and locations of some other wells of interest, such as Halcon's Stifflemire 1H well in southwest Burleson County. Also featured on EVEP's map is the location of SM Energy's Brollier 1H well which, significantly, was completed in the Eagle Ford as a gas/condensate well. According to this map, the Brollier well lies just inside the "wet gas" window.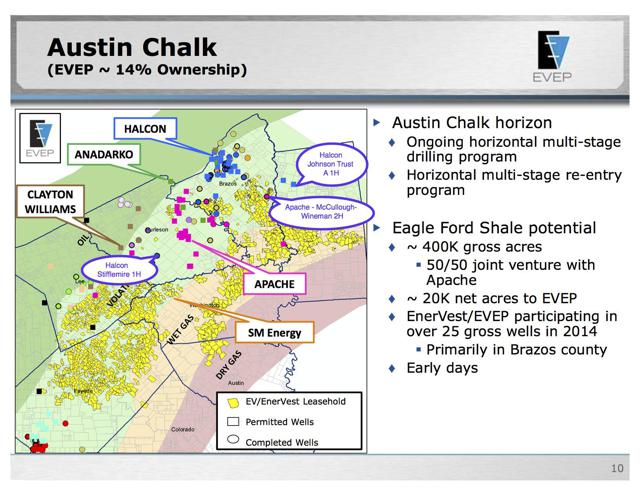 So what's on tap for Apache in the ETEF for the rest of the year? Well, in addition to the five wells now in production, Apache has ten wells that have been spud but not yet reported as completed. A map of those wells is below and, for context I also added a few other industry wells (Halcon green stars/square and PMO orange star). As you can see, the Apache wells are concentrated in the Brazos river valley area.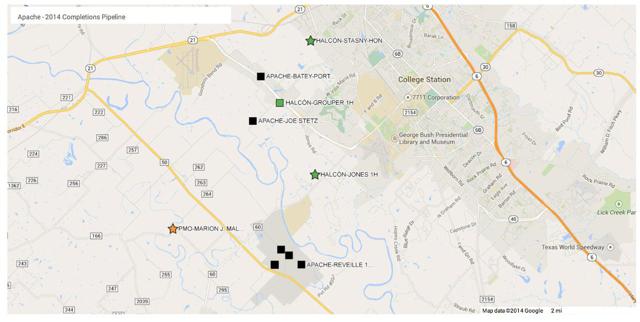 In addition, Apache has 20 wells which have been permitted but are not yet spud and five wells that just started the permitting process. The map below shows the locations of these wells and I've highlighted those future wells that are toward the "edges" of Apache's core area of development. In summary, 2014 is going to be an extremely active year for Apache in this play and investors should watch closely as Apache moves to becoming the dominant player in the East Texas Eagle Ford.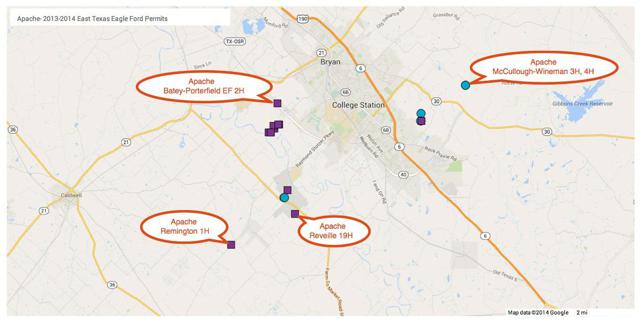 Disclosure: I am long EVEP, HK. I wrote this article myself, and it expresses my own opinions. I am not receiving compensation for it (other than from Seeking Alpha). I have no business relationship with any company whose stock is mentioned in this article.