The economic data continues to be a mixed basket of results, with some data looking quite good and other figures coming in below expectations. Although the US consumer is showing signs of wanting to spend more of their discretionary income, the growth remains slow and the consumer remains very picky.
Which brings us to the results from Wal-Mart (NYSE:WMT) this morning. The numbers were disappointing and the guidance was not much better. There are a couple of bright spots for investors in the company, but right now neither is large enough to move the needle for the entire company. It seems to be apparent that the story at Wal-Mart continues to be the larger story for the industry at large. Consumers know what they want, and right now they are not wanting to spend freely on large purchases.
Chart of the Day:
The price action on the US 10-Year Treasury is quite interesting with rates continuing to fall as it appears investors are seeking a safe haven with questions being raised about Europe and what many perceive as an aging bull market here in the US. With prices rising so strongly, one has to wonder what the driving force is actually safe haven seeking or rather smart money having to cover bearish trades made on US Treasuries.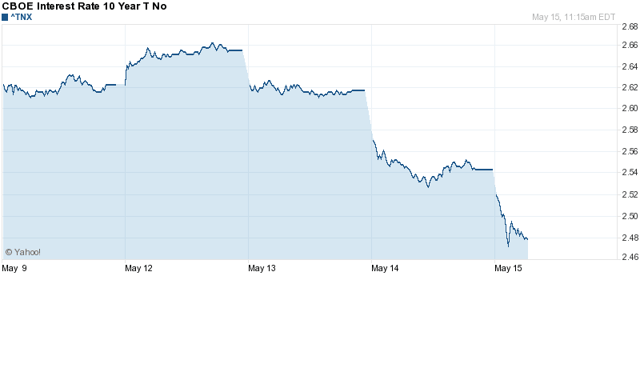 Source: Yahoo Finance
We have economic news today, and it is as follows:
Initial Claims (8:30 a.m. EST): Est: 325k Act: 297k
Continuing Claims (8:30 a.m. EST): Est: 2700k Act : 2667k
CPI (8:30 a.m. EST): Est: 0.3% Act: 0.3%
Core CPI (8:30 a.m. EST): Est: 0.2% Act: 0.2%
Empire Manufacturing (8:30 a.m. EST): Est: 4.8 Act: 19.0
Net LT TIC Flows (9:00 a.m. EST): Est: N/A Act: $4.0 B
Industrial Production (9:15 a.m. EST): Est: 0.0% Act: -0.6%
Capacity Utilization (9:15 a.m. EST): Est: 79.2% Act: 78.6%
Philadelphia Fed (10:00 a.m. EST): Est: 9.1 Act: 15.4
NAHB Housing Market Index (10:00 a.m. EST): Est: 48 Act: 45
Natural Gas Inventories (10:30 a.m. EST): Est: N/A Act: 105 bcf
Asian markets are lower today:
All Ordinaries -- up 0.26%
Shanghai Composite -- down 1.12%
Nikkei 225 -- down 0.75%
NZSE 50 -- down 0.35%
Seoul Composite -- down 0.03%
In Europe, markets are lower this morning:
CAC 40 -- down 1.05%
DAX -- down 0.82%
FTSE 100 -- down 0.72%
OSE -- up 0.28%
Wal-Mart Disappoints
Investors already knew that Wal-Mart would be reporting strong results from its online division, but that was just about the only good news the company had to report. Sales are growing in the double digits at the e-commerce unit, but with sales growth stalling at the Supercenters, Sam's Club unit and even internationally investors are left to look at the last bright spot which are the smaller format stores that the company is currently rolling out. Both the Neighborhood Market and Wal-Mart Express stores saw strong growth as consumers utilized the new offering as a convenience.
Even with strong sales at the smaller stores, one has to recognize that sales still only grew in the mid single digits which hardly makes a dent in the growth figures the company needs to move the needle. Wal-Mart did announce that they would speed up their roll-out of these stores, but this alone does not solve the company's larger issues.
Competitors Also Struggling
Even though Wal-Mart is facing some serious issues with the US consumer right now, it is not as if they are the only large retailer struggling. Target (NYSE:TGT) is also facing issues trying to attract consumers, and although many want to blame this on the data breach it was actually a trend which had started long before that news broke.
Target has had issues outside of actual retailing in the last six months, but their issues have been ongoing. This is part of the reason why the change in their management ranks took place.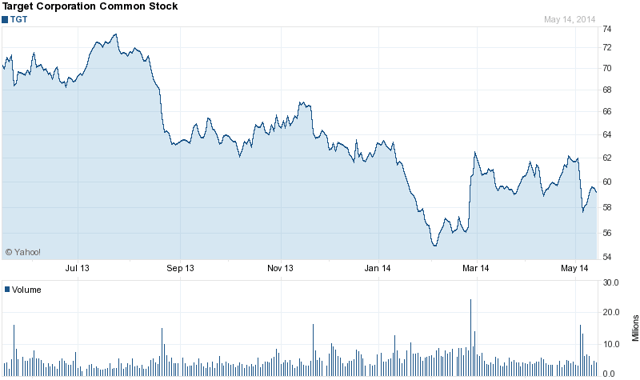 Source: Yahoo Finance
Costco (NASDAQ:COST) is one of the better performers in the large, national retailer space but they too have had their struggles in recent quarters. This is one of the better run retailers out there and is taking market share from Wal-Mart's Sam's Club unit as it continues to roll out new stores across the country. The fact that they have had issues arise in recent quarters which caused misses to their quarterly results highlights just how fragile the retail environment is. Weather is playing a role in results these days and right now it is not an excuse but merely a reality.
What Consumers Want
Right now the US consumer is quite fickle. They are very aware of what they want and their focus is not on big purchases but on small purchases which help keep their past big purchases fresh. This is why we see retailers such as Gap (NYSE:GPS) and Michael Kors (NYSE:KORS) doing so well. They have had success in delivering the desired fashions to consumers, but they also are doing well with their sale of accessories. If one looks around at some of the names in the retail sector actually performing well this is a trend that stands out.
This is also why the smaller store format for Wal-Mart will probably continue to show steady growth trends moving forward. Taking on the dollar store-types with these two concepts will enable consumers to use Wal-Mart to fulfill their small purchase needs, but the company has a lot of work to do in order to turn the ship around.
Disclosure: I have no positions in any stocks mentioned, and no plans to initiate any positions within the next 72 hours. I wrote this article myself, and it expresses my own opinions. I am not receiving compensation for it (other than from Seeking Alpha). I have no business relationship with any company whose stock is mentioned in this article.