By Chris McKhann
The Volatility Index is up almost 8% to 27.60. It's off the highs of the morning near 29, which was the highest level since early July when the S&P 500 climbed off support at 1020. This is the move - at least part of it - that the VIX futures have been predicting. It also closes some of the premium gap between the spot VIX and the front VIX futures.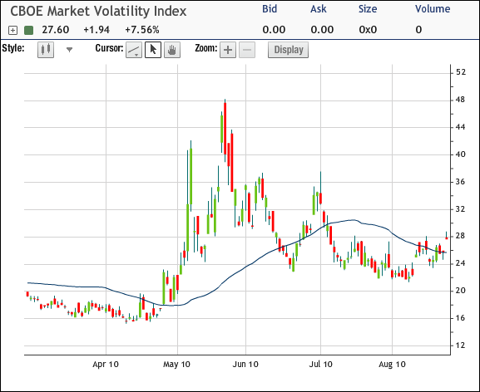 Click to enlarge
(Click to enlarge)
September futures rose 4.1% to 30.2, while October and November futures both trade at 33.10, up 3%. This means that the Short Term VIX Futures ETN (NYSEARCA:VXX) is up just 3.41% to $23.31 as it is made up of those two front-month contracts which carry those premiums.
Futures still predict further increases in VIX, which would correspond to further declines in the SPX. But it is actually a good sign that the VIX remains below the futures and may be an indication that we are ready for a bounce. While the interest is high, now is not the time to go out buying hedges, at least not the very expensive traditional ones.
Disclosure: No positions