A new inflection point in U.S. oil production has been reached. The expected production increases in the Permian Basin are officially established. And U.S. oil is still tracking record production. "Crude output will average 8.46 million barrels a day this year and 9.24 million in 2015, up from 7.45 million last year," the EIA said May 6th. The capital allocations projected and plans by the many exploration and production firms operating particularly in the Delaware and Midland Basins are affirmed by the near six-month period of December 27, 2013, to May 9, 2014. The Energy Information Agency notes the following:
"During the first quarter of 2014, almost 80% of all new horizontal, oil-directed drilling in the Permian Basin took place in just five counties that contained such formations. These counties were Reeves County, Texas (14 rig increase); Ward County, Texas (9 rig increase); Martin and Midland County, Texas (8 rigs each); and Eddy County, New Mexico (6 rig increase). The high-growth formations in these counties include the Spraberry, Wolfcamp and Bone Spring formations."
The plays stack up, from my vantage point, according to rates of return by firms. The one thing learned by most E&P firms is that capital allocation and returns are king in these shale plays, and they are wide-ranging by play and by player.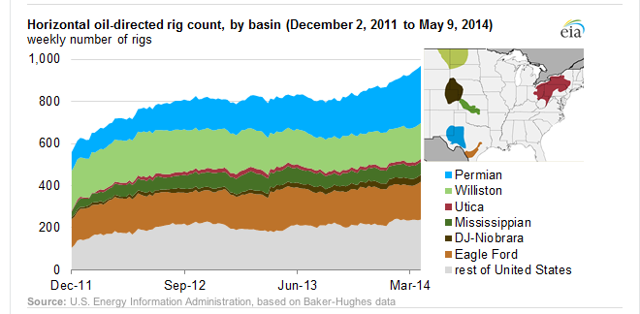 The Permian Basin ramp up I've been alluding to since the summer of July 2013 is real and verifiable. Players in Reeves and Ward County in the Delaware Basin of the Permian include Concho Resources (NYSE:CXO), Energen (NYSE:EGN) and Devon (NYSE:DVN). Occidental Petroleum (NYSE:OXY), Apache (NYSE:APA) and Chevron have considerable Delaware acreage that has yet to be accelerated but those days are ahead of us. There are many more E&P firms operating in these counties such as Anadarko (NYSE:APC), Cimarex (NYSE:XEC) and others. More activity is noted in Pecos County moving forward from private firms and the likes of Exxon Mobil (NYSE:XOM) via XTO Energy.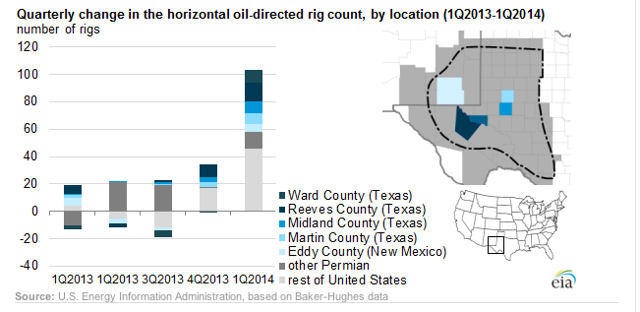 Another noteworthy development is the activity in the New Mexico Permian in Eddy County, also known as the New Mexico Shelf. Concho, Energen and other firms are apparently appraising and developing there.
The prospects for shale oil or tight oil are projected in the EIA's latest Annual Outlook but some interesting estimates have come to light.
"In the high oil and gas resource case, growth in tight oil production continues for a longer period of time than projected in the Reference case. Domestic crude oil production increases to nearly 13 MMbbl/d before 2035 in the high oil and gas resource case, and net U.S. oil imports decline through 2036 and remain at or near zero from 2037 through 2040. The low oil and gas resource case reflects uncertainty about tight oil and shale crude oil and natural gas resources that leads to lower domestic production than in the Reference case. In this case, production reaches 9.1 MMbbl/d in 2017 before falling to 6.6 MMbbl/d in 2040."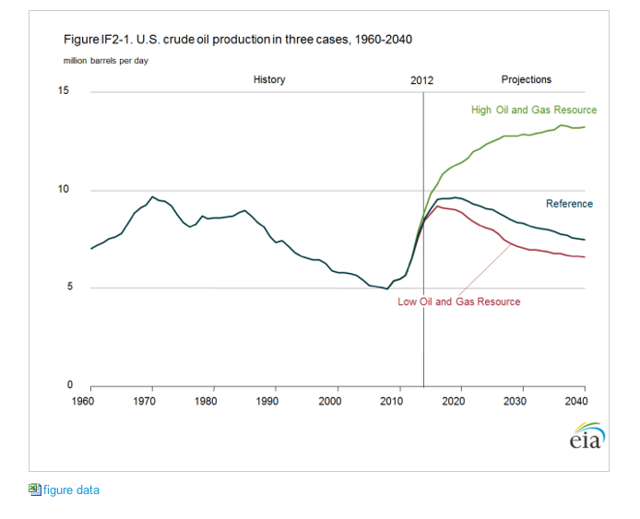 In the high resource case, from 2012 through 2040, cumulative tight oil production case amounts to 75 billion barrels, compared with 44 billion barrels in the Reference case, says the EIA. The lower case amounts to 34 billion barrels, which is 23% less than in the reference case. The production of shale oil makes the difference in U.S. production. "For the low oil and gas resource case, the estimated ultimate recovery (EUR) per tight and shale well is assumed to be 50% lower than in the reference case," notes the EIA analysis.
As the following graph indicates, estimating ultimate recoveries from shale wells over decades is complicated. However, with more well production histories, as in the case of the Eagle Ford, analysts are projecting higher reference cases as below. (A very good technical analysis by an EIA researcher is here.)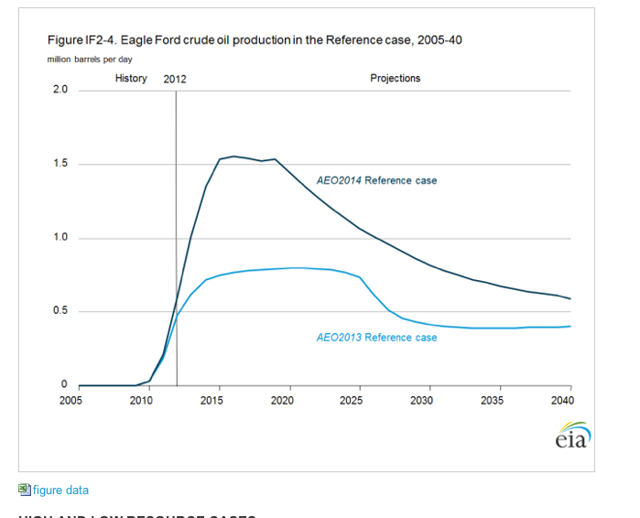 The economics or prices received for oil and gas and technology are the two keys to maintaining higher production levels. Policy questions relating to exporting crude oil will play a role in the trajectory of tight oil development and supply. Currently global oil benchmark Brent near $110 and WTI hovering near the $100 mark are holding in a range that makes production justifiable. Given production costs by key oil market players - the U.S. and OPEC, for example - prices appear slightly volatile (the nature of commodities) but sticky. Of course, there are variations in low-cost producers within countries and regions. As noted in previous work, prices were less volatile in 2013 largely because of U.S. supply.
Importantly, the geographic variations among the oil-rich plays such as the Permian, Eagle Ford and Bakken and the variations in acreage and efficiency capabilities of E&P firms are drivers of performance. Top Permian producer Pioneer Natural Resources (NYSE:PXD) has been a leader in communicating developments in the region. In parsing the Permian Basin, a measurable proxy for future oil production is revealed.
Disclosure: I am long APA. I wrote this article myself, and it expresses my own opinions. I am not receiving compensation for it (other than from Seeking Alpha). I have no business relationship with any company whose stock is mentioned in this article.