Newfield Exploration (NYSE:NFX) has been the #1 scoring blue-chip selection in the Victory Formation system for several weeks running. Robust U.S. crude oil and natural gas prices in the first half of 2014 are supporting share values. In addition to favorable market pricing trends for Newfield's output, the company is benefiting from ongoing efforts to divest overseas exploration and production assets in favor of a reduced debt load and renewed focus on "safer" U.S. energy operations.
Like many of my favorite oil and gas stocks mentioned in articles the last few years, domestic North American energy assets appear to have the best reward potential the next 5-10 years vs. the increasing downside risk of wars, political turmoil and nationalization of oil assets destroying the worth of overseas ownership.
The whole oil and gas sector of the stock market, centered around U.S./Canadian producers in particular, has undergone a rush of buying and accumulation since political upheaval began in the Ukraine several months ago. The low "expected" political risk advantage of holding overseas energy assets appears to be melting away, as U.S. military and political influence is waning. America has slashed defense spending (as a percentage of total outlays) to reduce record fiscal deficits and retain some sense of value for the U.S. Dollar paper currency. As we are witnessing today, the withdrawal of American military assets and support from Europe decades ago, and the Middle East of late, will have meaningful consequences for protecting assets owned by American corporations in these important oil and gas producing regions.
North American oil and gas is one of the top-scoring industries in 2014 for the Victory Formation, with plenty of domestic energy firms shooting to the top of my list. This proprietary system combines current business valuations, company growth prospects and technical stock trading momentum considerations into a grand formula for successful investing. U.S. oil and gas companies Cimarex Energy (NYSE:XEC), Chesapeake Energy (NYSE:CHK), and Devon Energy (NYSE:DVN) plus the Canadian producers Suncor Energy (NYSE:SU) and Imperial Oil (NYSEMKT:IMO) have bounced around the Top 10 list in April and May.
What they all have in common: strong current operating profitability, better-than-average shareholder value for new investors, large and rising North American production profiles, plus plenty of untapped reserves and exploration prospects for the next decade or two.
While investors begin to seriously contemplate the long-term global effect on crude oil and natural gas supplies from the Russia/Ukraine conflict and the fast-approaching July deadline for Iran to turn over its nuclear weapons development stockpile of uranium, already tightening supplies from a cold winter in the northern hemisphere and improving economic demand overall point to higher energy prices soon. Given a supply shock from a major war in the Ukraine and/or the Middle East, the development of domestic oil and gas production will become even more lucrative to investors and valuable to our national security.
For Newfield specifically, the company is very profitable without any jump in oil and gas quotes. Consensus Wall Street estimates are calling for 2014 EPS of $1.95 and 2015 numbers above $2.50 vs. a $34 stock quote at the time of writing. The stock looks to have a P/E ratio below both the equivalent S&P 500 average going into next year, and a normalized 5-year or 10-year comparison of past experience for the company.
Newfield's U.S. operations have plenty of upside potential in exploration and production volumes. The company has large holdings in the important oil and gas states of Texas, Oklahoma, North Dakota, Wyoming, Montana and Utah. A big plus for long-term investors is the company's strong pipeline for expanding production. Versus the late-2013 level, total company production volumes in the U.S. are projected to grow by 70% into the end of 2016. You can review a breakdown of Newfield's operations at their website here.
Newfield is intelligently liquidating Asian holdings to pay down debt and lower future interest expense. Energy reserves and drilling prospects in Asia appear to be on deck for increased military confrontation and competition from China, as the U.S. military shrinks in size and influence. The popular press in May 2014 is full of stories regarding China's push to take over South China Sea and "territorial water" drilling rights from foreign nations like Vietnam, the Philippines and Japan, including U.S. energy corporations that are already present or nearby disputed areas. If Newfield sticks to paying down debt and acquiring fruitful North American assets with the cash generated from overseas unit sales, the profitability and underlying value of its remaining businesses will only grow.
Already, third party websites like Capital IQ are placing an intrinsic underlying value for Newfield shares closer to $60 a share, without any impact from higher energy selling prices or asset/cost reconfigurations. Needless to say, the company's PEG (Price to Growth) calculation for the stock looks incredibly positive if oil and gas prices climb from here. Given a spike in energy prices into 2017-18, an honest long-term PEG number is well below 1.0, to as low as 0.5 right now.
From a technical perspective, of stock supply and demand trends, Newfield appears to be under heavy accumulation as measured by On Balance Volume [OBV], pictured on the chart below. Basically, investors are willing to aggressively pay up in price to acquire shares in 2014. This exceptionally positive OBV trend is likewise evident in the other oil and gas favorites mentioned in the article. While OBV is a small part of the overall Victory Formation system, a variety of technical indicators are highlighting significant buying in this stock, and "momentum" is building for an equity price advance over time.
Putting it all together, Newfield and many other similar oil and gas businesses are in the sweet spot of an ascending stock price trend, while still retaining better-than-typical underlying value on a variety of fundamental ratios and metrics. Can I guarantee Newfield will rise in price going forward? Absolutely not. A major global recession and/or general stock market decline will negatively affect energy prices and end demand for oil and gas producers like Newfield. Should you consider the company if you are serious about a buy and hold investment in energy? Absolutely.
Please do your own due diligence before investing, and feel free to take all the credit if you make a tidy profit. Give 10% of your winnings to your favorite charity or church. We will all benefit from your good fortune.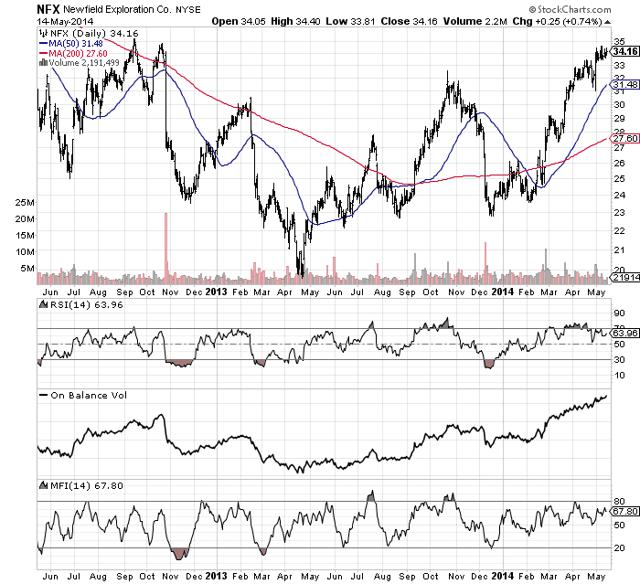 Charts courtesy of StockCharts.com
Disclosure: I am long NFX. I am looking to buy CHK, DVN, IMO, SU and XEC on price weakness. I wrote this article myself, and it expresses my own opinions. I am not receiving compensation for it (other than from Seeking Alpha). I have no business relationship with any company whose stock is mentioned in this article.