Atwood Oceanics, Inc. (NYSE:ATW)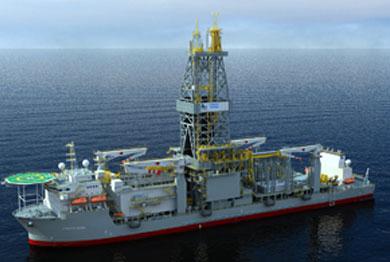 "UDW Atwood Archer" from Atwood Oceanics website.
The company was founded 45 years ago and provides offshore oil contract drilling services and has expanded worldwide. Atwood Oceanics Inc. Is based in Houston, Texas. It has 1,830 full-time employees.
ATW has a total fleet of 14 rigs, consisting of six UDW ultra-deepwater drillships including three drillships under construction; three deepwater semi-submersible rigs; and five jackups. One semi-submersible (Southern cross) is cold stacked in Malta and another one (Seahawk) was sold on April 2014.
Robert J. Saltiel said on the conference call on May 1st, 2014:
We agreed that the market for floaters is becoming more challenging, given the supply growth and the slowdown in demand. However, we continue to believe that Atwood Oceanics is in an excellent position due to our strong contract backlog and the high quality of our floater fleet. Of our active floaters, only the Atwood Hunter has exposure in 2014 and 2015.

Shifting now to jackups. The global market for high-specification jackups continues to hold up very well, as evidenced by our recent extension on the Atwood Orca, Atwood Aurora and Atwood Mako. We are focused on securing additional term on the Mako as that rig approaches the end of its contract in November. Longer-term, we remain a bit cautious on the supply and demand balance of jackups, given the large number of uncontracted newbuilds scheduled to be delivered in 2014 and 2015.
The expansion of the ultra-deepwater rigs has been somewhat stopped due to the actual softness, and M. Saltiel said:
Since our last call, we did allow our options to construct the fifth drillship to last. We are taking a pause from further rig building at this time to focus on contracting our last 2 drillships, the Atwood Admiral and Atwood Archer, and to assess the impacts of the present market uncertainty.
Complete fleet analysis and status as of May 1, 2014.
Fleet status report May 1, 2014.
More information has been added after the conference call on May 1, 2014
1 - UDW Ultra-DeepWater drillships.
2 - DeepWater Semi-submersibles.
#
Name

Year

Built

Specification

K feet

Contract

End

Current

Day rate

Location
1
Atwood Eagle
1982
5*25

6/14

6/16

385

460

Australia
2
Atwood Falcon
1983
5*25

2/15

4/15

3/16

385

499.5

430

Australia
3
Atwood Hunter
1981
5*28
Idle
515.5
Africa
From the CC:
We completed the Atwood Hunter's regulatory and maintenance project at the end of April. With this now behind us, the Hunter should be ready to operate for another 5 years without a shipyard stay.
3 - Jackups and other.
#
Name

Year

Built

Specification

Contract

End

Current

Day rate

Location
1
Atwood Aurora
2008
350'*30k
7/14
182
Africa
2
Atwood Beacon
2003
400'*36k
1/16
185
Mediterranean
3
Atwood Mako
2012
400'*30k

8/14

11/14

155

165

Thailand
4
Atwood Manta
2012
400'*30k
12/15

174.5 Thai

159.5 Malay

Malaysia/Thailand
5
Atwood Orca
2013
400'*30k
2/16
165
Thailand
1
Atwood Southern Cross

1976

upgraded 1997

2000'*20k
Cold Stacked
-
Malta
* The Atwood Seahawk was sold on April 2014.
Q2 2014 results April 30, 2014, snapshot and general comments.
Atwood released the 10Q in May.
The company earned a net income of $73.3 million or $1.13 per share. Revenues were $273.1 million for the quarter ending March 31, 2014.
For the six months ended March 31, 2014, ATW earned net income of $156.7 million or $2.41 per diluted share, on revenues of $557.8 million compared to net income of $158.4 million or $2.39 per diluted share, on revenues of $498.3 million for the same period in 2013.
Total outstanding as of April 2014 was 64,286,000 shares.
Total long-term debt was $1.513 billion.
Cash and cash equivalent were $59.635 million compared to $88.77 million in September 2013.
Backlog is at $3.385 billion until 2018.
From the 10Q SEC filing:
Our first ultra-deepwater drillship, the Atwood Advantage , was delivered from the Daewoo Shipbuilding and Marine Engineering Co., Ltd. ("DSME") yard in South Korea in December 2013.

Decrease in debt outstanding of $90 million for the three months ended March 31, 2014 as well as decrease in existing cash on hand of $73 million for the three months ended March 31, 2014 .
The last results were affected mainly by the Atwood Advantage problems that occasioned over three weeks at a zero-day rate, downtime in March, and also, 21 days at a zero-day rate in April. Robert J. Saltiel, CEO, talked at length about the issues related to the start-up of Atwood Advantage.
However, this issue is now solved and here is what M. Saltiel said:
Today, I'm pleased to report that the Atwood Advantage is on full operating rate, and has been since April 23 without interruption, and that the rig is progressing its first well for our client. We expect that our most significant technical issues are behind us on the Atwood Advantage. And fortunately, the lessons learned from the Advantage are directly transferable to our other 3 drillships.
Comments: ATW is relatively similar to RDC when it comes to the ultra-deepwater rigs. The company chose to expand during this market softness, and enter this highly competitive market with little or no experience, which was the main reason for the recent weakness in revenues. Two other ultra-deepwaters are scheduled to be delivered in 2015, the Atwood Archer and the Atwood Admiral, are still available. This is a clear weakness in this segment that management will have to address and solve.
Already, at the last CC, ATW clearly decided to take a pause and delay the fifth ultra-deepwater because of the actual softness of the market.
General remarks about the fleet age and day rate per category.
| | | | |
| --- | --- | --- | --- |
| Rigs nature | Ultra-DeepWater | Semi-sub. | Jackups |
| Rigs number | 6 | 3 | 5 |
| Average age (year) | 1 | 32.4 | 4.8 |
| Available/idle/shipyard | 2 | 1 | 0 |
| Average day rate K$ | 445 | 350 | 165 |
* The average day rate is only an indication and is not really accurate. For example, RDC jackups average day rates varied from $117k to $199K depending on the specifications and location. However, the numbers indicated here are from the last 10Q page 20.
I excluded the semi-submersible Atwood Southern Cross, which is cold stacked in Malta and probably for sale.
Conclusion and recommendation.
Atwood Oceanics is a solid mid-tier offshore driller with a good balanced sheet and low P/E ratio. The company has an excellent backlog at $3.385 billion until 2018. Most importantly ATW is well contracted for 2014 and 2015:
| | | |
| --- | --- | --- |
| Year | 2014 | 2015 |
| % days Contracted | 92 | 80 |
The revenues 2014 guidance is between $515 million to $530 million, and capital expenditure is between $175 million to $185 million. Again, good numbers.
However, when we look deeper into the fleet age-average, we start to see some weaknesses, especially with the semi-submersibles that are aging fast and the recent entry in UDW. The company has tried to enter the ultra-deepwater sector with its Atwood Advantage, and I believe it is a good choice for the long-term, despite a difficult environment of over-supply and fierce competition until 2015. Nevertheless, the company will have to pay a price to compete in the UDW sectors with Transocean (NYSE:RIG), Seadrill (NYSE:SDRL) and others, and I am wondering if a similar investment in the jackups segment would have been preferable.
ATW 's lack of experience in the ultra-deepwater sector may occasion more losses in revenue, similar to those Atwood Advantage has had lately. ATW is not offering a dividend right now, and it is a clear disadvantage for value investors, while many competitors are offering between 2% to 11%. RDC which is comparable in size, understood this necessity, and will initiate a dividend at 1.3% next quarter.
I will compare ATW to Ensco (NYSE:ESV) or Rowan Companies (NYSE:RDC) which are quite similar in their business model and size. We can see that these 3 stocks suffered around 13% loss since January, 2014. I believe ATW presents an opportunity for the long-term and cannot be disregarded, however the lack of dividends is a minus, in my opinion, and I would advise ESV instead.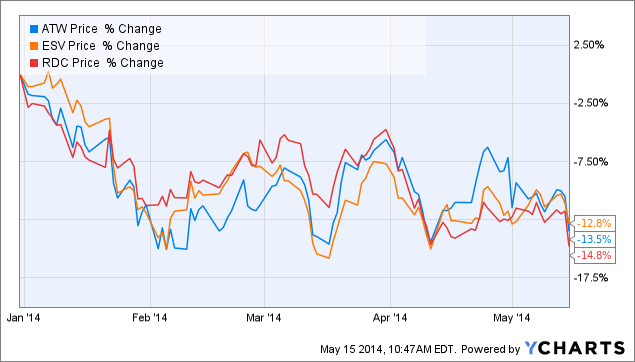 At last, I will say that ATW is a solid company that I cannot recommend because of the present lack of dividends, mainly. ESV is still a slightly better choice.
I consider ATW as an excellent takeover candidate down the road.
Disclosure: I am long RIG, SDRL, ESV. I wrote this article myself, and it expresses my own opinions. I am not receiving compensation for it (other than from Seeking Alpha). I have no business relationship with any company whose stock is mentioned in this article.