On May 8, Tuesday Morning (NASDAQ:TUES) closed at $13.05 and then announced Q3 earnings. The next day, the stock closed at $15.09, an increase of 15.6%. Evidently the market liked the announcement. Even though earnings came in negative, they were $.02 better than consensus estimates.
Q2 Review
When R. Michael Rouleau joined the company as CEO, the share price was in decline and inventory was stale. One of the first things Rouleau did as CEO was implement a $42 million write-down. After the write-down, most inventory was sold at or below cost, which is why Tuesday Morning had 9% same-store-sales growth when many discount retailers were suffering. Of course, with heavy discounts comes the pain of lower margins. As you can see from the chart below, margins hit a low at the end of 2013, but this is all part of Rouleau's plan.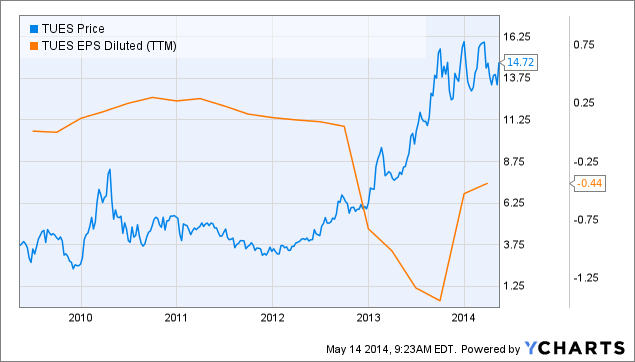 Rouleau's plan -- replace old inventory with a broader assortment of products to minimize obsolescence and jump-start inventory turnover/ROA. Indeed, at the end of last year, 80% of the company's inventory was under six-months old compared to 33% in the prior year. Additionally, inventory turnover climbed to 2.5 times, nearly a 20% improvement over the previous year. As a result, same-store sales were up 3.1% in Q2, 7% if you exclude discontinued categories.
Q3 Update
Let's move on to the third quarter. Net sales increased 2.6%, and comparable sales increased an impressive 6.4%; the bulk of that increase is attributable to transactions, which increased 8.4%, as ticket declined 1.9%. Perhaps Rouleau's strategy is working from a sales perspective, but what about margins?
Margins are still down, but improving. Tuesday Morning lost $7.6 million this quarter, which is less than the $11.7 million it lost last year, and there's more to be said on the topic of profitability. Rouleau is transforming Tuesday Morning from a closeout, bargain basement retailer to a more traditional, vendor-based business model. He had this to say about the transition on the Q3 earnings call,
In the past, we really had nothing working for us in the important seasonal area. We just didn't understand how to do it. Merchandise showed up early. Merchandise showed up late or never. Caused very heavy markdowns and frankly we lost our shirt. We now have all of this organized going into fall and Christmas and you'll see a big improvement in our seasonal store sets this fall and we're also experiencing - really expecting a nice improvement in profitability also.
Rouleau is referring to seasonal merchandise here, but it applies to the overall change in business strategy. As the clearance effort ends in August, margins will continue to improve.
By late August, we will be out of all the discontinued apparel merchandise and most of the replacement merchandise will be in our stores. Our sell-through of our discontinued merchandise has gone very well. We expect to be fully out of it by mid-August.
And, if you exclude discontinued categories, same-store sales grew by 10.5%. Regarding the merchandising effort, Rouleau had this to say:
When I first got here our buyers were -- spent most of the time in the office for different reasons. They weren't traveling much. And I was upstairs. Today I'm looking and the office has been empty for weeks because everyone's out finding merchandise and lining up suppliers, et cetera. So, I think we're making tremendous progress.
I'm convinced. All the pieces are coming together, and Rouleau has temporarily allayed my concerns.
"As I've said in the past," Rouleau continues,
our focus is and has been on September 1, 2014, when we expect to be in a position to enjoy the start of consistent sales and profit increases.
September 1st is less than 4 months away.
Analysts appear convinced as well. Last quarter, according to Thomson Reuters, the consensus price target was $17.50. This quarter it's $18.33, which is a 25% upside to the current price. Still, assuming an industry P/E of 20, the company needs an EPS of ~$.74 to be worthy of its current price, let alone the consensus price target. Thomson Reuters shows the current 2015 EPS consensus estimate at $.39.
Expectation for fourth quarter call:
Expect an increase in same-store sales, with another decrease in margin as a final push is made to unload discontinued inventory. In August, the company will be introducing new categories to replace discontinued items. They aren't announcing what these new categories will be due to competitive reasons so we'll have to wait until then to know what's "in store," literally. Still, don't expect an increase in profitability until September 1st.
Disclosure: I have no positions in any stocks mentioned, and no plans to initiate any positions within the next 72 hours. I wrote this article myself, and it expresses my own opinions. I am not receiving compensation for it (other than from Seeking Alpha). I have no business relationship with any company whose stock is mentioned in this article.