By Chris McKhann
GameStop (NYSE:GME) found support at $18 this morning, and the big options volume is looking for that level to hold.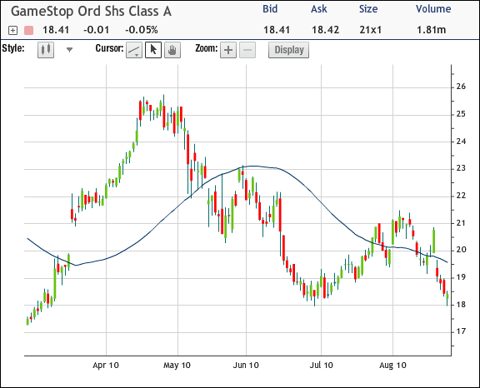 (Click to enlarge)
GME is down 0.05 percent to $18.41 in afternoon trading, but well above the low of the day. It dropped to $17.97 early in the session, a penny above its low in June. Shares have been trending lower since April when the video-game retailer peaked above $25.
The put selling is consistent with a pattern that has emerged in recent sessions as traders look to earn extra income by wagering that stocks won't suffer a major sell-off. There was a similar trade on Iron Mountain (NYSE:IRM) earlier today.
The options volume is roughly 7 times average so far in the session, and puts outnumber calls by 4 to 1. Most of the activity occurred in a single print in the September 17 puts, with 14,783 contracts sold for $0.30. Total volume was almost 16,000 -- 17 times open interest in the strike.
The put selling may have been done at least partly against a short position the stock because there was a spike in volume, most of it short, about 20 minutes before the big options trade.
Today's transaction is expressing the view that GME will hold above $17 during the next month. The stock was only below that in November 2008, when it hit $16.91.

Disclosure: No position