Incorporated in 1976, Bebe Stores (NASDAQ:BEBE) designs, develops and produces contemporary women's apparel and accessories. They market their products under bebe, BEBE SPORT and 2b brand names through their retail stores located in the United States, Canada and internationally licensed stores.
Disappointing Results
BEBE reported its Q3 fiscal 2014 results on May 8, 2014. Net sales were down 17.2% to $93.5 million from $112.9 million in the prior-year quarter. Comparable store sales for the quarter ended Apr 5, 2014, fell about 5.7%. Sales decline was primarily due to the loss of a retail week in January, coupled with the shutdown of 19 non-performing stores, since Q3 last fiscal year.
Results were also greatly impacted by adverse weather conditions, which led to nearly 136 temporary store closures. Moreover, the shift of Easter into late April had a negative impact on the company's Q3 sales. Net loss for the quarter was $24.3 million, or $0.31 per share, compared to prior-year quarter loss of $49.3 million or $0.62 per share.
For Q4, Bebe forecasts same store sales to be flat. Gross margin is expected to improve sequentially, while net loss is expected to be in the mid-teens per share range.
Estimates Revised Downwards
As a result of the earnings miss and weak guidance, analysts have been revising their estimates downwards in the last few days. Zacks consensus estimate now calls for a loss of $0.67 per share for the current fiscal year and a loss of $0.28 per share for the next year, compared to a loss of $0.46 per share and $0.16 per share respectively, 30 days ago.
The following "Price & Consensus" chart shows the downward estimates revisions for the stock: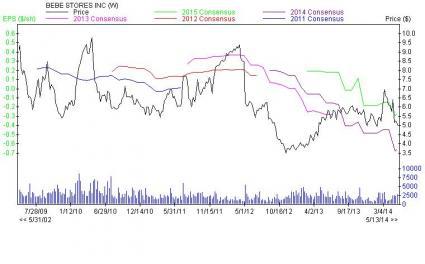 Declining estimates sent BEBE to a Zacks Rank # 5 (Strong Sell).
Better Play?
Investors seeking exposure to "Retail-Apparel/Shoes" industry could look at Citi Trends (NASDAQ:CTRN), which currently enjoys a Zacks Rank # 1 (Strong Buy).
The Bottom Line
After remaining in a rather tight range for almost a year, this stock had seen unusual interest in February on reports that the company had hired a strategic advisor to explore a potential sale. But the investor optimism for the stock was short lived and the shares declined again after the retailer released its preliminary results for Q3 in late April.
Operating with a weak product line in a highly competitive industry implies that the company is unlikely to see better days anytime soon. Further recent retail sales numbers suggest that the sector still remains pressure and has failed to rebound after a brutal winter. The industry has a rather unimpressive Zacks Industry rank of 211 out of 265 (bottom 20%) currently.
BEBE STORES INC (BEBE): Free Stock Analysis Report (email registration required)