So, the market is awful … just downright awful. Here is how awful it is: Imagine a company has the following economic data points on their earnings report: beat EPS estimates by 0.03, profits doubled from one year ago, beat revenue estimates and saw revenue increase 170%, beat shipping expectations for the past quarter, and upped shipping guidance for the full year by more than double 2009's rate. Not too bad… This was the report from our Overnight Trade in Trina Solar (NYSE:TSL). We got involved at 22.69. The stock opened down more than a dollar, but we are hanging onto it as it trickles back upwards. I am not going to be greedy and take whatever small gain I can get, if any.
(Click to enlarge)
Additionally, yesterday, we started off our week with a Weekly Play in International Rectifier Inc. (NYSE:IRF). Unfortunately, the stock is moving with the market in a downwards fashion. We got involved at 19, and the stock is down about 1.5% at 18.72. We will keep a close eye on this one, but there is no reason to panic yet.
Let's look at a Buy Pick for the day that could move into an OT if it can't pick up 2-3% throughout the day.
Buy Pick of the Day: Brown Shoe Co. (BWS)
Analysis: The market is down yet again … what a surprise. Today, the culprit is existing home sales. The above chart has the data in red for existing home sales through June. We see a dip start this summer. Well, that dip just moved from around 5.3 million sales to a seasonally adjusted rate of 3.83 million, dropping that red line significantly. That news is taking the entire market down with it. Yet, the downward movement, in my opinion, has creating a buying opportunity for some stocks … especially ones that could get a push throughout the rest of the day, moving into earnings.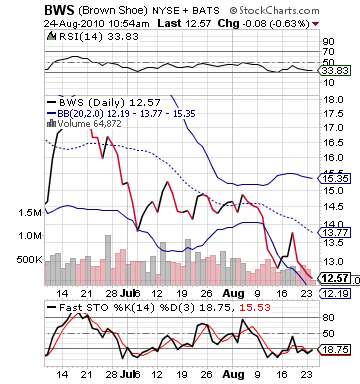 One of these companies is Brown Shoe Co. This morning, BWS moved down even further, despite its 15%+ movement downwards since the beginning of August. The stock moved below its lower band and jumped up about 2%. Unfortunately, that occurred right as I was researching, but I think BWS still has legs. Its lower band is at 12.40. So, it is only about 1% off its lower band, and it has reason to move.
The company is expected to report earnings per share this afternoon of 0.09, which is great because it is a turn to profit from one year ago of -0.10. The company operates over 10 different lines of shoes, including Famous Footwear, Naturalizer, Dr. Scholls, and a successful online shoe store. The company should be in good shape as shoes, across the board, have been having a fantastic earnings season. Since the beginning of July, eight out of nine reporting shoe companies have reported surprise profits.
The company, in its latest quarter, has had some great signals of its own. BWS, already a well diversified company, with various brands and locations moved into Russia and Ukraine with its Naturalizer line. Additionally, the company bought a new shoe line called Edelman, a high-end fashion shoe company. The company got key upgrades from Moody's and BB&T in the past quarter. The company only reports its Famous Footwear store sales despite having many more operations throughout the world that distribute its other lines. Its FF store made a nice 17% jump in sales in May and were slightly down in June and July.
Technically, the stock has the ability to make some major movement throughout the end of the day and moving forward. The stock is significantly undervalued with an RSI at 34, which is alarmingly low. The stock's fast stochastics are showing an oversold territory, and it is right at that lower band. I expect with earnings expected to swing to profit, the industry's solid Q2, and Brown Shoe's good quarter for the company to make a jump this afternoon and late morning.
Entry: We are looking to get involved at 12.45 - 12.55.
Exit: We are looking to exit for a 2-3% gain or hold overnight.
Stop Loss: 3% on bottom.
Disclosure: No positions